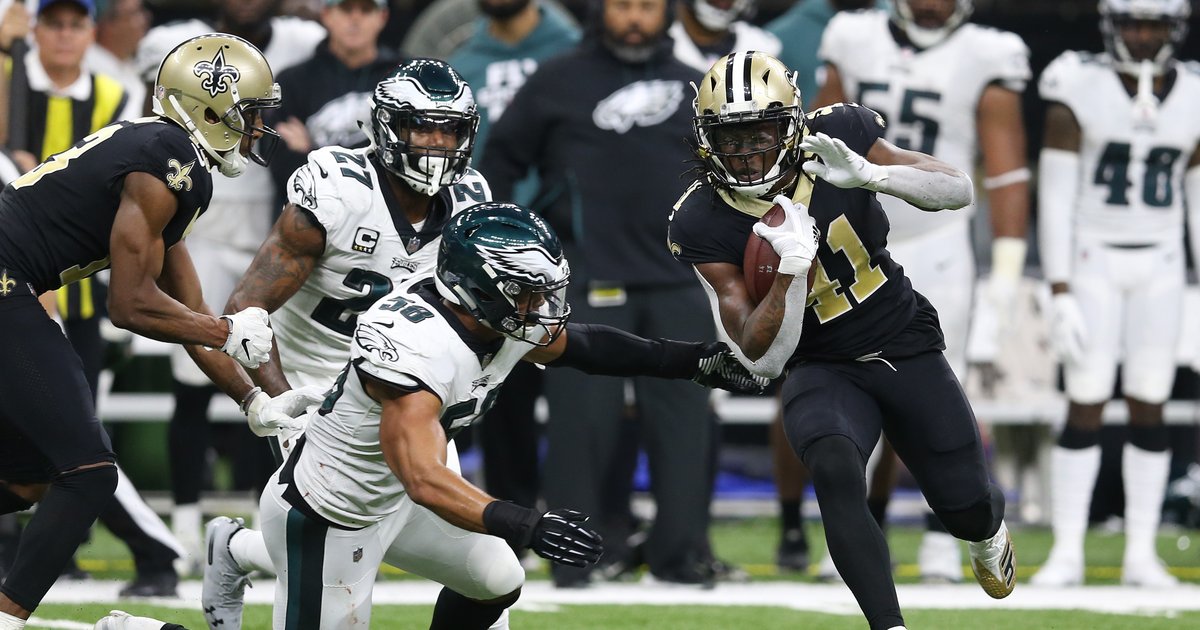 For about 15 minutes, the Eagles had us believing.
In a first quarter that saw the Birds explode to a 14-0 lead, everything was going right. But then, for whatever reason (be it fatigue, injuries or something more existential), the team from Week 11 that couldn't do a single thing right returned and ended the Eagles' season in New Orleans, 20-14.
It seemed surreal for a team and quarterback in Nick Foles, who pull off the impossible week after week, but the magic ended in heartbreaking fashion as a promising comeback drive ended in a tip and interception at the two-minute warning.
The Saints will move on and host the Rams for the right to go to Super Bowl LIII in Atlanta while the Eagles will clean out their lockers after an incredible two-month run that prolonged the ecstasy from last year's Super Bowl title for just a little bit longer.
As we turn the page to the combine, to the draft and to all the difficult roster decisions ahead, here's a recap of what was almost a game to remember Sunday — but will go down as one Eagles fans will want to forget:
---
Before you could even ask, "Remember the last time the Eagles were here?" Cre'Von LeBlanc snatched an interception on a deep ball on the first play from scrimmage, immediately justifying Doug Pederson's decision to defer on the kickoff in enemy territory.
As if Eagles fans weren't amped enough, a sustained drive that saw Wendell Smallwood pound his way up the middle eventually opened up a deep ball, on which Foles has no difficulty converting. A 37-yard connection with Jordan Matthews stunned the New Orleans crowd and put the Birds ahead by a touchdown early.
Eagles 7, Saints 0
The defense didn't back down, getting a second straight stop in the form of a three-and-out, giving Philly possession again.
Fighting through a horrible injury (one so bad FOX said they wouldn't show it again), the Eagles offense marched on, a play after losing Brandon Brooks, Foles found Alshon Jeffery down the sideline to set up a quarterback sneak for a score at the goalline two plays later and a commanding lead.
Eagles 14, Saints 0
The defense overcame again, this time erasing a bad penalty for taunting on Timmy Jernigan and a few first down passes when Brandon Graham stripped Brees in the backfield on third down. After some confusion, the ball was ruled a New Orleans recovery but with fourth and a mile to go they punted away to Philadelphia just as an extremely eventful first quarter wound down.
Eventually something had to give, and it did, as Marshawn Lattimore made an incredible leaping pick on another deep ball from a boisterously confident Foles, swinging some momentum back New Orleans' way. On the throw, Foles had Ertz in stride, but due to some pressure he under-threw the tight end.
The Eagles nearly got off the field right away, forcing a third and short on their ensuing defensive stand, but then Sean Payton decided he had seen enough and called a fake punt — from New Orleans' own 30 — which NOLA pulled off perfectly.
A bend-don't-break drive saw the Saints in a fourth-and-goal from the two. But Brees hit Keith Kirkwood (from Temple University) to get New Orleans on the board:
Eagles 14, Saints 7
The Eagles' offense was stuck in neutral the next time they had the ball — as they were for much of the rest of the game — but the defense lifted them up sacking Brees to get the defense off the field on a key third down:
New Orleans was able to tack on a field goal before the halftime horn to cut things to four-points.
Eagles 14, Saints 10 (Halftime)
The Week 11 Eagles jogged out of the tunnel to start the second half, as a three-and-out led to a grueling 18-play, 92-yard drive for the Saints, one that took up 11:29 minutes of game time. However, a few breaks by way of penalties — some legit and some questionable — gave the Eagles hope with a third-and-16. 
The defense just couldn't hang on.
Thomas was left more or less wide open as the Saints converted and took advantage of a completely exhausted Philly defense as Thomas put New Orleans ahead with a two-yard touchdown grab.
Saints 17, Eagles 14
Not much was doing for the Eagles' first two possessions on offense, and the defense found an elusive third down stop to hold New Orleans to a second field goal to keep the Birds alive.
Saints 20, Eagles 14
By this point, the Eagles were without Brooks, Jason Peters and Fletcher Cox with several other players pretty beat up (Rasul Douglas, Michael Bennett, Graham and others all missed snaps with injuries). With just over 10 minutes left Philadelphia was looking for its first signs of life since an explosive first quarter.
Six plays and out (thanks to a pass interference call on third down) and the Eagles gave the ball back looking like truly wounded birds.
Somehow the Eagles stayed alive after Will Lutz missed a 52-yard field goal.
But then, it all ended in the blink of an eye:
---
Follow Evan on Twitter:@evan_macy
Like us on Facebook: PhillyVoice Sports
from PhillyVoice – Eagles http://bit.ly/2RKYJ2D
via IFTTT