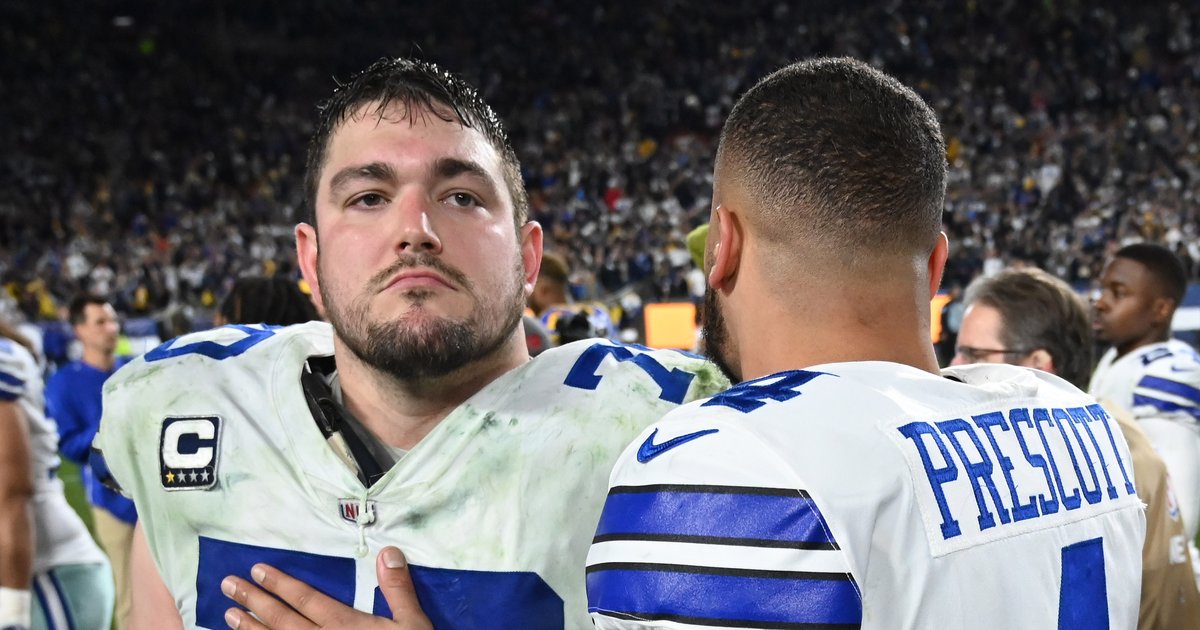 In our Eagles chat earlier this week, there were a lot of questions that we could not get to in time or other questions we did answer but could use more color. And so, let's do a mailbag post to answer some of the overflow.
Question from Jamie*: Hey Jimmy, first time, long time. Since the Cowboys lost in their playoff game against the Rams, does that mean their season is over? And if so, did it end before the Eagles' season?
Yes, Jamie, the Cowboys' season is now over, and yes, it ended before the Eagles' season ended. In fact, the Cowboys haven't appeared in a conference championship game since the 1995 season.
Here's a list of NFC teams appearing in the NFC Championships Game at least once in the last 20 years:
Eagles
Giants
Packers
Vikings
Bears
Saints
Falcons
Panthers
Buccaneers
Rams
49ers
Seahawks
Cardinals
Here's a list of NFC teams that have not appeared in the NFC Championship Game in the last 20 years: 
Cowboys 
Redskins 
Lions
Is that bad?
Question from Jeff:
Why didn't you list OL as an offseason priority?
First, for some background, during the chat I listed DE, DT,
a speed WR, and RB as the top four needs this offseason, in that order. 
If Jason Kelce retires, that would make an interior offensive lineman a major priority this offseason. If not, along
the OL, they're set at LG, C, RG, and RT. The only position where there's a
question mark is LT, and several different things can happen there.
• Jason Peters could return.
• Jordan Mailata could be ready for a starting role next year
for all we know.
• If Peters is gone and Mailata isn't ready, Halapoulivaati
Vaitai wouldn't exactly be a blue chip starting LT or anything close to it, but
he has at least proven be serviceable. They could live with him for a year.
Now, should they always be looking to add offensive linemen
to the pipeline? Absolutely. But it's not as big an immediate need at DE, DT,
speed at WR, or RB.
Question from Hinkie:
Brandon Graham, Michael Bennett, Chris Long: Are any of them back next year? If
Graham walks and Long retires, it seems
like the Eagles will be forced to keep Bennett, right? I think his cap number
is more than fair, and he's played well this year, but I've seen some beats
suggest he'll be cut.
Cutting him makes no sense. At a minimum, I think they could
trade him, because as you noted, his cap number, at $7 million, is a bargain. Compare
that with the 3-year, $23 million contract Vinny Curry got last offseason, for
example. That's $7.7 million per season, with guarantees. The remainder of
Bennett's contract isn't guaranteed, it's cheaper, and he's an obviously superior
player to Curry.
I also agree with your other point. If the Eagles lose
Graham and Long, they'll be left with just Bennett, Barnett, and Josh Sweat at
DE. Even if they took an edge rusher in the first round of the draft, those
guys typically don't produce much in their rookie seasons. They'd have
to keep Bennett, as you mentioned.
Question from Vinny:
Where does New Orleans' noise level rank with other domes?
Domes where I've covered games: Dallas, Indy, Detroit,
Minnesota, Atlanta (not the new stadium), and New Orleans.
Indy was a preseason game, so throw my opinion out on that
one.
The Dallas press box is behind glass, so the noise is
drowned out, but you can easily tell it's not that loud.
Minny was a (sorta) mixed crowd for the Super Bowl. That was
a loud Eagles crowd, but that place is so big that sound doesn't reverberate
around the dome like it does in other places.
Atlanta wasn't particularly loud.
Detroit was pretty loud the year they blew out the Eagles on
Thanksgiving.
New Orleans is loud, for sure, but honestly, I didn't think
it was that much louder than Detroit. Still, I would say it's the loudest dome I've
been to.
Question from Corey
Brant: Jimmy, are you a betting man, and if yes will you be taking the 8 points?
I probably wouldn't touch this game either way, but if I had
to, I'd take the 8, yes. Personally, I always lean toward taking points because
more bets typically come in on the favorite, and Vegas knows this. Don't tell
anyone, thanks.
---
*There's no "Jamie." I'm Jamie.
Follow Jimmy & PhillyVoice on Twitter: @JimmyKempski | @thePhillyVoice
Like us on Facebook: PhillyVoice Sports
Add Jimmy's RSS feed to your feed reader
from PhillyVoice – Eagles http://bit.ly/2VSdHn1
via IFTTT