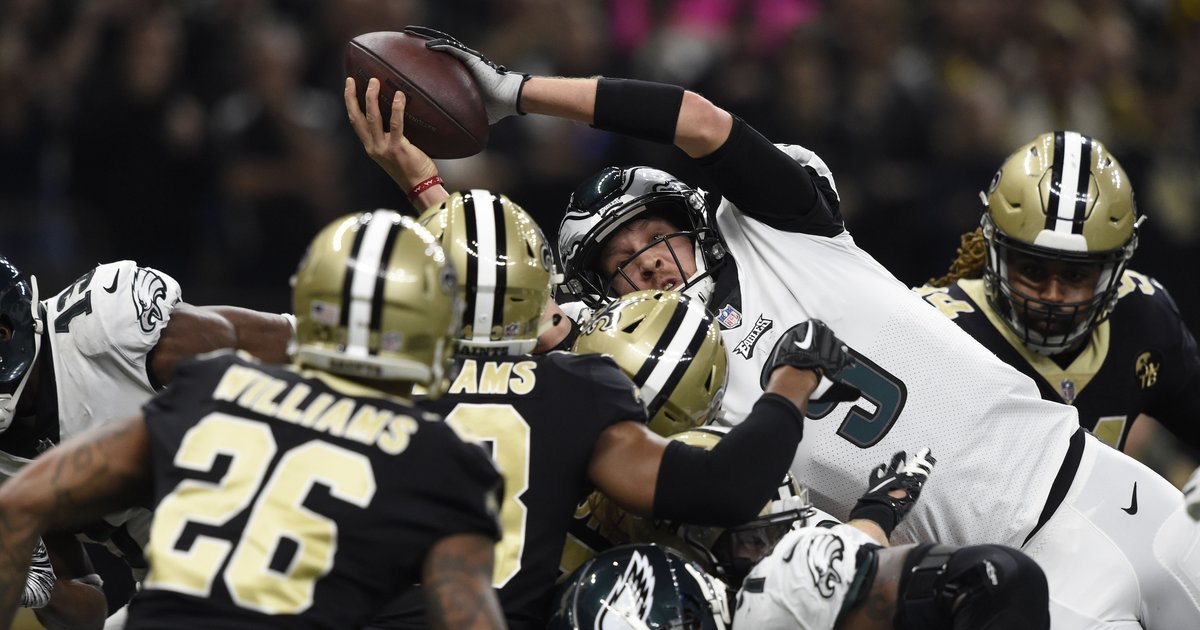 A slew of injuries put a damper on what was otherwise an exciting first half for the Eagles, but ski mask boys head into halftime with every chance to win another playoff game on the road. It's 14-10 Philadelphia with 30 minutes left to play in New Orleans.
Here's what I saw in a wild first half.
The Good
• Is this the year of Cre'Von LeBlanc? It's at least the postseason of Cre'Von LeBlanc. What a story this kid has been. He was part of the group that got torched by the Saints in the regular season, and not wanting that to happen again, he made one of the defensive plays of the season on the first play from scrimmage.
Later in the first quarter, LeBlanc read a slant route perfectly and made a beautiful one-handed breakup to force the Saints into third-and-long near midfield. He is absolutely balling right now.
This kid was an NFL afterthought as recently as September. He has starred down the stretch of this season, and stories like these are what make sports so fun to follow in the first place.
• It would not have been enough for Philadelphia to just produce a turnover on the first drive without a corresponding score from the offense. New Orleans is way too good on the offensive side of the ball for that.
And wouldn't you know it, Nick Foles stepped into the huddle and carved up the Saints on drive No. 1. Wendell Smallwood ran the ball with power up the middle, and that proved enough to cause a moment's hesitation from the New Orleans defense. That was all Foles needed, and he tossed a beauty downfield to Jordan Matthews for the game's opening score.
Back to Smallwood for a second — this play was set up by Smallwood's effort on first down, which put the Eagles at second and short, the ideal scenario for a play-caller. The Eagles are never going to be a power running team, but when they can get someone going early, it makes life way easier for Foles to do his thing. Smallwood was great in that capacity on the first series, and he had some great blitz pickups in the first half to keep Foles upright.
Seriously, look at this play:
• Speaking of playcalling, Doug Pederson was on fire early. After forcing New Orleans into a three-and-out on their second possession, Pederson dialed up a run play for Nelson Agholor out of the slot, and the Saints were completely unprepared for it, with Agholor coasting for a first down.
Rather than sit on that early touchdown and get conservative, Pederson trusted his skill position guys to make plays. That's why he was the first Eagles coach to win a Super Bowl.
• On a similar note, it's easy to see why the offense hums under Foles. He doesn't waste a lot of time sitting in the pocket and trying to make the perfect play. He reads the field quickly, minimizes the damage a pass rush can do, and when the opportunities present themselves, he's happy to take a shot down the field.
He's a dream for an offensive line because they only need to buy him a little bit of time for him to make a play. He trusts everyone on that offense to get it done — it's why you saw Jordan Matthews of all people score the first touchdown, and why Alshon Jeffery had a huge conversion on the second drive.
A lot of people like to credit Foles' success to higher powers and things of that nature. Call it what it is — he creates his own luck and his own success and has deserved every bit of it these last two years.
• The officials nearly botched it was a bad initial ruling, but Brandon Graham made a heck of a play to strip Drew Brees on a big third down in the first quarter:
To the delight of all Philadelphians, the referees corrected their initial ruling, which claimed Graham recovered the football before fumbling it back to the Saints. Handing the Saints a first down out of that play would have been criminal.
• Huge sack from Tim Jernigan and Chris Long to force a New Orleans punt late in the half. It felt like everything was trending in the Saints' direction, and so of course a couple of their vets came through with a big play.
If the Eagles are going to win this game, they need guys like Jernigan and Long to step up.
• Fletcher Cox was borderline unblockable in the first half. He returned from an injury in the last minute of the half, and immediately drew a penalty that temporarily took the Saints out of field goal range.
The Bad
• Tim Jernigan's taunting penalty was one of the only blemishes in Philadelphia's tremendous first quarter. I thought it was a weak call, but with the Eagles rolling, just stay out of trouble, my dudes.
• Not Foles' best throw on the interception Marshon Lattimore came down with early in the second quarter. If he puts a little more air under it, perhaps that's a long completion to Zach Ertz down the sideline, and instead it was the first taste of success for the Saints.
That's a play I'll ultimately live with, though. Foles has to keep taking shots and challenging guys in one-on-one battles, he just needs to execute better than he did on that play.
• No idea why the Eagles were so unprepared for a fake punt on fourth-and-short, given New Orleans' fascination with shoehorning Taysom Hill into their gameplan. The game was slipping away, and Payton is the sort of overly aggressive coach who will throw curveballs like that at you at any time. Have to know better.
(This is a conversation for another day, but Philadelphia's special teams have been rather disappointing the last couple seasons. Lots of head-scratching plays.)
That play ended up being a huge momentum shifter. After the Saints capped off the drive with a touchdown, a Saints crowd that had gone dormant woke up in a big way. The Eagles had to take a timeout on the first play of their next drive because of the crowd noise, and Jason Peters later picked up a false start because it seemed he couldn't hear the snap count.
That's part of why you have to build on leads and minimize mistakes against New Orleans. That dome is a major asset for the home team, and the Eagles were within one drive of minimizing the threat. That's how thin the margins are in playoff football.
• Brutal drive by the offense when they got the ball around the two-minute mark. At the very least, the Eagles needed to kill some clock and limit New Orleans' ability to go back down the field and score. The Saints got the ball back with 1:18 on the block and a timeout. Not ideal.
The Ugly
• The Eagles and Saints both had important players go down and get carted off in the first quarter, something you never want to see in a playoff game (or any game, for that matter). You want everyone at full strength so the excuses are off the table and everybody gets to show the best they have to offer. Sheldon Rankins is a pivotal part of the Saints' defensive front, and Brandon Brooks is indispensable on the interior of the Eagles' line.
It would only get worse from there. Rasul Douglas retreated to the locker room, Fletcher Cox and Michael Bennett spent time laying on the turf, and Brandon Graham got looked at on the sideline at one point. It felt like the Eagles were going to run out of players, and when Cox eventually returned, Alshon Jeffery made an early trip to the locker room before halftime. 
For a team that opened a 14-0 lead on the road, it felt like a (relatively) tough half for the Eagles. New Orleans' first touchdown came on a throw directed as Josh Hawkins, who wouldn't have been in the game if not for Douglas' injury. Brutal.
---
Follow Kyle on Twitter: @KyleNeubeck
Like us on Facebook: PhillyVoice Sports
Add Kyle's RSS feed to your feed reader
from PhillyVoice http://bit.ly/2M7eSKE
via IFTTT