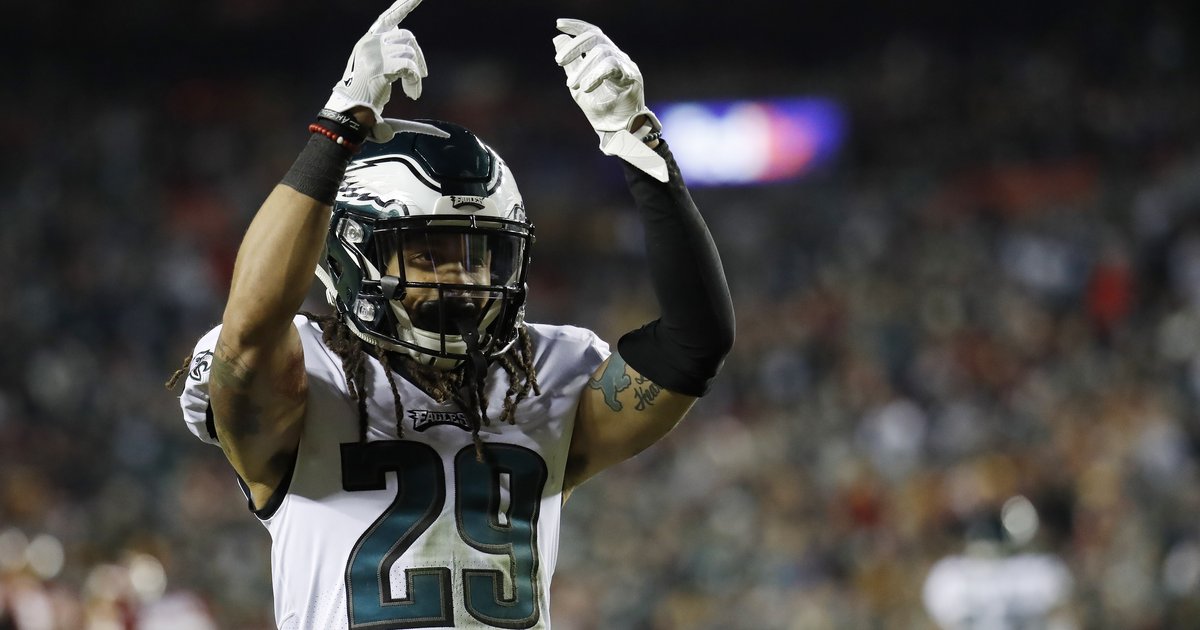 It
used to frustrate Avonte Maddox. He could move only as fast as his stubby,
little legs could take him. So, it couldn't just be a walk. It had to be a sprint — and
Maddox had to be ahead of the older, taller man walking next to him. Even as a 4-year-old
walking to preschool. Michael Maddox, Avonte's father, would laugh trying to
keep up to his oldest son.
That's
where it started, that inner ultra-competitive drive to be first at everything.
Whether it was walking the three-block distance to kindergarten with his father each morning in Detroit, to eating, to lifting, to running. You name it,
Avonte had to finish before everyone else did — primarily his dad.
"It
was everything," Avonte recalls today, laughing. "Racing to school, eating, I
had to eat faster than my dad. It was everything."
Everything
that forged a 5-foot-9, 185-pound fourth-round draft pick out of Pittsburgh into
a starting role for the Philadelphia Eagles his rookie season who's emerged as
a late-season star.
Maddox
was stung by double moves during the Eagles' 16-15 NFC Wild Card upset of the
Chicago Bears on Sunday, allowing seven catches for 154 yards and a touchdown
when targeted. But, Maddox's overall body of work this season shines. And he's
going to be a big factor in the Eagles' divisional round game against the NFC
No.1-seed New Orleans Saints this Sunday at 4:40 p.m. ET.
Consider
during the regular season Maddox allowed just 18 receptions on 33 targets for
218 yards. And because that came over the course of 391 coverage snaps, it translated into a league-best 0.56
yards per coverage snap in 2018, according to Pro Football Focus. Maddox had two
interceptions and allowed just one touchdown, leading 86 other NFL cornerbacks who
had 300-plus coverage snaps in passer rating allowed (59.9).
"Think
about everything Avonte's done his rookie season, from changing position as a
corner, to being a starting safety — and, out of nowhere, he got thrown into our
nickel package with no reps — to playing games at corner the back half of the
season," Eagles' safety and team captain Malcolm Jenkins said about Maddox. "With
little preparation and battling through injuries, he's been through a lot for a
young guy.
"I
like Avonte. But I like all of these (secondary) guys, because they're tough and they're
not a front-running group. They've been battle tested and been through the ups
and downs. They've stood up like men and went to work, getting better each day.
For me to be a part of this secondary group is an honor."
Maddox
knows what's in store for him against Drew Brees, who threw for 363 yards and four
touchdowns for an outlandish 153.2 quarterback rating in the Eagles'
embarrassing 48-7 loss in New Orleans back on Nov. 18 in Week 11. Maddox saw
limited time in that game, taking a mere 17 snaps, after landing awkwardly in
the end zone in the first quarter injuring his knee and ankle.
Maddox,
playing slot corner against the Saints, was later joined by Sidney Jones and
Rasul Douglas (the Eagles' starting corners against New Orleans) on the
sidelines with injuries in that game. Maddox didn't return again until almost a
month later, playing a pivotal role with 76 snaps and a second-quarter interception
in the Eagles' surprising 30-23 victory over the Los Angeles Rams in Week 15.
Against
Chicago, Maddox would've had himself another interception, if only he managed to get another
foot down while diving out of bounds.
He
knows what will be in store for him this Sunday. He knows Brees and Saints'
coach Sean Payton will try to attack his aggressiveness with more double moves.
Then there came a time when I didn't feel as if I had to prove anybody wrong. I had to focus on what I needed to do to get better. I had to prove things to myself.
"It's
football. You play corner, you're not perfect. Certain things are going to
happen," Maddox said. "It's all about how short your memory is, and mine is
short. So when somebody makes a play — they're one of the top athletes in the
world, too, so they're going to make plays — it's
about what you do the next play to make up for it. 
"I definitely don't dwell on it. I was definitely (too aggressive). I'm going to keep playing how I
play. I know (the double moves are) coming. Copycat league. And they already
ran a lot of double moves before that."
Maddox
likes challenges. He's been faced with them his whole life. 
Maddox has always worn
the label "undersized." He was a speedy, playmaking 170-pound defensive back
coming out of Detroit's Martin Luther King High School who always suffered the
infamous head-to-toe stare from recruiters because of his height.
Maybe
it explains why Maddox, at 185 pounds, throws his body around like he's a
seek-and-destroy 240-pound linebacker. A college scout's look alone told Maddox
he would be "out" in their minds. They would say he's kind of small, they wouldn't
need him.
"It
happened a lot," Maddox admitted. "I always used it as motivation. I think it's
the reason why I play the way I do. I use it as a kind of fuel, something you put
in your back pocket, and when it comes time, you pull out all of the times you
were told 'no,' you're not big enough, or tall enough.
"This
guy says you can't do this, so it's always been, I'm going to prove this person
wrong, or prove that person wrong. Then there came a time when I didn't feel as
if I had to prove anybody wrong. I had to focus on what I needed to do to get
better. I had to prove things to myself.
"I
kind of know myself pretty well. The edge came early. It was me and my dad. We did
everything competitive together. I had to win."
Even
when it came to walking down the street.
---
---
Follow Joe on Twitter: @JSantoliquito
Like us on Facebook: PhillyVoice Sports
from PhillyVoice – Eagles http://bit.ly/2RDDrnR
via IFTTT