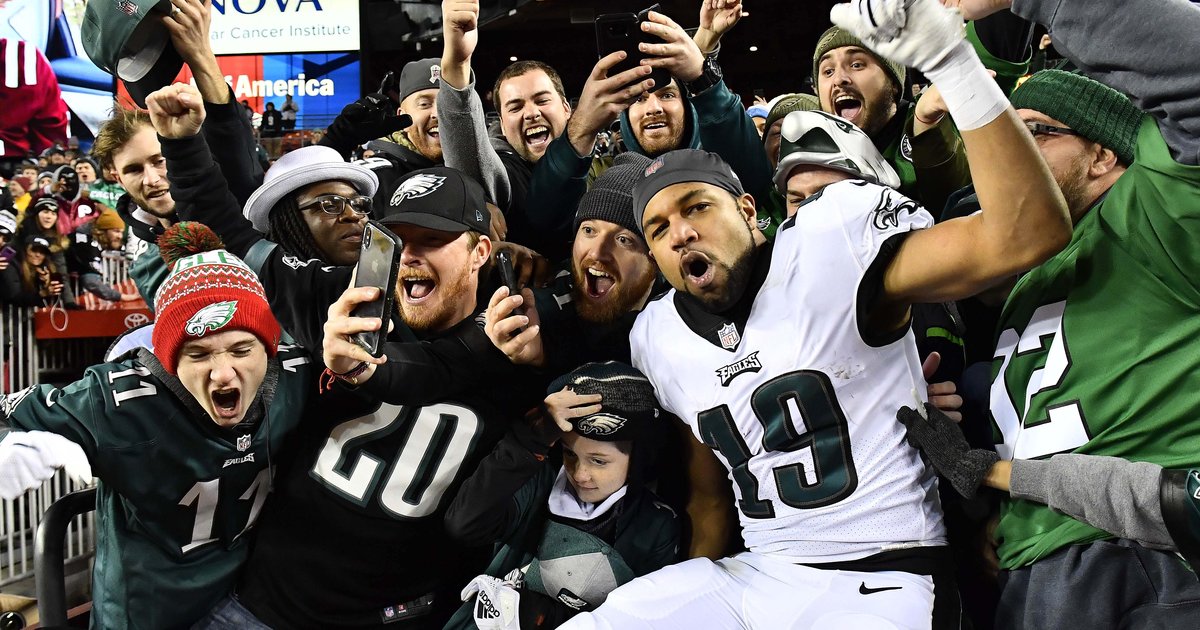 In our Eagles chat this week, there were a lot of questions that we could not get to in time or other questions we did answer but could use more color. And so, let's do a mailbag post to answer some of the overflow.
Question from Cornelious
Ingraham: I believe you said that if Golden Tate made a play to win a playoff
game, that would make it a good trade. Is it now a good trade?
I mean, he made a play he should make. He accidentally ran a
nice route, got open against single coverage, and made the catch. On the day,
he had 5 catches on 8 targets for 46 yards and that TD. I wouldn't say he won
them the game by any stretch. He made a play, like a boatload of others did
during that game, only his happened in a crucial moment.
He certainly deserves credit for making that play, and
really, it's not his fault that the trade looked as bad as it did for as long
as it did. But I'm not there yet. I still think that was a bad use of resources and the return on investment hasn't been good enough yet to warrant a Day 2 pick.
Question from Champs:
In your chat, you responded to a question about Josh Adams that referenced his
playing time and blocking, saying he isn't that good. Were you saying his
blocking isn't that good, or he's not a good RB at all? I thought he looked like
the Eagles' best running back in a number of games.
I'm saying he's not very good at all. I do agree that he
looked the best of the backs in certain games, but that's not exactly clearing
a high bar when the other options were Wendell Smallwood and an injured Corey
Clement.
There are some things he does well. When he gets some space,
he can gobble up yards quickly even if it doesn't look like he's moving very
fast. However, he doesn't give you anything as a receiver, he isn't good in
pass protection, and he's been absolutely dreadful as a short yardage back,
despite having the big body that he has.
It's that last point that really turns me off. In 7 carries
on 3rd or 4th down and 1 or 2, Adams has -8 yards, and no
first downs. MINUS EIGHT! 
Question from DJ: If
you could bring one player back from IR right now and they would be 100 percent
healthy, who would it be?
There are three good choices here. They are Derek Barnett,
Rodney McLeod, and Jay Ajayi.
Barnett bolsters the pass rush, which is always super
important, Ajayi is a major upgrade over any of the backs as pure runners, and
McLeod is a huge upgrade over Corey Graham.
Looking ahead to the Eagles' opponents, they'll have the
Saints, and if they keep advancing, likely the Rams, and then the Chiefs, Pats,
Chargers, or Colts. That's a whole lot of passing offense awesomeness. Give me
McLeod.
Question from
TheGhostOfNormVanBrocklin: Not to count the chickens before they hatch, but is
this the toughest game left standing in the way of another title?
Yes. For sure, the Saints are a tougher opponent than the
Cowboys or Rams, who the Eagles would face in the NFC Championship Game, and the
Super Bowl would obviously be played at a neutral site. The Chiefs are the best
AFC team remaining, in my opinion. They might be better than the Saints (that's debatable), but they sure as hell aren't better at a neutral site than the Saints
are in New Orleans.
This game is sort of like the U.S. hockey team vs. the USSR in the 1980 Olympics. That game was by far the hardest, but they still had to beat Finland thereafter. OK, I took it too far.
Question from Ifeadi
Odenigbo: What do you think about my decision to stay on the Vikings' practice
squad instead of playing for the Eagles in the playoffs?
I have to admit I had no idea what this question meant when
I first read it, but yeah, it seems a Vikings practice squad guy turned down
the opportunity to play for either the Eagles or Colts on their 53-man rosters.
Obviously, that was ill-advised. If they view you as part of the
future, maybe they would have just had you on their 53-man roster?
Question from Jimmy's
mom: Will Sidney Jones be healthy this week? If he can play, what is your ideal
nickel lineup?
Jim Schwartz just said that claiming Cre'Von LeBlanc on
waivers "might have been the key to our season," so he's not going anywhere.
And with Avonte Maddox and Rasul Douglas playing well on the outside, Jones
certainly isn't getting in over them. At this point, should Jones become
healthy, and I'm not holding my breath there, he's depth only.
Also, hi mom.
---
Follow Jimmy & PhillyVoice on Twitter: @JimmyKempski | @thePhillyVoice
Like us on Facebook: PhillyVoice Sports
Add Jimmy's RSS feed to your feed reader
from PhillyVoice – Eagles http://bit.ly/2FogUof
via IFTTT