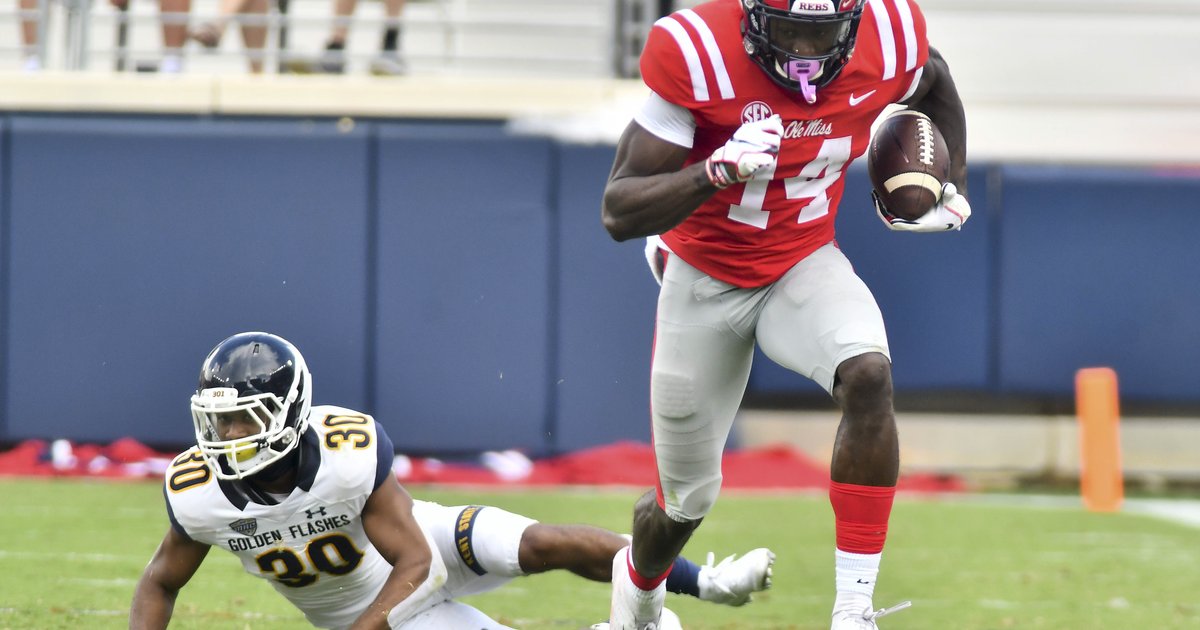 The college football slate includes just the Army-Navy game today, which oh by the way, is in Philadelphia. Because Army and Navy don't exactly churn out NFL players like Alabama, we'll profile five injured players who could make sense for the Eagles in the 2019 NFL Draft, in which the Birds are projected to have 10 picks.
Because they have a lot of (projected) picks, and because Howie Roseman has long-term job stability, the Eagles are perhaps more likely than other teams to take chances on injured players, when other teams feel more pressure to get immediate returns from their draft picks. Obviously, the Eagles had the long view in mind when they selected Sidney Jones in the second round of the 2017 NFL Draft, while he was still recovering from a ruptured Achilles.
Rodney Anderson, RB, Oklahoma (6-foot-1, 220 pounds)
Anderson is a talented back who has had a laundry list of injuries over his career at Oklahoma:
• 2015: Broke his left fibula in the first game of this freshman year, ending his season.
• 2016: Missed the entire season after suffering a broken C5 vertebrae during the preseason.
• 2017: Played the full year, carrying 188 times for 1161 yards (6.1 YPC) and 13 TDs, while also catching 17 passes for 281 yards (16.5 YPC) and 5 TDs.
• 2018: Tore his ACL in the second game of the season.
At 6-foot-1, 220 pounds, you might think of him as a power runner, and while he does run through arm tackles, Anderson has some nimbleness to his game despite his size. He is also a good receiver out of the backfield. A highlight reel:
Anderson's ACL tear occurred in September, so he should be ready to play as a rookie, but he's more of a long-term prospect, as he probably won't be back to something closer to 100 percent until the 2020 season.
D.K. Metcalf, WR, Ole Miss (6-foot-4, 225 pounds)
In October, Metcalf suffered a neck injury, and his season was over. It is expected that his injury will not affect him long-term.
The Eagles love receivers with high yards per catch averages, and D.K. Metcalf had just that in 2018 before he got hurt, catching 26 passes for 569 yards (21.9 YPC) and 5 TD. 
While his overall career production (67-1228-14 in three seasons) isn't stellar, he has the size, speed, and physical traits to become a premier wide receiver at the next level. He can take the top off the defense, he can win contested catches in the red zone, he creates separation out of his breaks, he has a flare for the highlight-reel play, and he competes after he has the ball in his hands. There really isn't much not to like about him, aside from the production, and his injury. 
A highlight reel:
The Eagles' biggest weakness in their passing game is that they lack a reliable big-play threat. Metcalf could be that. He's a likely first-round pick.
Porter Gustin, Edge, USC (6-foot-5, 260 pounds)
Gustin only played four games in 2017 because of a torn biceps and broken toe. In 2018, he suffered a broken ankle and is done for the season. 
He played 3-4 OLB at USC, so he would be a bit of a projection to a 4-3 DE in the Eagles' scheme, but he's a size-speed athletic freak with good production when he has been healthy. Over the 10 games he played in 2017 and 2018, Gustin had 42 tackles, 10.5 sacks, and 13 tackles for loss. 
A highlight reel:

While perhaps an easier projection to the NFL for 3-4 teams, Gustin can get to the quarterback, which is a skill that will interest all 32 teams.

Olive Sagapolu, DT, Wisconsin (6-foot-2, 342 pounds)
Sagapolu had surgery on his right arm, and he's done for the season. 
At 6-foot-2, 342 pounds, Sagapolu is what you think he is — a run-stuffing interior defensive line prospect. Below is his game against Michigan. While he's quicker than you'd expect a 342-pounder to be, he lacks consistency holding to point of attack against double teams:

Still, the Eagles are nearly certain to move on from the disappointing Haloti Ngata this offseason, and Sagapolu can be a cheap, late-round run-stuffer for a team in the Eagles who will have to deal with Saquon Barkley, Ezekiel Elliott, and Derrius Guice for the foreseeable future.
Oh, and he also does backflips.
Mark Gilbert, CB, Duke (6-foot-1, 175 pounds)
Gilbert had surgery to repair a hip injury after the second game of the year, ending his season. As a sophomore in 2017, Gilbert led the ACC with 6 interceptions, and he added an impressive 15 pass breakups. His ball skills are obvious. Here are those 6 picks:

Gilbert could still return to Duke, but if he opts to come out early, the Eagles could certainly use help at outside corner.
---
Previously profiled players
Carl Granderson, DE, Wyoming
Justice Hill, RB, Oklahoma State
Nate Herbig, OG, Stanford
T.J. Edwards, LB, Wisconsin
David Edwards, OT, Wisconsin
Nick Bosa, DE, Ohio State
Devin Singletary, RB, Florida Atlantic
David Sills V, WR, West Virginia
Damien Harris, RB, Alabama
Raekwon Davis, DT, Alabama
Ed Oliver, DT, Houston
Nick Fitzgerald, QB, Mississippi State
Deebo Samuel, WR, South Carolina
Deandre Baker, CB, Georgia
Cameron Smith, LB, USC
Marquise Brown, WR, Oklahoma
Dexter Lawrence, DT, Clemson
Derrick Brown, DT, Auburn
Dakota Allen, LB, Texas Tech
Zack Moss, RB, Utah
Anthony Johnson, WR, Buffalo
Jaylon Ferguson, DE, Louisiana Tech
Bryce Love, RB, Stanford
Troy Dye, LB, Oregon
N'Keal Harry, WR, Arizona State
Clelin Ferrell, DE, Clemson
Mitch Hyatt, OT, Clemson 
Dalton Risner, OT, Kansas State
Parris Campbell, WR, Ohio State
Jalen Jelks, DE, Oregon
Ross Pierschbacher, OG/C, Alabama
Jaquan Johnson, S, Miami
Joe Jackson, DE, Miami
Benny Snell, RB, Kentucky
Montez Sweat, DE, Mississippi State
Jerry Tillery, DT, Notre Dame
Darrell Henderson, RB, Memphis
Mecole Hardman, WR, Georgia
Taylor Rapp, S, Washington
Rashan Gary, DE, Michigan
Kavontae Turpin, WR/KR/PR, TCU
Christian Wilkins, DT, Clemson
Isaiah Buggs, DT, Alabama
Myles Gaskin, RB, Washington
Connor McGovern, OG/C, Penn State
Austin Bryant, DE, Clemson
David Montgomery, RB, Iowa State
Emanuel Hall, WR, Missouri
Elgton Jenkins, C/OG/OT, Mississippi State
Jeffery Simmons, DT, Mississippi State
A.J. Brown, WR, Ole Miss
Dre'Mont Jones, DT, Ohio State
Lukas Denis, S, Boston College
Lavert Hill, CB, Michigan
Julian Love, CB, Notre Dame
Quinnen Williams, DT, Alabama
Mack Wilson, LB, Alabama
Deionte Thompson, S, Alabama
Zach Allen, DE/DT, Boston College
Preston Williams, WR, Colorado State
Miles Sanders, RB, Penn State
Kelvin Harmon, WR, NC State
Gerald Willis III, DT, Miami 
Byron Murphy, CB, Washington
Hakeem Butler, WR, Iowa State
Brian Burns, DE, Florida State
Jachai Polite, DE, Florida 
Terry Godwin, WR, Georgia
Greedy Williams, CB, LSU
Dexter Williams, RB, Notre Dame
Kris Boyd, CB, Texas
Lil'Jordan Humphrey, WR, Texas
Javon Kinlaw, DT, South Carolina
K.J. Costello, QB, Stanford
Tony Pollard, RB/WR/KR, Memphis
---
Follow Jimmy & PhillyVoice on Twitter: @JimmyKempski | @thePhillyVoice
Like us on Facebook: PhillyVoice Sports
Add Jimmy's RSS feed to your feed reader
from PhillyVoice – Eagles https://ift.tt/2L714iA
via IFTTT