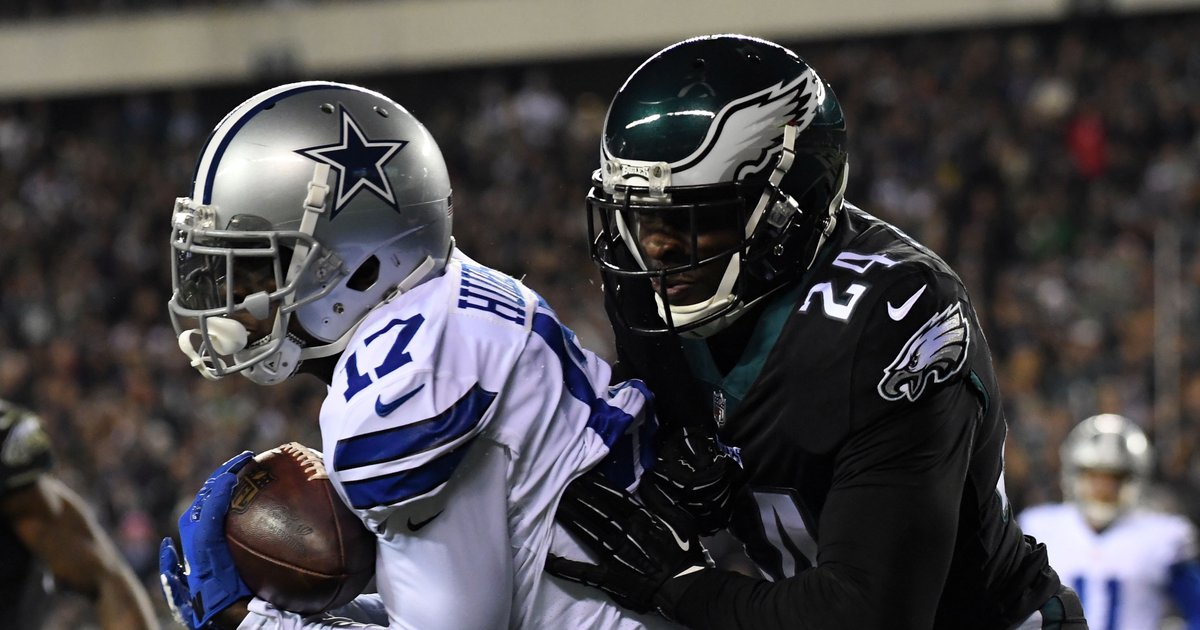 The Eagles will travel to Dallas this weekend to take on the division-leading Cowboys in a game they need to win in order to stay on track in the NFC East race. A loss however, and they'll spend the final three weeks of the season scoreboard watching and hoping for the last NFC wild card spot.
We've broken down the injuries, pointed out the key matchups to watch — on both sides of the ball — and offered our own predictions for this one. Now, as we do every weekend, it's time to take a look around the nation to see how the various experts, both local and national, think Sunday's matchup is going to play out.
•  PhillyVoice staff: After an all-Eagles batch of predictions last week, we were sidedly more split this week, with two of us picking the Cowboys. Here's a look at what Eagles writer Jimmy Kempski had to say (he picked the Birds).
I've thought long and hard about this pick, but ultimately I believe strongly that the Eagles are the better team, and should win this game, like they should have won Week 10. Why? Well, for me, I believe that the Eagles have significant advantages in the trenches. More specifically, the Birds' offensive line is beginning to look more and more like the dominant unit they were a season ago, and that's where it can all start for the Eagles to get back into the playoffs.

Obviously, the Cowboys have some momentum, heading into this game with a four-game winning streak that includes an impressive upset win over the Saints. The Eagles have a little momentum of their own at the moment, having won back-to-back games for the first time all season, albeit against Eli Manning and Mark Sanchez. 

Home field advantage in this series tends to be meaningless, and I expect this division to be all knotted up Sunday night. 
•  ESPN staff: Just one of their 10 national experts is picking the Eagles to beat Dallas.
•  Tim McManus, ESPN.com Eagles writer: Eagles 26, Cowboys 23
The Eagles are starting to win more in the trenches, which has helped fuel back-to-back victories. Coach Doug Pederson is trusting his ground game more now that the offensive line is getting healthy, allowing Carson Wentz to do what he does best — execute out of play-action. Wentz set career highs in attempts and yards off play-action last week against Washington and looked like his old self running bootlegs attached to those type of plays. Defensive end Brandon Graham, meanwhile, is starting to round into form. The defensive front has taken a step forward as a result, and should be able to put some heat on Dak Prescott.
•  Todd Archer, ESPN.com Cowboys writer: Cowboys 24, Eagles 20
Prescott will never be defined by statistics, but he will be defined by wins. When Prescott doesn't throw an interception, the Cowboys are 26-5. In their four-game winning streak, he has four touchdown passes and no picks. The Eagles' secondary has been beset with injuries and has just six interceptions all season. Only three teams have fewer. If Prescott continues his mistake-free ways, the Cowboys will effectively knock out the defending Super Bowl champions from repeating as division winners. 
•  Elliot Harrison, NFL.com: Cowboys 23, Eagles 20
The Eagles have won six of their eight meetings in Dallas this decade? What? So much for home-field advantage. Considering that playing at JerryWorld is like getting football (bottle) service at a nightclub, with an in-stadium Pappadeaux the most intimidating thing around, then … OK, I made that part up — at least I don't think there is a Pappadeaux there. But the truth is, the Cowboys haven't been that formidable in Big D. Then again, this 2018 defense of theirs is special, top to bottom. It's looking like Sean Lee will not make his return this week. That's OK, because Leighton Vander Esch is making plays Lee Roy Jordan would be proud of, and Jaylon Smith is running around with Dexter Coakley-ish, Hollywood Henderson speed. If the Eagles are to topple Dallas, they must run effectively early. They're averaging 43 rushing yards per game in the first half, at 3.8 per clip. That puts far too much onus on Carson Wentz, who then turns around and tries to throw the ball to Zach Ertz nine plays in a row.
•  CBSSports.com staff: Just one of their eight experts are picking the Eagles on Sunday.
---
---
•  OddsShark: Their computer model has the Eagles falling to the Cowboys by a touchdown.
•  Mike Florio, ProFootballTalk: Cowboys 24, Eagles 20
The Eagles have won two in a row, but the next three opponents are a combined 26-9. First up, a team that already beat the Eagles on their own field.
•  Michael David Smith, ProFootballTalk: Cowboys 21, Eagles 20
First place in the NFC East is on the line, and I like the home team to more or less wrap up the division.
•  Bleacher Report, NFL staff: Cowboys 26, Eagles 21
Can the Dallas Cowboys sweep their season series with the Philadelphia Eagles for first time since 2012? 

The majority of our analysts believe that Dallas will not only accomplish that feat, but also beat the Eagles by at least four points in Sunday's pivotal matchup between the NFC East rivals. 

"The NFC East will basically be decided with Sunday's meeting between Dallas and Philadelphia," Sobleski said. "The Cowboys can build a two-game lead in the division with a victory, and they're positioned to do so at home while playing their best football of the season. Amari Cooper has been a huge boost overall and has worked to open up the offense, which can only help since the Eagles are missing their best cornerback and starting free safety as the team tries to hold its secondary together with bubble gum."
•  SBNation staff: Just two of their seven experts are picking the Eagles.
•  Bleeding Green Nation staff: Six of their seven writers are picking the Eagles to beat Dallas.
---
---
•  NJ.com staff: Four of their five writers are predicting a Cowboys victory on Sunday, including Eagles beat writer Zack Rosenblatt.
The Eagles seem to be on the right track, especially with an offensive resurgence of sorts from the last two weeks. Considering where the offense has been all season, it's certainly a step in the right direction, but it's also important to remember: the teams the Eagles beat (Giants, Redskins) are not very good. The Cowboys are good, Ezekiel Elliott and Amari Cooper have been rolling and their defense just shut down the Saints' prolific offense. Until the Eagles actually prove capable of beating playoff-caliber opponents, I'm resistant to picking them to beat such a team.  

PICK: Cowboys 24, Eagles 20
•  Philly Influencer staff: Four of their seven writers are picking the Birds to beat Dallas, including Adrian Fedkiw.
Dallas is fourth in the NFL in rush defense, with its linebackers Jaylon Smith and Leighton Vander Esch helping lead the way. They limited Alvin Kamara, arguably the shiftiest running back in the NFL, to 36 yards on 11 carries, a measly 3.3 yards per pop. Smith and LVE are a lot more comfortable going horizontally than straight downhill, which is where Josh Adams is at his best. It's a huge reason why they were able to shut down Kamara. This is where the game could be won or lost, because balance is what has allowed the Eagles' offense to open up. I think they'll get the balance and the win.
•  David Steele, Sporting News: Eagles 20, Cowboys 19
Once again: Are the Eagles for real? Reading the Monday night win over Washington is tough, but it can't hurt to have gotten Golden Tate going for the first time since the trade. The Cowboys started their spurt by winning in Philadelphia on Sunday night three weeks ago. Ezekiel Elliott's 187 combined yards were the catalyst. The Eagles allowing ancient Adrian Peterson to tear through them for 90 yards virtually untouched isn't a good sign. A better sign for them was Carson Wentz getting better as the Monday night game went on. 
•  Vinny Iyer, Sporting News: Cowboys 27, Eagles 23
The Eagles have rediscovered their power running game with Josh Adams, and it has helped protect their problems on defense. The Redskins don't have the wide receivers for Colt McCoy to exploit Philadelphia's depleted secondary. On the other side, Washington's secondary can't cover Zach Ertz or Alshon Jeffery.
---
---
Follow Matt on Twitter: @matt_mullin
Like us on Facebook: PhillyVoice Sports
from PhillyVoice – Eagles https://ift.tt/2Ei3NoV
via IFTTT