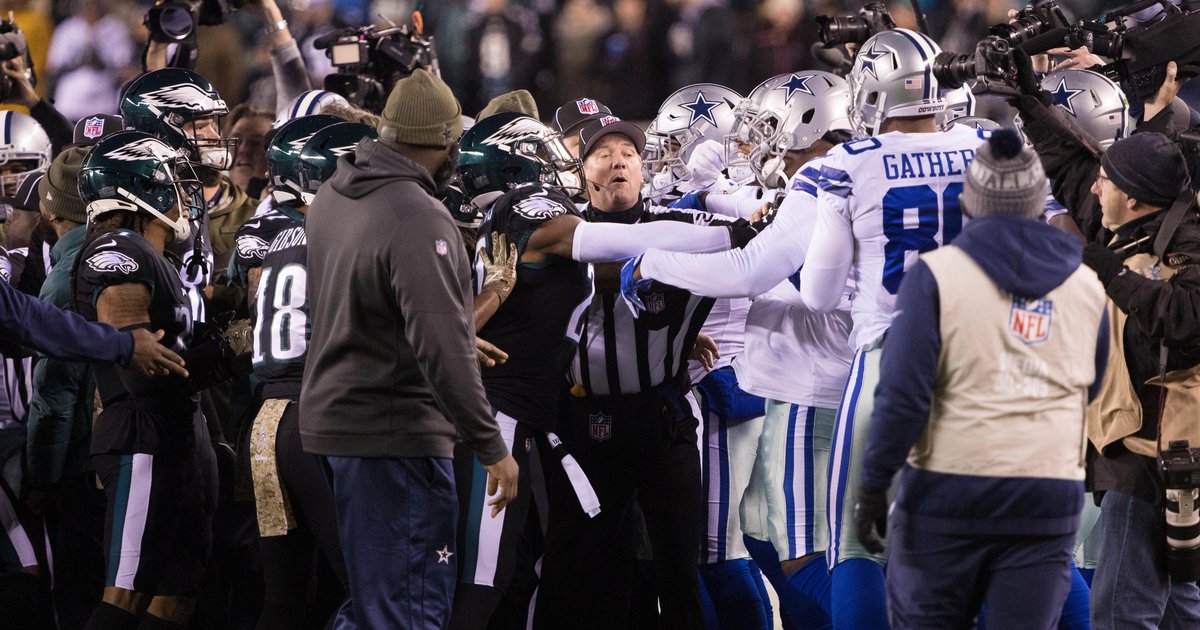 Well, the Eagles had better beat the Cowboys on Sunday, because there's a ton of s***-talking going on in Philadelphia ahead of this pivotal NFC East clash.
On Wednesday, Eagles linebacker Kamu Grugier-Hill kicked things off by stating that the Cowboys "always choke" and that the Birds would go to Dallas to ensure that happens.
---
---
That sparked a lot of debate on Thursday and led wide receiver Shelton Gibson to prank the media in the locker room, wearing his teammate's jersey with a towel over his head to "hide" from questions.
Carson Wentz was asked about Grugier-Hill's comments and brushed them aside, showing respect for the Cowboys' defense. Nice try, man. 
Now there's Howard Eskin, who last year got into a back-and-forth with Cowboys slot receiver Cole Beasley. Eskin first disparaged Cowboys quarterback Dak Prescott, prompting Beasley to lash out at the longtime radio personality. 
I didn't know the dude was from philly. Don't care honestly. Nobody is about to discredit my quarterback who has done nothin but ball since he stepped through the door.

— Cole Beasley (@Bease11) November 13, 2017
Howard responded by underhandedly trolling Cole Beasley's rap career. 
Fast forward to Thursday and now Eskin is downright toying with Beasley.
There hasn't been a response from Beasley yet, but credit to Eskin for the correct spelling in this tweet. It would have been a bad look to drop this photo and crank out one of these masterpieces. 
when you spill nog on your phone and you wipe it off with your fingers (maybe a used handkerchief) but it smears but you're going to hit that Send button no matter what pic.twitter.com/EvMQAtNNSQ

— Treb (@treblaw) December 6, 2018
Eagles, please back all of this up on Sunday. 
from PhillyVoice – Eagles https://ift.tt/2EkiIPJ
via IFTTT