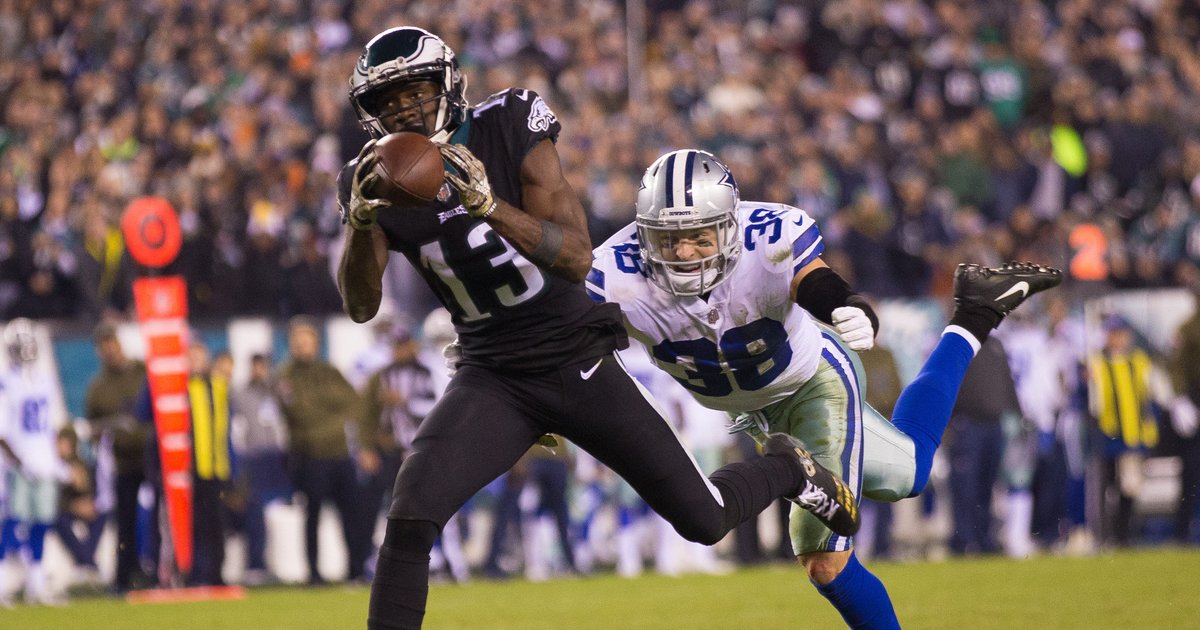 It seems as though we say this every week this season, but the Eagles will head into Sunday's game needing a win in a big way. That's because they'll be facing a Cowboys team they trail for the NFC East lead by a game — and with just three games left in the season after this, a loss to Dallas would all but end the Eagles hopes at winning the division. 
While they can still make the postseason as a wild card, that path would become much more clouded with a loss at Jerry World. 
Here's how we see Sunday's big game against the Cowboys playing out… 
• GAME INFO •
WEEK 14
Eagles (6-6) at Cowboys (7-5)
Sunday, 4:25 p.m. ET | AT&T Stadium 
BROADCAST INFO
TV: FOX  |  RADIO: 94.1 WIP
BETTING LINES
SPREAD: Dallas (-3.5)  |  TOTAL: 44.0 (via Bovada)
• PREDICTIONS •
Jimmy Kempski
SEASON RECORD: 7-5
PICK: Eagles 27, Cowboys 20
I've thought long and hard about this pick, but ultimately I believe strongly that the Eagles are the better team, and should win this game, like they should have won Week 10. Why? Well, for me, I believe that the Eagles have significant advantages in the trenches. More specifically, the Birds' offensive line is beginning to look more and more like the dominant unit they were a season ago, and that's where it can all start for the Eagles to get back into the playoffs.
Obviously, the Cowboys have some momentum, heading into this game with a four-game winning streak that includes an impressive upset win over the Saints. The Eagles have a little momentum of their own at the moment, having won back-to-back games for the first time all season, albeit against Eli Manning and Mark Sanchez. 
Home field advantage in this series tends to be meaningless, and I expect this division to be all knotted up Sunday night. 
---
---
Evan Macy
SEASON RECORD: 7-5
PICK: Cowboys 24, Eagles 21
Let me start by saying this. There is no correlation between what we say here, and what the Eagles do out there. It's easy to get in the mind-frame of jinxes, reverse jinxes (one of my favorite phenomenon) , and hedging but when it comes down to it, just like fantasy football, just like sports betting, there's no way to know what will happen each week on the football field. Which brings me to my Week 14 pick. After seeing the Cowboys dismantle and shock the Saints over a week ago, it's really hard for me to pick against them this week, even if I do think the Eagles are back on the right track. 
Unfortunately, a loss here takes the Eagles out of the drivers seat and requires a lot of help to get them into the playoffs. If I am being honest, right now, I see Philly having a better shot in L.A. against the Rams next week then this week in Dallas. I think Ezekiel Ellott and Amari Cooper will come up big and the Eagles will keep it close but falter. 24-21, Cowboys.
Matt Mullin
SEASON RECORD: 5-7
PICK: Cowboys 27, Eagles 23
The Eagles seem to be playing their best football of the season — and that's exactly why I'm picking them to lose this week. Every time it seems like things are starting to go right for the Birds, something goes terribly wrong. The Eagles secondary — and their whole defense for that matter — remains banged up. And that may have been enough to get them by Eli Manning and a Colt McCoy/Mark Sanchez combo, but the Cowboys offense is much more dangerous now that it has a legitimate outside threat in Amari Cooper. 
Can the Eagles pull off the upset on Sunday? Absolutely. This is going to be a close game. I just think the Eagles are due for a letdown. 
Kyle Neubeck
SEASON RECORD: 7-5
PICK: Eagles 24, Cowboys 20
The less thought I've put into these predictions, the better I've done. So let's use some tried and true logic: outside of last season I'm used to the Eagles setting up the most spectacular disappointments possible. If they lose to the Cowboys, the end to the season is inevitable.
Feels like it's time for a win to set up the real gut punch later. I'll take the Eagles.
Joe Santoliquito
SEASON RECORD: 5-7
PICK: Eagles 23, Cowboys 20
This is the game that, hopefully, Carson Wentz proves that last year was no mirage — and he's really that good. We all hope.
---
---
Follow Matt on Twitter: @matt_mullin
Like us on Facebook: PhillyVoice Sports
from PhillyVoice – Eagles https://ift.tt/2rsiSvE
via IFTTT