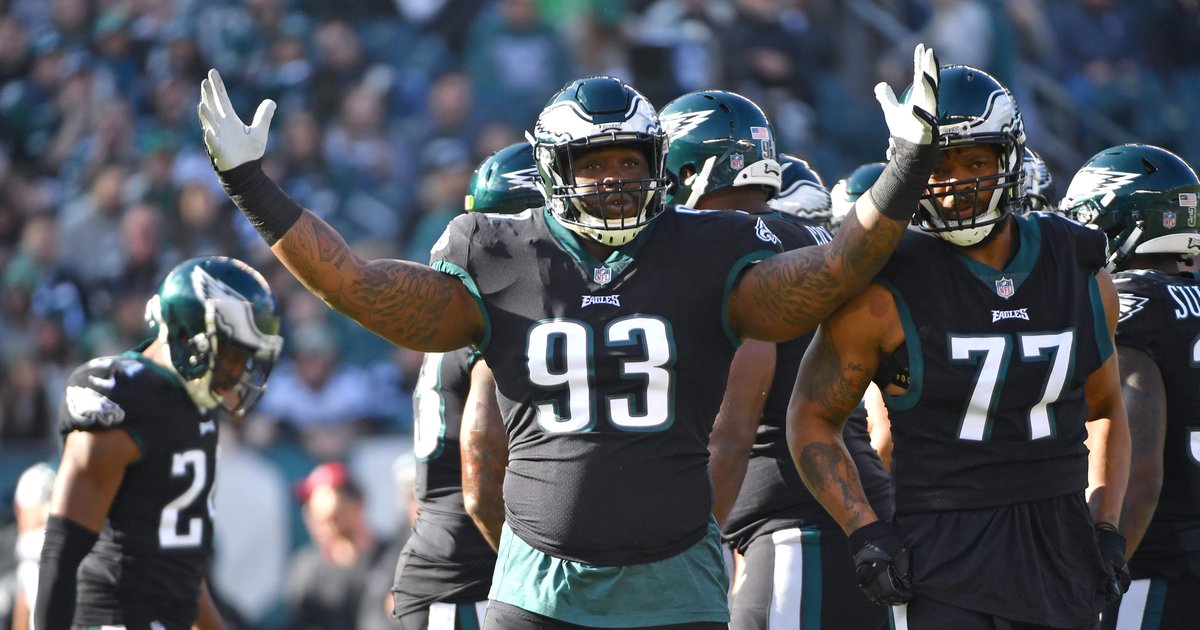 In our Eagles chat this week, there were a lot of questions that we could not get to in time or other questions we did answer but could use more color. And so, let's do a mailbag post to answer some of the overflow.
Question from Connor:
Release, restructure, or retain as is: Michael Bennett, Rodney McLeod, and
Timmy Jernigan. Go.
• Michael Bennett is scheduled to count for $7 million against the cap
next season. The Eagles would save the full $7 million (no cap hit) if they release
him. In 2020, he is scheduled to count for $8 million, again, with no penalty if
he were to be released.
Bennett is already 33 years old, but he doesn't seem to be
showing any obvious signs of slowing down. He has 6.5 sacks this season with
four games to play, and offers some inside-outside versatility. If the team
re-signs Brandon Graham this offseason, then I can see a scenario in which the
team moves on from Bennett because they need the cap space, but they almost
have to keep him if Graham bolts for another team in free agency.
Verdict: Retain as is.
• Rodney McLeod is an interesting case. He's going to be
expensive in 2019, as he'll cost a little more than $9.9 million against the
cap. The team will surely ask McLeod to take a pay cut. If he doesn't, the
Eagles will have to make a tough decision. On the one hand, the Eagles have
clearly missed McLeod, most notably when they lost a game in Tennessee this year
because he wasn't available. On the other hand, $10 million is a lot for a
safety coming off a torn ACL/MCL.
If the Eagles release McLeod, they'll save a little more
than $5 million on the cap. They could then use that money to try to find his
replacement on the open market. It is highly unlikely that McLeod is going to
find another team willing to pay him anywhere near what he is making in Philly,
seeing as he he's recovering from a serious injury. Ultimately, I think both signs find a compromise.
Verdict: Restructure.
• Timmy Jernigan is scheduled to count for $13 million against
the cap in 2019. There is a zero percent chance the team is bringing him back
at that number. If the team thinks that he still has a career ahead of him
after recovering from surgery to repair a herniated disc, then maybe they will bring
him back on a significant pay cut, but it's probably more likely that they just
move on from him this offseason, especially if he is unable to get back on the
field and make some noise down the stretch.
Verdict: Release.
Question from
LostInChiTown: What are the odds that Howie Roseman and Joe Douglas assume there
will be plenty of defensive linemen available in the middle rounds because of
how deep it is, and ignore the position until it's too late? It has worked
terribly in the past, but a speed WR in round 1 and a stud RB in round 2 wouldn't
be all bad.
Watch how fast defensive linemen come off the board in this
draft. They're going to be like goldfish getting picked off by piranha. If you're
counting on a great one still just sitting there in the third round, then I
think that strategy would be a huge mistake.
That said, a speed wide receiver is arguably as big a need as
adding to the defensive line. If, say, Marquise Brown for example, is sitting
there, and the Eagles have him rated more highly than all the available
defensive linemen, then go ahead and take him. But I wouldn't pass on
a higher-rated defensive linemen in favor of a skill position player on the
premise that I can just get one later.
Question from Lawson:
When I see the Panthers', Cowboys', Bears', and Vikings' linebackers compared to
the Eagles', why the hell doesn't Howie invest in that position?
The short answer is that you can't invest heavily in everything.
Andy Reid always wanted a quarterback, two offensive tackles, two pass rushers,
two corners, and he'd figure out the rest from there. I do believe that wide receiver
has now worked its way into that group with the game evolving the way it has.
If you invest heavily at linebacker, then you're pulling
resources away from other positions. There are a lot of different ways to build
a roster, but personally, I believe the QB-OT-OT-DE-DE-CB-CB strategy is a
sound one.
Question from MFlick:
If you were Howie, what is the smallest compensation you would take for Mailata?
If someone offered me a 2, I'd snatch that up. I know this
may sound crazy, but I'm turning down a 3.
Question from Artie:
Any opinion on Kamu's "choke" comments? Considering he choked on the pick six,
I'm not a fan of it myself. Coming from Malcolm or Lane would be a better
optic, in my opinion.
Well, it's not like the team had a meeting and chose Kamu over
Malcolm or Lane to talk smack, ha, but I hear what you're saying. If you're a
third linebacker / special teams guy who sees the field for about 20 percent of
the snaps when the team is fully healthy, maaaaaayyyybe don't be the one who's
chirping, especially when you failed to make a play in a loss to the very same opponent that might have
otherwise changed the game.
Also, my other issue with it is that if you're going to do
it, don't go half-measure, as they said in Breaking Bad. Go full on Shady
McCoy, like when he called Osi Umenyiora overrated and soft.
I did find Dak Prescott's response amusing:
Dak Prescott was asked about the Eagles LB saying Dallas has a history of choking and they'll make them choke again.

Dak: "Who?"

After being told again, Dak: "Coach Garrett has a great saying…winners worry about winning and losers worry about winners." https://t.co/FBZhwTRiL8

— Jon Machota (@jonmachota) December 6, 2018
The first part of that statement, I agree with. The Eagles, as winners of the Super Bowl last season, should continue to worry about winning. I'm confused, however, by the second part of that the statement, which implies that the Eagles are losers and the Cowboys are winners? How is that, exactly, when again, the Eagles remain reigning Super Bowl champions and the Cowboys have two playoff wins in 20 years?
---
Follow Jimmy & PhillyVoice on Twitter: @JimmyKempski | @thePhillyVoice
Like us on Facebook: PhillyVoice Sports
Add Jimmy's RSS feed to your feed reader
from PhillyVoice – Eagles https://ift.tt/2Ge5shk
via IFTTT