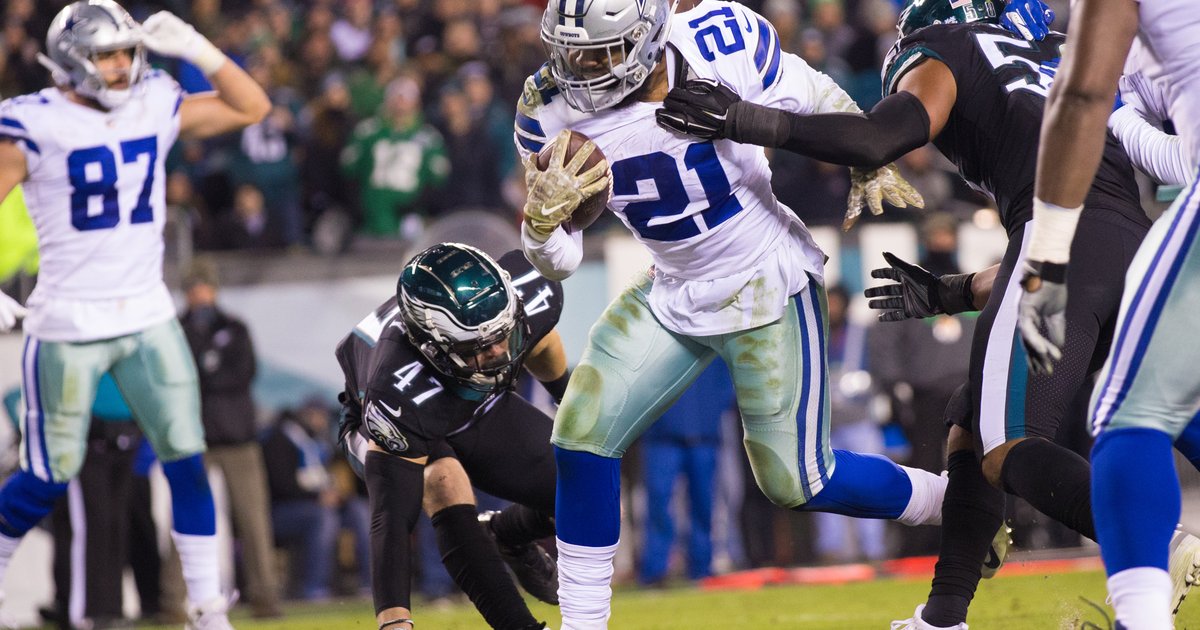 The Philadelphia Eagles will head to Dallas to face the Cowboys this Sunday in what is the most important game of the season so far, for both teams, as the winner will be in control of the NFC East. And so, because of the stakes involved, we'll take a look at five crucial matchups on both sides of the ball, beginning with the Eagles' defense vs. the Cowboys' offense.
1) Ezekiel Elliott vs. the Eagles' run defense
In their Week 10 loss to the Cowboys, the Eagles got run over by Ezekiel Elliott.
In total, Elliott had 19 carries for 151 yards to go along with 6 catches for 36 yards and two total TDs.
"Elliott is just so strong," Jim Schwartz said. "He's hard to tackle one-on-one. He has enough speed that he can get to the edge and he can create big plays. But he's so strong. They are not very complicated in the run game and they don't need to be. Just sort of hand him the ball, and even if there is an extra guy, he can run through them or make them miss.
"He has also really increased his load as his career has gone on in the passing game also. He is a dangerous screen runner. You have to account for him. He's obviously one of the best backs in the league.
"If we're going to come out with a win, we're going to have to get him stopped."
That won't be easy with the starting middle linebacker out, and the two other starting linebackers both essentially playing with one hand each.
"It's not ideal, but if a guy can't do his job we're not comfortable putting him on the field. We felt comfortable putting those guys on the field," Schwartz said.
2) Beware the mobile quarterback
As we've shown several times this season, here is what some running-capable quarterbacks have done against the Eagles since 2017, in chronological order:
| | | | | |
| --- | --- | --- | --- | --- |
| Opponent  | Rush  | Yards  | YPC  | TD  |
|  Kirk Cousins | 4  | 30  | 7.5  | 0  |
|  Alex Smith | 4  | 21  | 5.3  | 0  |
|  Cam Newton | 11  | 71  | 6.5  | 1  |
|  Kirk Cousins | 3  | 18  | 6.0  | 0  |
|  C.J. Beathard | 6  | 40  | 6.7  | 0  |
|  Dak Prescott | 2  | 10  | 5.0  | 0  |
|  Mitchell Trubisky | 4  | 12  | 3.0  | 0  |
|  Russell Wilson | 6  | 31  | 5.2  | 0  |
|  Dak Prescott | 2  | 16  | 8.0  | 0  |
|  Andrew Luck | 1  | 33  | 33.0  | 0  |
|  Marcus Mariota | 10  | 46  | 4.6  | 1  |
|  Cam Newton | 7  | 49  | 7.0  | 0  |
|  Blake Bortles | 8  | 43  | 5.4  | 0  |
|  Dak Prescott | 6  | 9  | 1.5  | 1  |
|  TOTAL | 49  | 291  | 5.9  | 3  |
While Prescott didn't hurt the Eagles with scrambles in their Week 10 matchup, they're certainly aware that he can make plays with his feet.
"Their quarterback has taken a proactive stance when it comes to scrambling for first-downs," Schwartz said. "Thanksgiving game, the New Orleans games, there were a couple plays that he made critical first-downs when it didn't look like he had anything."
For example:
Prescott is capable of breaking tackles, or carrying tacklers for extra yardage. The Eagles must treat Prescott like a running back who is not going to give himself up. 
3) The Eagles' turnover-challenged defense vs. Dak Prescott's fumble luck
Prescott has been sacked 45 times this season, partly because he likes to extend plays, and partly because the Cowboys' offensive line is overrated as a pass protection unit. That's the most sacks allowed in the NFL.
Prescott is also prone to fumbling. A lot has been made of Carson Wentz's fumbling issues this season, a valid critique of his game. On the season, Wentz has 8 fumbles. Prescott has 11.
Generally speaking, it's obviously good practice to swipe at the football if you're in a position to hit the quarterback. However, it's probably a good idea for the Eagles' defensive linemen to be extra mindful that the chance for a ball hitting the ground exists in this matchup more than it does in others. This season, Prescott has recovered six of his own fumbles. Odds say that Prescott will fumble in this game, and the Eagles must capitalize if/when he does.
4) Amari Cooper vs. the Eagles' outside corners
The Eagles will almost certainly be without both of their starting outside corners, Jalen Mills and Ronald Darby. As such, expect the Cowboys to try to attack their replacements, Sidney Jones and Rasul Douglas, with Cooper, who has been terrific for Dallas in the five games since he joined the team. In those five games, Cooper has 30 catches for 424 yards and three TDs.
Schwartz noted that the Cowboys are no longer a one-trick pony, like they maybe were earlier in the season.
"I think 19 [Cooper] certainly added to their passing game," he said. "So, it's one of those teams you put too much emphasis on Ezekiel Elliott, all of a sudden Cooper is making a lot of plays down the field or Beasley is making a lot of plays on the third-down game."

Jones and Douglas have to step up.
5) The Eagles' defensive tackles vs. the Cowboys' interior offensive line
The Cowboys will be without their starting center and their starting left guard. Their replacements, center Joe Looney and LG Xavier Su'a-Filo, are less than awesome. Fletcher Cox said before the season that a goal of his was to be the NFL Defensive Player of the Year. While he's been a great player this year, this is the type of game where he has to star and make a game-changing play.
---
Follow Jimmy & PhillyVoice on Twitter: @JimmyKempski | @thePhillyVoice
Like us on Facebook: PhillyVoice Sports
Add Jimmy's RSS feed to your feed reader
from PhillyVoice – Eagles https://ift.tt/2QijiUr
via IFTTT