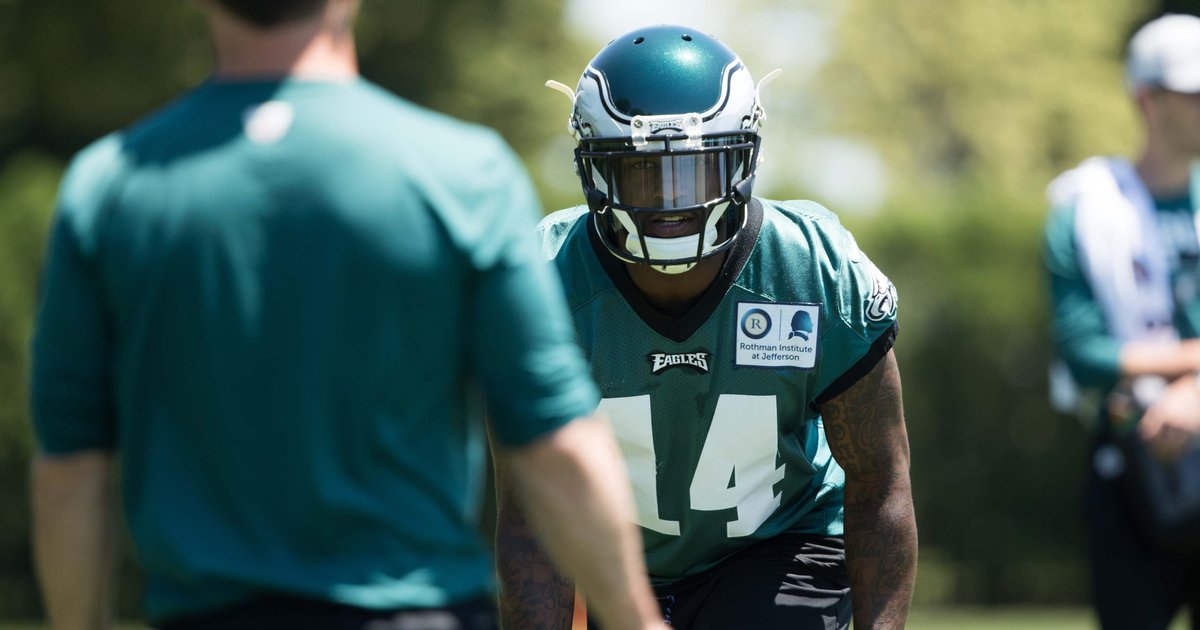 One of the glaring pieces missing from the Philadelphia Eagles' passing game this season has been the ability to connect on deep throws down the field. The domino effect of that missing element is that opposing defenses begin to inch up closer to the line of scrimmage, making it more difficult to execute in the intermediate areas of the field, as well as in the screen game, and even in the run game.
This past offseason, the Eagles signed Mike Wallace to be the speed guy to at least keep opposing secondaries honest, much in the same way Torrey Smith did in 2017. Unfortunately, Wallace broke his fibula in Week 2 against the Tampa Bay Buccaneers, and he hasn't played since.
Wallace went on injured reserve, but he is still eligible to be reactivated by the team back to the 53-man roster. Three weeks ago, the Eagles used one of their two allotted IR reactivation designations on TE Richard Rodgers. The two candidates for the other designation are Wallace and second-year wide receiver Mack Hollins. 
On Wednesday, Wallace spoke for the first time in about a month.
"I can run, but I'm not myself yet," he said. "I guess it was like a 12 week injury. We're right about at week 12. It's healed. It's just about getting back in shape, getting in and out of breaks. I can run. Fast. Real fast. I can beat all of y'all, that's for sure.
"I'm on schedule. I don't know what the schedule is, but I'm doing well. I'm getting stronger every day, running more. Obviously I'm not where I want to be yet, but every single week I make big jumps. Every single week they give me a task, and for the most part I complete them, jumping those hurdles every single time, and there have been no setbacks or anything like that. It's just about rehabbing and getting back from my broken ankle."
Between Wallace and Hollins, it appears that the Eagles are waiting for Wallace to get fully recovered, at which point he will rejoin the team, as he is a more proven deep threat.
"I've been doing that for nine years, and I've been doing it at a high level for a long time, getting down the field," Wallace said.
Of course, if the Eagles lose a couple games and are eliminated from contention, it might make more sense for them to activate Hollins to get him more experience. For now, however, it looks like Wallace will eventually be the guy.
---
Follow Jimmy & PhillyVoice on Twitter: @JimmyKempski | @thePhillyVoice
Like us on Facebook: PhillyVoice Sports
Add Jimmy's RSS feed to your feed reader
from PhillyVoice – Eagles https://ift.tt/2PmFHuc
via IFTTT