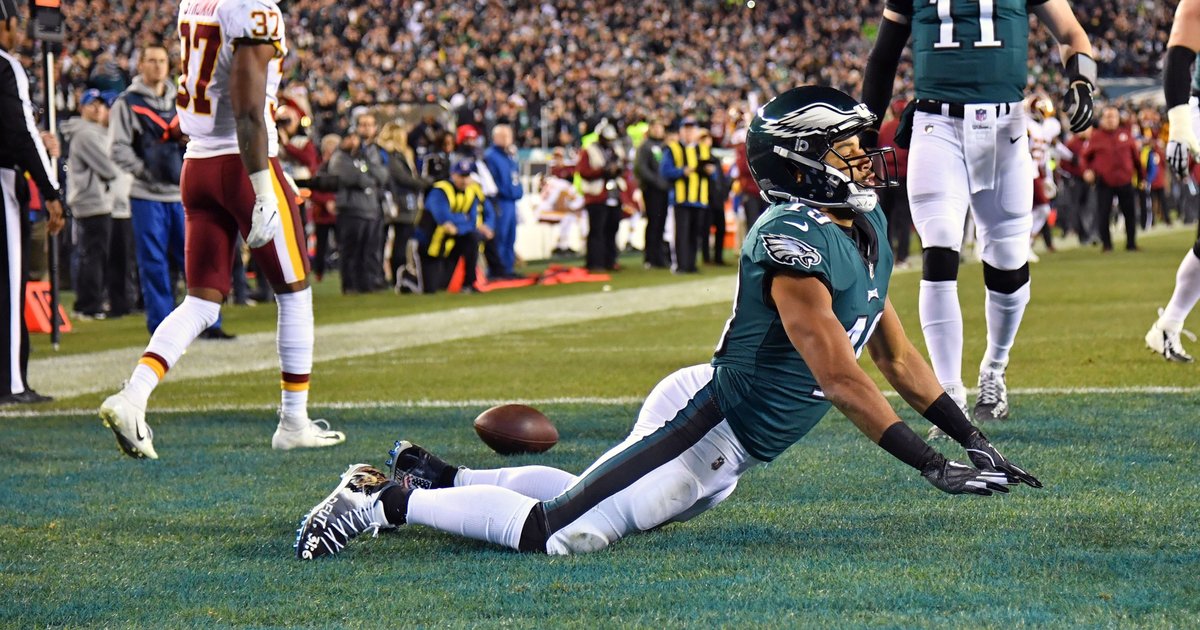 Mark Sanchez looked a little too competent for my liking, and the Eagles emerged with only a one-point lead despite a rare opening-drive score, but a lead is a lead. After 30 minutes at the Linc, Philadelphia leads the Redskins by a score of 14-13.
Here's what I saw in the first half, and let us all hope there are some "lol Mark Sanchez" moments to come.
The Good
• If there was one thing you wanted to see in the first 30 minutes on Monday night, it was Carson Wentz coming out and looking like the quarterback we all know he's capable of being. He has had some nice performances in his comeback season, but even in those games he has taken some time to get going.
Not the case against Washington. With some assistance from Josh Adams on the ground, Wentz came out and led the Eagles right down the field, hooking up with a few of his big-name targets for an excellent opening possession.
The biggest thing that stood out? His improvisational ability. On both receptions Golden Tate came down with, including his first touchdown as an Eagles player, Wentz pulled out a bit of magic to get him the ball. He used a simple hand motion to find Tate down the sideline on the first play, and Wentz's mobility bought him the window for the score on a later throw.
That's more like the guy we saw emerge as an MVP favorite last season. And for an Eagles team that has not been anywhere near good enough in first quarters this season, it was exactly what they needed.
• Additional note on that opening drive — Alshon Jeffery's effort to pick up a critical third down was excellent. You can say plenty about this group, but they certainly haven't lacked fight.
• The offense will get the pub because that's how the game goes, but Philadelphia's defense came out just as fired up for Monday Night Football. Michael Bennett was as charged up as ever, letting out some hellacious screams as he got into the backfield to disrupt Washington's rushing attack.
Granted, this isn't exactly a Washington team firing on all cylinders on offense. They're down their starting quarterback and banged up along the offensive line, so the degree of difficulty isn't high. But the Eagles have shown they're capable of stumbling over inferior opponents before, so it was nice to see them as sharp as they were out of the gate.
• Any time you see Mark Sanchez warming up on the sideline for the opposing team, you consider that a win.
• Been saying it all year and I think at this point it has been driven home, but I really don't know if we can put this Zach Ertz season into proper context. He's constantly open, he rarely drops the ball, and he pops up almost always when the Eagles need a big play.
His blocking can still be hit or miss and he's never going to be guy who produces a ton of yards after the catch, but he is elite at his position. You don't always get to say that about Eagles players, and certainly not at the tight end position. Appreciate this guy while he's here because there might not be another one of him in green for a while (with all respect due to Dallas Goedert).
• I loved the decision to go for it on fourth down late in the first half. Obviously did not like that they let someone get to Josh Adams in the backfield untouched and unblocked, but you simply have to execute that sucker.
(What I definitely do not get: taking Ertz off the field on fourth down, considering how much a defense has to account for him whenever he is on the field.)
• Welcome back, Darren Sproles. This is why he stuck around and competed to make it back for one last ride.
Big, big credit goes to Jason Kelce on this play for taking out two different Washington players en route to the touchdown. While a lot of the offensive line has faltered this year after a monster effort during the Super Bowl run, Kelce has been one of their best performers all season, and he's a unique talent at center.
Worth noting: part of the success on that touchdown drive can be credited to the failed attempt on fourth down. They kept Washington pinned deep in their own territory on the ensuing drive, got to play from a short field, and then bam, you're in the end zone. Stay on the front foot, and you will reap the rewards later.
The Bad
• The Eagles have run tosses to the outside for Josh Adams on third-down plays, which were complete nonsense. Tonight, they busted out an inside run for Darren Sproles on third-and-four, and it went exactly how you'd expect.
Is this stuff really that hard to figure out? Play to the strengths of your personnel. With Adams running as well as he has, I don't know why you'd try to get cute. Either use Sproles in the passing game there or don't use him at all.
• It's a bummer Rasul Douglas is as slow as he is because they could really use more of his tackling ability in the secondary. He made a couple nice plays on the outside on screen plays in the first quarter, anticipating throws and then blowing them up.
Unfortunately, when he's on an island in coverage, he's susceptible to being beat early and often.
• I liked the decision from the coaching staff to accept a block-in-the-back penalty on Washington early in the second quarter, pushing them to third and 30 and on the outer edge of field goal range.
But if you're going to do that, why would you play soft coverage on third down? Set aside that it has come back to bite the Eagles for a lot of this season, it's also just illogical given the decision you made immediately beforehand. If you're going to concede the yards you took on the penalty anyway, why bother accepting it? You're not putting yourself in position to create a turnover, and you're definitely not making it harder to kick a field goal when all is said and done.
You're basically just banking on the other team screwing up again, and given Philadelphia's own propensity for taking backbreaking penalties, I'd argue you might be the team that ends up hurting itself. It's a bad process, and it's the sort of decision-making that has plagued this season.
• With Mark Sanchez in the game, you know your opponent is going to lean on the run game. Let me repeat this: WITH MARK SANCHEZ IN THE GAME, YOU KNOW YOUR OPPONENT IS GOING TO LEAN ON THE RUN GAME.
Someone is going to have to explain to me how the Eagles got torched for a 90-yard touchdown on Sanchez's very first snap of the game, a simple handoff to Adrian Peterson up the middle. And that's with the majority of Washington's offensive line in tatters.
Inexcusable.
• As good as Wentz started the game, he missed a couple of major opportunities in the first half on Monday, sailing passes on two different opportunities with Ertz and Nelson Agholor streaking down the sideline. He didn't even have to throw perfect passes to get them in there safely, they simply needed to be catchable balls.
Overall, I thought Wentz had a strong half, but he's the franchise guy. The bar is and should be high.
(One way to help get him going seems clear: get the man on the move. He was excellent on rollouts in the first half on Monday.)
• Corey Clement looked like he had a ton of room to run on the inside when he caught a screen pass late in the first half, and with Jason Kelce out there to block. He did not read it well, and a potential big gainer fizzled for a measly first down.
• Letting Jordan Reed pick up a first down with four Eagles players trying to tackle him is a little bit puzzling to say the least. Well, I guess it would be if we hadn't seen other plays like it all season.
The Ugly
• It took Jason Witten exactly eight minutes to mention Philadelphia fans booing Santa Claus during the game. It's bad enough that the guy is boring as hell, and then he's a crappy cliche machine on top of that.
That's the genius intellect that helped Jason Witten win exactly nothing during his long and storied Cowboys career.
• Always very enjoyable when an official 35 yards away from a play calls for pass interference, while the guy right on top of the play simply rules it an incomplete pass. That seems like a process that will lead to an accurate call.
---
Follow Kyle on Twitter: @KyleNeubeck
Like us on Facebook: PhillyVoice Sports
Add Kyle's RSS feed to your feed reader
from PhillyVoice – Eagles https://ift.tt/2BQp5HT
via IFTTT