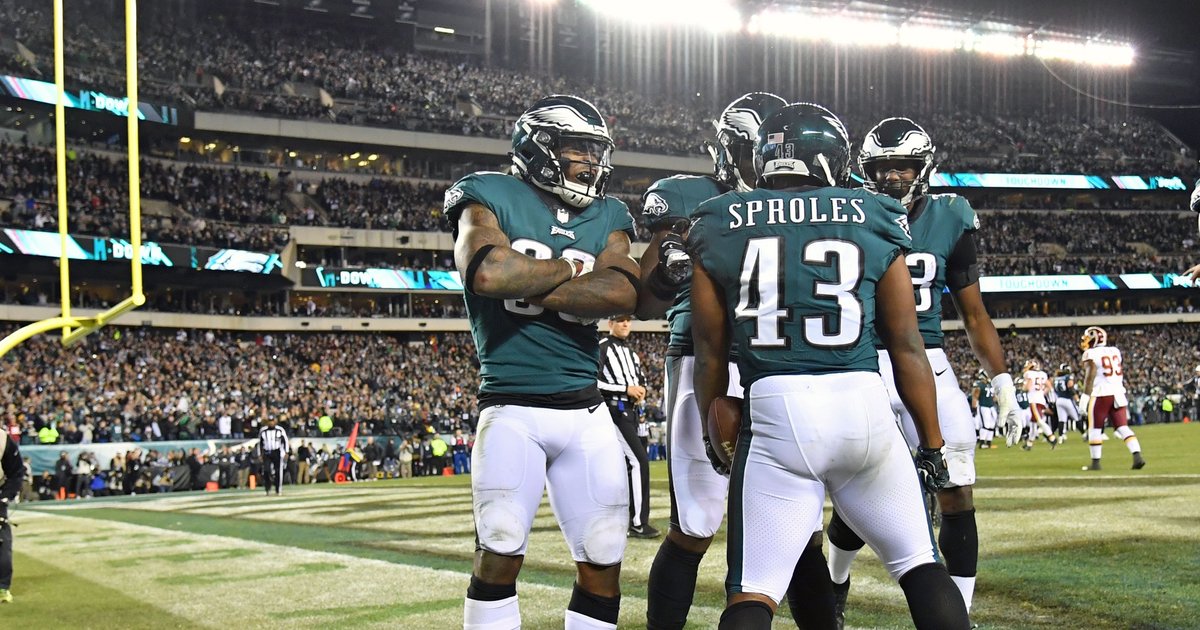 With their season on the brink in primetime, the Eagles came through with another big win over a divisional rival. They will have the chance to erase the lone blemish in their NFC East record next week, after a 28-13 victory over Washington on Monday Night Football.
At 6-6, the Eagles now have a chance to go into Dallas next week and leave tied for the divison lead. Easier said than done, but they can worry about that next Sunday.
Here's what I saw on Monday night.
The Good
• To borrow a phrase the Sixers marketing team cooked up after rejecting anything related to "process" for years, welcome to the moment, Golden Tate. The midseason pickup finally made his presence felt on Monday night, showing a synergy with his quarterback that had previously been absent.
Tate has always been advertised as a potential weapon in the screen game who could create yards after the catch. It took until Monday night for that to become a reality in Philadelphia, but he fought for some tough yardage when the Eagles needed it, and combined with Wentz for some plays that were pretty much all improvisation.
Tate showed up on a couple big third-down plays, and he hauled in a tough one near the goal line on their successful two-point conversion to open the fourth, doing just enough to make sure the Eagles got that extra boost.
It's looking pretty unlikely that the price they paid is going to end up being worth their while, but it would be nice if Tate could keep producing while he's here, in any case. Monday night was a start, and there's no better team he could keep building against than Dallas next week.
• Cre'Von LeBlanc (yes, that's how you spell his name, I promise) has been as good as you could expect a corner off the street to be this late in the season. He has made tackles in the open field, played physical without often crossing the line into illegal territory, and has been a bit of a nice surprise amongst a whole lot of trash in that secondary.
Considering he came here via a waiver claim made in early November, he's showing up and making plays more than I ever would have expected.
• Zach Ertz set a new Eagles record for receptions in a season, and his year is far from over. That should highlight what a special year he's having for any guy at one of the skill positions, let alone at tight end.
Not much else to say about that. He's a machine, and he gets it done regardless of what's going on with the offense around him.
• I don't know if Darren Sproles did all that much on his own, but I think you saw the difference it makes to have a fuller rotation at running back on Monday night. Josh Adams was great on one-cut plays, Corey Clement did his thing in the screen game — aided by the offensive line, of course — and Sproles was a nice change of pace in limited action.
Maybe this all comes down to the offensive line, who had maybe their best performance of the year with the season on the line. They absolutely bullied Washington at the point of attack, with the lone exception being the failed fourth down in the first half. And that was mostly an assignment failure, with the Eagles just missing an assignment on the right edge.
It's no surprise the passing attack looked better with how well the offensive line played and how successful the run game was. The game starts in the trenches.
• Love, love, love the decision to go for two from Pederson early in the fourth quarter. Easy to say that after they converted it, of course, but making it a two-possession game even with a potential two-point conversion from Washington was huge. That's the Big Balls Doug we all expected after last season, and it's one we should seeing more often. Play to win the damn game, not to not lose.
• Leaving a game against Mark Sanchez without an interception would have been a crime. Luckily, it's one the Eagles didn't commit. Nate Gerry, come on down:
Hard to believe it was only the ninth turnover the defense has come up with this season, even factoring in the injuries they dealt with. But the timing was impeccable.
• Mentioned it after the first half, but Rasul Douglas would really be a player if he had the speed to match the rest of his game. After making a couple nice tackles in the first half, he saved the Eagles from being burned on a trick play from Washington, tackling Chris Thompson on a throw back across the field.
If not for that play, the complexion of the game could have changed in an instant. Maybe there is really something to this Douglas at safety thing — he reads plays well and he is a pretty sure tackler, at the very least.
(I think being slow is a problem no matter where they put you in the secondary, but you can at least see why the conversation continues.)
• Jake Elliott was money on Monday night. Business as usual.
• I think the success of the screen game sort of disguised an up-and-down game for Carson Wentz, but I'll say this — he made some beautiful throws on the move against Washington, and on the whole it was somewhere between a good and very good performance from the signal-caller.
You can't mention the success of Tate, Ertz breaking an Eagles record, and a solid offensive performance overall without giving any credit to Wentz for making it all happen. Outside of some blips, he was very, very good and didn't shy away from throwing the ball into tight windows even after he threw a bad interception.
The gunslinger mentality is not always going to help you. But it helps Wentz shake off bad stretches and bad plays, and that's ultimately a good thing. 
The Bad
• Carson Wentz's interception in the red zone early in the second half was just gross. The Eagles had momentum on their side after a great opening series from the defense and a monster third-down conversion from Golden Tate. Even if the Eagles didn't come away with a touchdown in the red zone, things were moving in the right direction.
And then Wentz came out and threw this:
That's just not going to cut it. It's the first red-zone interception he has thrown since Week 14 in 2016, weirdly enough also against the Redskins. But the window was just not there regardless of where it took place on the field. If you're trailing and it's late in the game, I can understand trying to force the ball in. On a first-down play in the red zone? That's horrific.
A charitable explanation here would point out that the ball might have been tipped before it had a chance to reach Alshon Jeffery. And that may indeed be the case, as shown by the following video, but I still don't think that's a get out of jail free card here.
At first I thought Wentz threw it behind Jeffery. But on repeat, it looks like the ball was deflected by Mason Foster. Watch the trajectory of the ball dive suddenly as it passes his hand. pic.twitter.com/C0ZWx2OeaA

— Patrick (@pmc1423) December 4, 2018
I don't have any idea what Wentz believed he saw here, and that seemed to be a pretty universal feeling if we're judging the overall reaction. An uncharacteristic mistake in a big spot.
• Speaking of a mistake in a big spot, how in the world did Wentz miss Nelson Agholor on third down following the interception from Gerry? With all due respect, that was a positively McNabb-ian throw, sent directly into the turf despite Agholor having room to run in front of him.
There are times when you went to write off Wentz's inconsistency as a byproduct of the return from injury, but these are plays that you have no explanation for. Wentz could be playing on a wooden leg and make this throw.
After the Eagles' defense finally came up with a turnover, they were in a position to really kill off the game. They got the field goal as a consolation prize, but a really disappointing outcome given the opportunity.
The Ugly
• He's wearing opposing colors, but I really feel for Colt McCoy after his season was ended by a fractured leg. You hang around as a backup quarterback waiting for another shot, and when it comes, your body fails you. That's tough.
• I think it was well-intentioned to discuss the domestic violence issue during the MNF broadcast. I know it's an issue that personally hits home for Jason Witten, specifically, and I think subjects like these should be addressed through the prism of sports.
But the execution was, uh, perhaps a little off. Maybe use some of the various dead time between halves for something that deserves a serious discussion, and not as plays are happening at a rapid pace.
• Seeing Jason Peters slam his helmet down in frustration after a minimal-contact injury late in the game is not a good sign. It was encouraging to see him walk off under his own power, but that was the last thing the Eagles wanted to see after a dominant performance from their offensive line.
---
Follow Kyle on Twitter: @KyleNeubeck
Like us on Facebook: PhillyVoice Sports
Add Kyle's RSS feed to your feed reader
from PhillyVoice – Eagles https://ift.tt/2PgreA3
via IFTTT