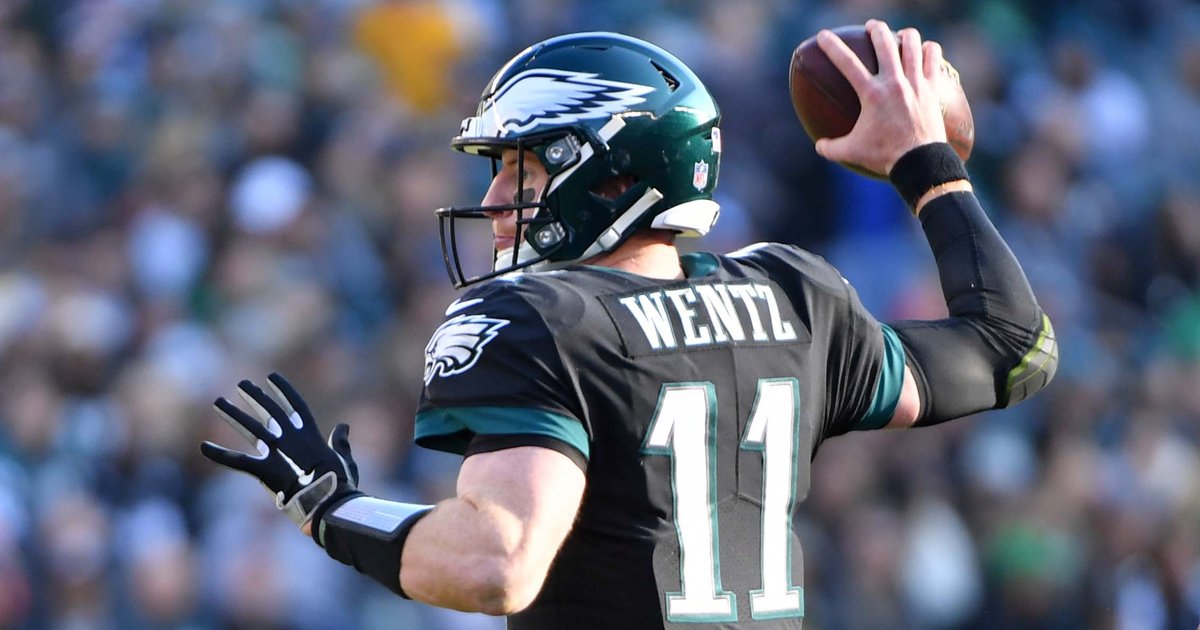 On Monday night, the Eagles will host Washington for the first matchup of the season between these two NFC East foes. With a win, the Eagles can pass the Washington and move into second place in the division (by way of the tiebreaker) and a game behind the Cowboys with a quarter of the season left to play. 
We've broken down the injuries, pointed out the key matchups to watch and offered our own predictions for this one. Now, as we do every weekend, it's time to take a look around the nation to see how the various experts, both local and national, think Monday's matchup is going to play out.
•  PhillyVoice staff: One win over the Giants and we're all back on the Eagles this week. I guess we didn't learn anything from the last time that happened. Here's a look at what Eagles writer Jimmy Kempski had to say.
The Eagles' biggest weakness at the moment is their devastated secondary, obviously. Luckily for them this week, they're facing a team in the Redskins that doesn't have wide receivers who will strike fear into opposing defensive coordinators. Conversely, the Redskins' current biggest weakness, their injury-ravaged offensive line, is ripe for the taking against the Eagles' defensive line, which is still very much a strength. Unlike in years past, I think this Eagles team, even with their wide assortment of injuries, matches up well against Washington. 

The Birds' offensive line had their best game of the season a week ago, and that's where they can begin to build positive moment down the stretch. I believe they'll be able to score on this Redskins defense, while the Redskins seem a bit too handicapped by the losses of their quarterback (Alex Smith), both starting offensive guards (Brandon Scherff and Shawn Lauvao), their field-stretching wide receiver (Paul Richardson), and a less effective left tackle (Trent Williams, who has an assortment of injuries). 
•  ESPN staff: All 10 of their national experts are picking the Eagles to beat Washington.
•  Tim McManus, ESPN.com Eagles writer: Eagles 26, Washington 24
Golden Tate said he felt more energy this week than any since being acquired at the trade deadline. After a rocky start to the season, the Eagles suddenly are fighting again for the NFC East. They have a chance to control this game at the line of scrimmage, especially on defense, which could make for tough sledding for Colt McCoy.
•  John Keim, ESPN.com Redskins writer: Eagles 23, Washington 21
The Redskins have lost three of their past four games. They haven't been playing well, but the big drop-off came in the running game with Adrian Peterson. But the Eagles have allowed an NFL-worst 6.03 yards per carry in the past six weeks, and the Redskins have treated this almost like a bye week for Peterson, giving him extra rest in practice to fuel him for the stretch run. Plus, Chris Thompson is likely to return and can be a big help. Still, the Redskins are hard to trust on Monday nights, having lost 11 of 13, and there are still some health issues. If the injury question marks can play, the Redskins win. But for now, a toss-up game. 
•  Elliot Harrison, NFL.com: Eagles 27, Washington 24 (OT)
Colt McCoy will bounce back this week. Seeing three touchdown passes from him against an Eagles secondary that has been playing guys off the street and wasn't faring too well even when healthy. The key for Philadelphia will be its front four. Much like the Eagles in the secondary, the Redskins have been forced to scrounge for dudes to fill out their depth chart at offensive line. McCoy can't find receivers if he is flat on his back. Deploying Adrian Peterson early and as often as his older legs will allow could stunt Philly's front from relentlessly attacking the pocket. With both teams coming in with certifiable weaknesses due to injuries and neither playing its best ball, this uber-important contest is really hard to pick. Even with McCoy not being the problem, going with a desperate Eagles team … in OT.
•  CBSSports.com staff: All eight experts are picking the Eagles to beat Washington, including Pete Prisco, who sees a 23-16 win for the Birds:
This is an enormous game in the division, with the loser in big trouble. The Redskins will have extra rest after playing on Thanksgiving, but their offense is limited with Colt McCoy. The Eagles' banged-up defense will show up here.
---
---
•  OddsShark: OddsShark is once again loving the Birds, picking them by more than two touchdowns in Week 13.
•  Mike Florio, ProFootballTalk: Eagles 31, Washington 17
Every week it seems there's another NFC East favorite, with Dallas losing to the Saints, the Eagles can make it a three-day tie for now, setting up for another showdown in Dallas next weekend.
•  Michael David Smith, ProFootballTalk: Eagles 20, Washington 17
I was ready to write off the Eagles a couple weeks ago. I'm not anymore. I'm expecting a three-way tie atop the NFC East after Week 13.
•  Bleacher Report, NFL staff: Eagles 27, Washington 17
The Philadelphia Eagles have covered just three spreads this season, while the Washington Redskins have failed to cover the spread on only four occasions. The majority of our experts believe those two trends are destined to be bucked with the Eagles laying 6.5 points in a critical matchup with the Redskins on Monday night at Lincoln Financial Field. …

The Eagles might have been galvanized by last week's season-saving comeback against the Giants, while the equally banged-up Redskins appear to be fading with McCoy under center behind a depleted offensive line. …

Neither team has been trustworthy this year, and it's entirely possible Washington keeps this close. 

Most NFC East battles are. 
•  SBNation staff: Each of their seven experts are picking the Eagles.
•  Bleeding Green Nation staff: Six of their seven writers are picking the Eagles to beat Washington.
---
---
•  NJ.com staff: All six of their football writers are picking the Eagles over Washington, including Eagles beat writer Zack Rosenblatt.
The Eagles can get back on the right track in their quest to win the NFC East with a win, though they only narrowly beat the Giants last week, one of the worst teams in the NFL, and have yet to win consecutive games this season or even proven capable of doing so. If they were ever going to break that skid, now is the time to do it especially against a banged-up Redskins team starting Colt McCoy at quarterback for the rest of the season.

PICK: Eagles 21, Redskins 13
•  Philly Influencer staff: Six of their seven writers are picking the Eagles to beat Washington, including Sean Brace.
This is an interesting spot for the Eagles, and I'm still buying stock. After beating the Giants, they remain alive. There's no doubt about it, they're a better team than the 'Skins. Look for a big offensive performance from Carson Wentz and co. Give me the Birds.

Eagles 24-13.
•  David Steele, Sporting News: Eagles 24, Washington 19
Is it too early to say, "Here come the Eagles"? Clearly not, since they could tie for the NFC East lead with a win and a Cowboys loss Thursday night. Again, though, trusting the Eagles still might be premature considering how close a call it was against the Giants last week. Theoretically, Colt McCoy will be better than he was against Dallas because he'll have more time to prepare with the starters. Theoretically, if the Eagles' pass rush plays to its capacity, it won't matter. 
•  Vinny Iyer, Sporting News: Eagles 24, Washington 10
The Eagles have rediscovered their power running game with Josh Adams, and it has helped protect their problems on defense. The Redskins don't have the wide receivers for Colt McCoy to exploit Philadelphia's depleted secondary. On the other side, Washington's secondary can't cover Zach Ertz or Alshon Jeffery.
---
---
Follow Matt on Twitter: @matt_mullin
Like us on Facebook: PhillyVoice Sports
from PhillyVoice – Eagles https://ift.tt/2Q4mX82
via IFTTT