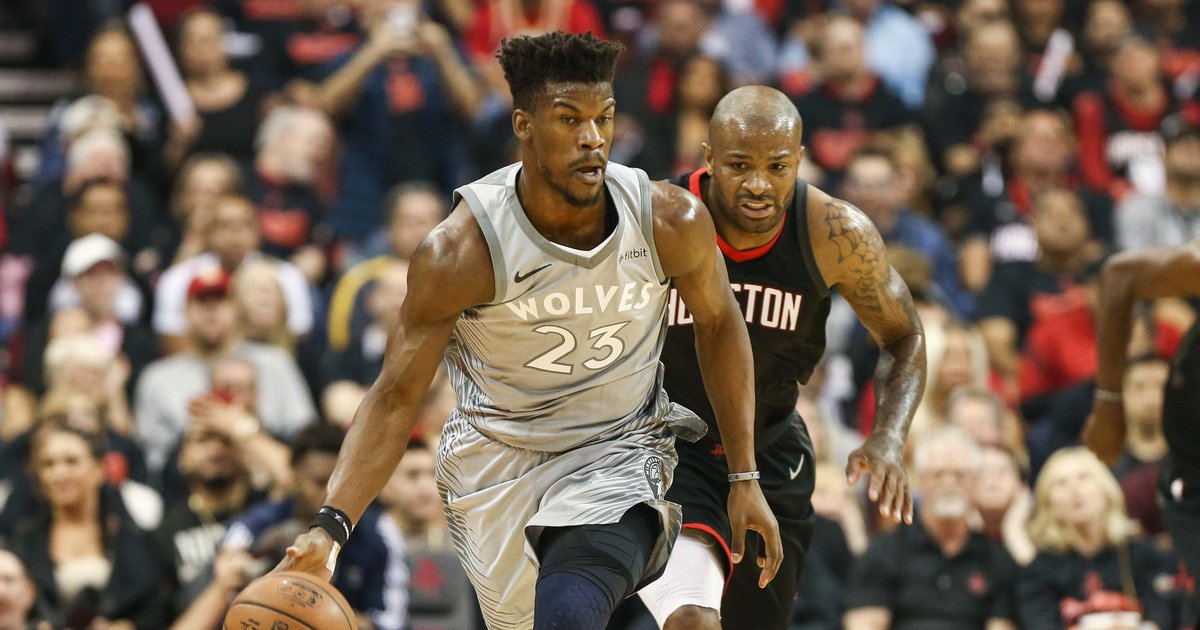 The Sixers have agreed to trade forwards Dario Saric and Robert Covington as part of a package to acquire All-Star forward Jimmy Butler on Saturday, a team source confirmed to PhillyVoice.
First reported by Shams Charania of The Athletic with later details shared by Zach Lowe and Adrian Wojnarowski of ESPN, the final deal involves the following pieces being sent each way:
• MINNESOTA RECEIVES: Dario Saric, Robert Covington, Jerryd Bayless, 2022 second-round pick
• PHILADELPHIA RECEIVES: Jimmy Butler, Justin Patton
The 2022 second-round pick will be whichever is the better pick between Philadelphia's and Denver's. The Sixers picked up the option to swap seconds with Denver in their trade for Wilson Chandler this past summer.
This is, to put things lightly, a shocker. National reporters have suggested the Sixers were in the mix all throughout the process, but people around the team shot down suggestions the team was in for Butler dating back to his initial trade request. Sources expressed concern to PhillyVoice about the potential chemistry issues Butler could cause with a young core, particularly as the Sixers try to make the Joel Embiid & Ben Simmons partnership work long-term.
Staring down another free agency period in which options were drying up, however, the Sixers decided now was the time to make their big splash and get a no-doubt star. With Klay Thompson reaffirming his commitment to Golden State and Kawhi Leonard settling in to his Toronto digs, the big fish were disappearing. And as Markelle Fultz struggles to integrate in a core that includes a current MVP candidate, Philadelphia saw a window to compete right now.
That's what Butler is, and he will bring elements to the Sixers that they have been missing for years. He is a go-to scorer, a tremendous individual and team defender, and one of the toughest players in the league, bar none. How he fits with the Sixers' two core pieces is up for debate, and that's a topic we will touch on in great detail later this afternoon.
Questions about his attitude and propensity to butt heads with young talent will remain, after a behind-the-scenes battle took place between Butler, Karl-Anthony Towns and Andrew Wiggins in Minnesota. Embiid and Simmons are cut from a different cloth, competitors on defense that should earn Butler's respect quickly. But with the decision on a big-money extension looming, it's something that has to be considered.
On that note: giving up Saric and Covington almost guarantees the Sixers will extend Butler. You can't move starters on good contracts for a rental, and this does not appear to be that. Wojnarowski reported shortly after the deal broke that Butler and the Sixers plan to lock a deal up this summer.
Jimmy Butler and the Sixers fully expect to reach a deal on a long-term contract this summer, league sources tell ESPN. Sixers made deal with plans to add Butler to a Big Three with Joel Embiid and Ben Simmons.

— Adrian Wojnarowski (@wojespn) November 10, 2018
We'll have much more to come on this story as the weekend rolls on. Say this — the Sixers now have a big three of their own, and the expectations this year have gone to a new level. Anything short of an Eastern Conference Finals appearance would be unacceptable.
More to come… 
---
Follow Kyle on Twitter: @KyleNeubeck
Like us on Facebook: PhillyVoice Sports
Add Kyle's RSS feed to your feed reader
from PhillyVoice https://ift.tt/2DzIZZZ
via IFTTT