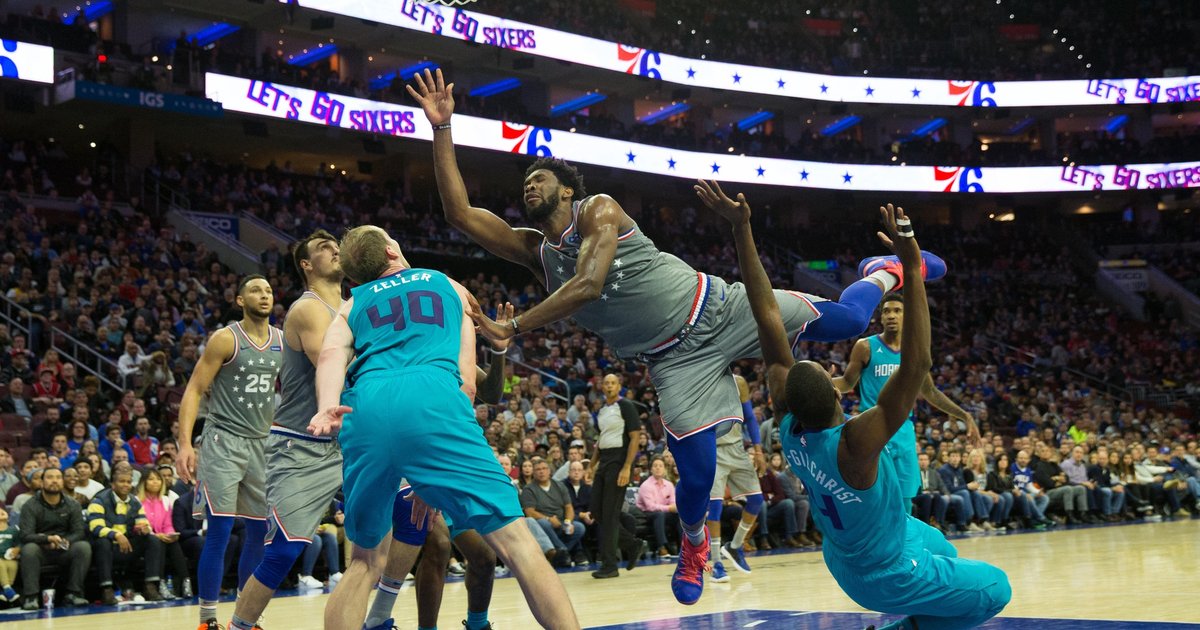 Overtime games often cloud the mind by the time postgame wraps up, and Friday night's Sixers win over the Hornets was an especially difficult one to process. In the moments following the game, the team released a statement on Zhaire Smith and information began to leak out about medical issues that have increased the time he has had to spend away from the court.
But even with the overload of developments, the endless stream of whistles, and a back-to-back looming, there was one story that towered above the rest. It was Joel Embiid, taking the game into his hands and willing his team to an eventual one-point victory in overtime.
It never should have gotten there in the first place, with the Sixers pushing their lead to 20+ over the Hornets before slowly allowing their opponent to climb back into the game, forced to play catch-up in the final minutes of the fourth quarter. But it did, and if not for Embiid dragging the team over the line at the charity stripe, the Sixers would have expended a whole lot of energy on losing the front end of a back-to-back.
"He responded all over the place," said Brett Brown after the game. "We kept going to him, he gets that deep positioning, he creates a collision and physicality he presents that exposes any type of physical play on the defensive side. He was rewarded by going to the free-throw line, and I think he only missed one free throw down the stretch."
The best example of the dynamic on display Friday night came midway through the fourth quarter, with Embiid reentering the game after the Sixers finally conceded the lead with 6:11 to play in regulation. It took just 10 seconds and one possession for Embiid to get to the free-throw line, using a rip-through move to stop the bleeding.
On 22 occasions Embiid made his way to the free-throw line, converting 19 of those en route to 42 points, 18 rebounds, four assists, and four blocks on the evening. After the game, I asked Embiid whether there was an increased comfort attacking guys in an effort to invite contact and shoot free throws, and he noted it is a big part of his evolution in crunch time specifically.
"I can use power, I can use finesse, I'm starting to feel comfortable," Embiid said. "Last year in the last minute situations, I struggled a lot. And I feel like this year I've been doing a better job. I still got a lot to show and still got a lot to improve on, so I'm excited."
It certainly helped Embiid that the breaks of the game are falling his way more often, with the leniency from the officials that tends to follow stars around the league. On the game-tying three that sent Wells Fargo Center into a frenzy late in the fourth, it certainly appeared to be a travel for the big man before his pivotal make.
But I'm a firm believer that activity and drive is rewarded one way or another, and no one could accuse Embiid of lacking the will to win on Friday night. When you're throwing your body around like this in pursuit of a victory, it feels right karmically to catch a break or two from officials.
And by the way, don't expect Embiid to be the guy who worries about the impact his minutes count will have on his ability to play Saturday against Memphis.
"If these guys tell me I have to take a day off," Embiid joked after the game, "I might kill 'em."
Small-ball success leads to confusing rotation decisions
Regular readers know that Brown's decision to play smaller Wednesday was greeted with open arms by this writer, who had already opined it was something the team needs to lean into more. Friday night was the first time we really saw the Sixers take off using a small-ball look, and that success only made a late-game decision to go away from it more confusing.
He only played 15 minutes on Friday, but Wilson Chandler's presence in the lineup has really emphasized how badly the Sixers have needed any sort of competent wing off the bench over the last two seasons. It opens up different lineup possibilities for the Sixers, not to mention it adds another player to the mix who can run the break, knock down open threes, and play competent team defense.
The Sixers went on a 15-2 run during the second quarter, using their switchability to get stops and create easy buckets on the break again and again:
It was some of the best two-way basketball they've played all year. That's what it made it so confusing when Brown decided to turn to Amir Johnson in the fourth quarter, which proved to be the catalyst for Charlotte finally getting over the hump.
Defensive stability might have been a justification for playing Johnson last year, but he has been dreadful this year and is routinely exposed whenever he's on the court. The Sixers had held Kemba Walker in check for most of the game, only for Walker to begin an insane scoring run thanks to the lineup choices.
Johnson is at a point where he doesn't have the legs to contest on switches without being totally exposed in his effort to protect the rim. That allows opponents to take advantage of the space he has to concede, and sort of nullifies any advantage you'd get from playing him in the first place.
It didn't help matters that Johnson's inclusion in the lineup came with a pretty unsatisfactory explanation from Brown after the game.
"Just sort of gut feel, gut feel with flow of the game and matchup type stuff," said Brown. "The way that we structure the rotations ends up giving me the luxury at the end to sort of — like I said before as an example — is it T.J. McConnell or Markelle Fultz? I just felt more confident to go with that rotation [with Amir]."

The confidence appears to be misplaced. Perhaps Mike Muscala plays in that spot if he's healthy, which would probably be better for all parties involved.
Fultz's night does not go off without a hitch
It was not a good night at the office for Markelle Fultz on Friday night. And it goes beyond simply missing shots or whether or not the team was successful with him on the floor — he was a +2 when all was said and done — because there has not been a point this season where his mechanics looked as messy as they did on Friday night.
There were some straight up brutal attempts from Fultz at the free-throw line and the field, which I'll present to you here to judge for yourself, alongside a play where he had at least 10 feet of space for a corner three and decided to drive to the basket anyway.
We can talk about needing time to grow and the like as much as you'd like, the fact of the matter is that Fultz's field goal percentage is even lower than it was last year through one less game than he played in 2017-18.
The media didn't get to speak with Fultz with the Sixers hopping on a flight to Memphis shortly after the game, but things should not be regressing back in this direction. Spending the summer on shooting mechanics was supposed to put this sort of thing on the back burner, even if the results ultimately weren't there.
We'll see if this continues to spiral or not, but Fultz has not attempted a three-point shot in his last five games. Turns out when you have a backcourt with that large of a deficiency, it's a struggle to get by in 2018.
Talking points for both sides of the Ben Simmons spectrum
There was a little bit of everything from Simmons on Friday night, good and bad. He looked tremendous in the small-ball group that ran it up in the first half, and he actually turned it on in overtime more than you usually see him do in late-game situations. He attacked the basket with the intent to score or get fouled, coming up with five points in the extra session to match Embiid.
But the disinterest in shooting remains and is a big contributor to Philadelphia's offensive stagnation when they get out in front. He struggles to make an impact in the half court for long stretches of time, and the Sixers are going to continue coughing up big leads if they can't get him to start stepping out of his comfort zone on offense.
And he didn't go through overtime without any issues, either. With Philadelphia in front and about the play the free-throw game to wrap it up, Simmons came down with a defensive rebound with under 40 seconds to play. Rather than bring the ball up normally, he decided the best course of action was to get the ball out of his hands and into the arms of his center.
Simmons has seen a slight improvement at the line this year, and getting the ball to Embiid for free throws is the right idea once you cross half court. But this is not an instinct you can afford your ballhandler to have late in games, and reflects how he feels about the free-throw line better than any success in the middle of a blowout ever could.
That moment doesn't erase the good he did throughout the game. But it does highlight what a bewildering team the Sixers are, built around players whose qualities can seem antithetical to the modern NBA.
Never a dull moment, truly.
---
Follow Kyle on Twitter: @KyleNeubeck
Like us on Facebook: PhillyVoice Sports
Add Kyle's RSS feed to your feed reader
from PhillyVoice https://ift.tt/2RNznxp
via IFTTT