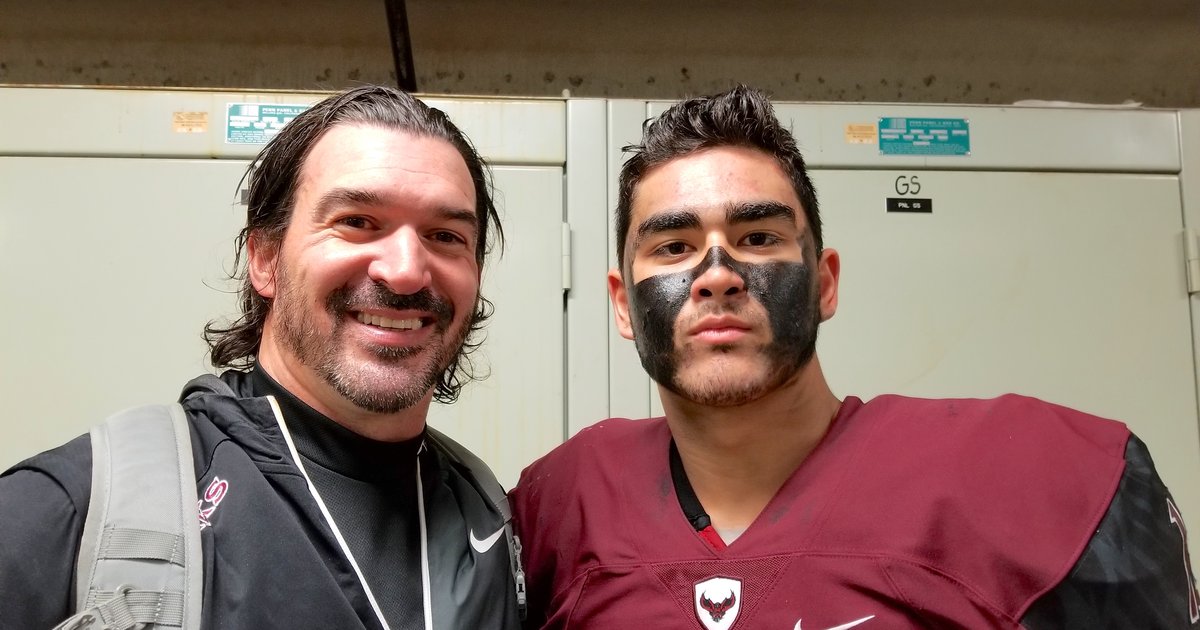 Cooper Kim makes sure he jots his personal-motivation message over the tape on his left wrist. The St. Joseph's Prep 6-foot-2, 215-pound senior linebacker keeps it simple, like peering down at a watch, so
his eyes don't have to wander too far to imbue that get-going, pre-game jolt.
It's why before each game Kim writes down "Momma" as a reminder of the battle his mother, Martha Hall, waged when she beat cancer this time last year.
It's a memory that never goes away — like the way Kim plays. He's relentless, seemingly everywhere, always attacking as an anchor on the No. 1 Hawks' stingy defense, which is giving up 13.5 points a game and will face La Salle Friday night at 7 p.m. at Northeastern High School for the Catholic League Red Division (large schools) championship.
"After watching what my mother went through, I learned and try not to take anything for granted," said Kim, who has a growing list of colleges interested in him. "I think that relates to how I work on the football field. I don't like wasting any opportunities. We were fortunate, because they
happened to catch the cancer early.
"If they didn't catch it early, there was a smaller chance that she would survive. Maybe it's why I don't like missing anything small. I'm not afraid to take control of stuff and be a leader, but it's also important to me to think about others before myself. It's something my parents taught me. We're only as strong as our weakest link, and it's why I make sure all 11 guys are on the same page each game.
"Personally, I want to win the state title. My mom never tries to miss a game. I know she's there and it's pretty easy to get motivated after what my mom's been through. I just take one look at my left wrist and it's pretty easy to get fired up."
Kim played special teams for Prep his sophomore year, when the Hawks won the PIAA 6A state championship and started at fullback when the Hawks reached the 6A title game last year.
Four years ago, when Hawks' coach Gabe Infante went to a grade-school game to see Liam Johnson, the youngest of the Johnson brothers who all played for the Hawks, he couldn't help but notice Kim.
"Cooper is my No. 10, which is our best defensive player," Infante said. "I remember seeing him for the first time in a grade school game. I was watching from the end zone this kid directing everybody. He was telling
everybody where to go, where to line up, and trying to motivate his teammates.
"To me, that's very rare for kids that age. You don't see it very often. It's rare to see a kid with that level of confidence, with that level of concern for his teammates, and he's been that kid who cares about everyone the four years he's been here. Coop is a big kid who runs well for someone his size. I would define him as a rover for us, because he's all over."
Kim is one of the Hawks' team captains and is the leader of
the defense.
"Coop is a good leader who cares about every little thing he
does," Infante said. "It doesn't matter what it is, practice, drills,
stretching. He's a wonderful kid who's always on his teammates to do the right
thing—and he's a big part of why we're winning. We wouldn't be where we are
without him."
The PhillyVoice Top
10
Week of Nov. 9, 2018
1. St. Joseph's Prep (8-0)
2. Coatesville (11-0)
3. North Penn (11-0)
4. Imhotep Charter (7-2)
5. Malvern Prep (10-0)
6. Garnet Valley (11-0)
7. Downingtown West (10-1)
8. Archbishop Wood (6-3)
9. Conwell-Egan (11-0)
10. Truman (10-1)
Under consideration:
Downingtown East (10-2), Penn Wood (10-1), Academy Park (9-2), Radnor (9-2),
Neshaminy (8-3), Upper Dublin (10-1), Pottsgrove (10-1), Quakertown (9-2).
---
PIAA Class 6A
playoffs
Championship game is
Friday, Nov. 23, hosted by the higher-seeded team
1. North Penn (11-0) vs. 8. Neshaminy (8-3)
4. Downingtown West (10-1) vs. 5. Truman (10-1)
2. Coatesville (11-0) vs. 10. Downingtown East (10-2)
3. Garnet Valley (11-0) vs. 11. Quakertown (9-2)
PIAA Class 5A
playoffs
Championship game is
Friday, Nov. 23, hosted by the higher-seeded team
1. Penn Wood (10-1) vs. 9. Interboro (6-5)
4. Academy Park (9-2) vs. 5. WC Rustin (9-2)
2. Upper Dublin (10-1) vs. 7. Cheltenham (8-3)
3. Radnor (9-2) vs. 11. Unionville (5-6)
District One 4A
playoffs
Championship game at higher seed on Fri. Nov. 9
1. Pottsgrove (10-1) vs. 2. Pottstown (6-5)
D1/D12 Region 3A
playoffs
Championship game at higher seed Fri. Nov. 9
1. Conwell-Egan (10-0) vs. 3. New Hope Solebury (9-2)
District One 1a D1/D2
Playoffs
Regional game at D2
school on Fri. Nov. 9
District 2
1. Lackawanna Trail (10-1) vs. 2. Bristol (6-4)
---
Follow Joe on Twitter: @JSantoliquito
Like us on Facebook: PhillyVoice Sports
from PhillyVoice https://ift.tt/2qARrPW
via IFTTT