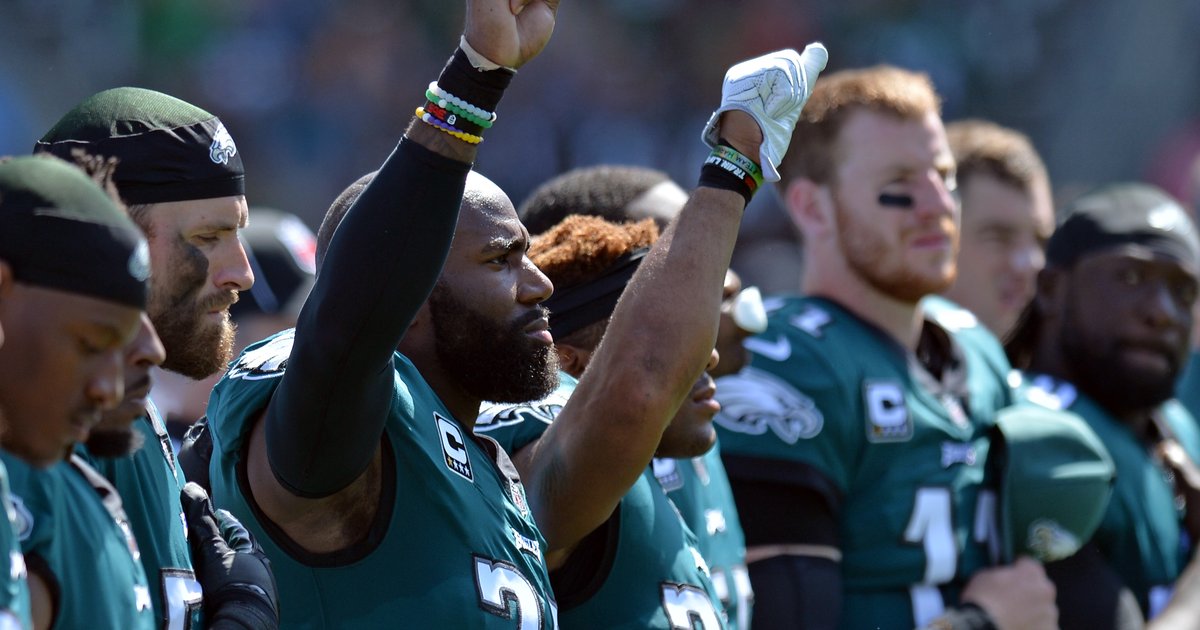 Malcolm Jenkins is a
two-time Super Bowl champion and veteran NFL safety. Each week this season
he'll sit down with PhillyVoice's Joe Santoliquito to bring you Safety Blitz.
Colin Kaepernick is a favorite subject of two-time Super Bowl champion Malcolm Jenkins. It galls the Pro Bowl safety that the
controversial figure who's risen to national prominence for his stance on
social injustice still isn't playing in the NFL.
While there were players like Donte Stallworth and Leonard Little, who were both convicted of vehicular manslaughter, and Michael Vick,
who pled guilty to federal charges in the Bad Newz Kennels dog fighting
investigation, were all allowed to return to the NFL, Kaepernick has not been
welcomed back.
If players are talented enough to help a team win, an NFL
coach will look the other way and allow players who committed crimes back into
the game, why not Kaepernick — who's never committed any crime?
Is it because he may simply not be good enough?
Jenkins disputes this assertion.

"Normally, that is the case, if you're good enough, then you
can overcome being a bad apple and having some baggage with you," Jenkins said.
"Greg Hardy with Dallas and all of those guys you mention, if you're talented
enough, someone will usually give you a chance. What I think has happened to
Kaepernick was so big and caused so much turmoil that NFL teams are afraid to deal
with a guy with that stature.
"For instance, the Tim Tebow deal, right? You can't really
say anything bad about Tim Tebow. But he was so polarizing that teams didn't
even want him as their back-up quarterback. Because the minute something
happens, a team struggles with him, people start to chant. It's almost
impossible for me to look around the league and see some of these starting
quarterbacks, even the back-up quarterbacks, and the performances that they're
having makes me hard for me to see that Kaepernick can't have one of those
spots.
"No one will tell me he can't play better than one of these
quarterbacks. The 100-percent reason why Kaepernick isn't in the league today
is because of the political upheaval that he's caused. I even think that's why
he doesn't even have a back-up role. No one wants to have him as a back-up, the
minute a starter struggles, Kaepernick is back in there and voice things that
made a lot of NFL owners at one time very uncomfortable.
"Talent to me at this point, well, you look throughout the
league and there are quarterbacks that can't flat out play the position.
They're terrible quarterbacks that have starting roles right now. It's hard for
me not to imagine Kaepernick is not good enough to be in one of those roles.
It's not talent, because we see plenty of quarterbacks without talent who are
in the league. At least in a back-up role, and that points to his activism.
Teams don't want Kaepernick's activism to be a distraction.
"I'm active and vocal. But my team needs me at the moment.
The minute they don't need me, believe me every team that looks at me will take
into consideration all of my activism. But I'm not a quarterback. I'm a safety.
I think our activism made our team closer last year. We bonded. Yet, with
Kaepernick, his activism was painted as a distraction. The Dallas Cowboys, I'm
sure, won't look at me because of some of the things I've said about their
owner in the past.
"We villainize Colin, yet they're cool with me, or Chris
Long, or Ben Watson, who's active and vocal about Christ, and Russell Okung,
who's super smart, though he's constantly bashing the league. There are guys
all over the league, but we're cool with them, because we like the way they go
about things. At the end of the day, there's really no difference in what Colin
is saying or what Colin is doing. That's because, secretly, the league doesn't
like Colin because he sparked it. We need to check ourselves on that."
Welcome to rivalry
week 
At Piscataway High School, Jenkins' main rival was Franklin
High School, which was played on Thanksgiving Day and was beaten all four times
when Jenkins starred for the Chiefs. At Ohio State, Jenkins' main rival was, of
course, Michigan, which never beat the Buckeyes when he played there.
As an Eagle, he's 4-4 in the eight previous times he's
played the Cowboys as an Eagle.
"The Ohio State-Michigan rivalry, I believe, is the best
rivalry in sports, and I never lost to Franklin, when I was at Piscataway. I
never lost to Michigan when I was at Ohio State," Jenkins said. "Ohio
State-Michigan is the most venomous rivalry, but the Eagles-Cowboys rivalry is
up there. You go back over the old tapes of when Buddy Ryan was coaching here,
and how that rivalry played out.

"As players, we know how important this game is to the
fans—but it's important to us. We need to beat Dallas. We understand how
important this game is, because any game against someone in the NFC East
carries more importance. Then add on the history of the bad blood in the
between these two teams, then with the fanbases of the two teams, between
'America's Team' and 'Jerry's World,' against the Philly blue-collar mentality,
it stirs this stark contrast that creates the turmoil for this game.
"There is so much added hype for this game. The fans love
it. The players love it. It creates a nice environment for this game. We can't
wait."
---
Follow Malcolm Jenkins on Twitter @MalcolmJenkins and Facebook at Malcolmjenkinsnfl. 
Visit Malcolm's clothing store, Damari Savile: Born in the City of Brotherly Love, Damari Savile provides made to order suiting for those looking for a more stylish fit for their wardrobe. Located at 709 Walnut Street.
More Safety Blitz: Week 1 | 2 | 3 | 4 | 5 | 6 | 7 | 8 | 9
---
Follow Joe on Twitter: @JSantoliquito
Like us on Facebook: PhillyVoice Sports
from PhillyVoice – Eagles https://ift.tt/2OzIC2e
via IFTTT