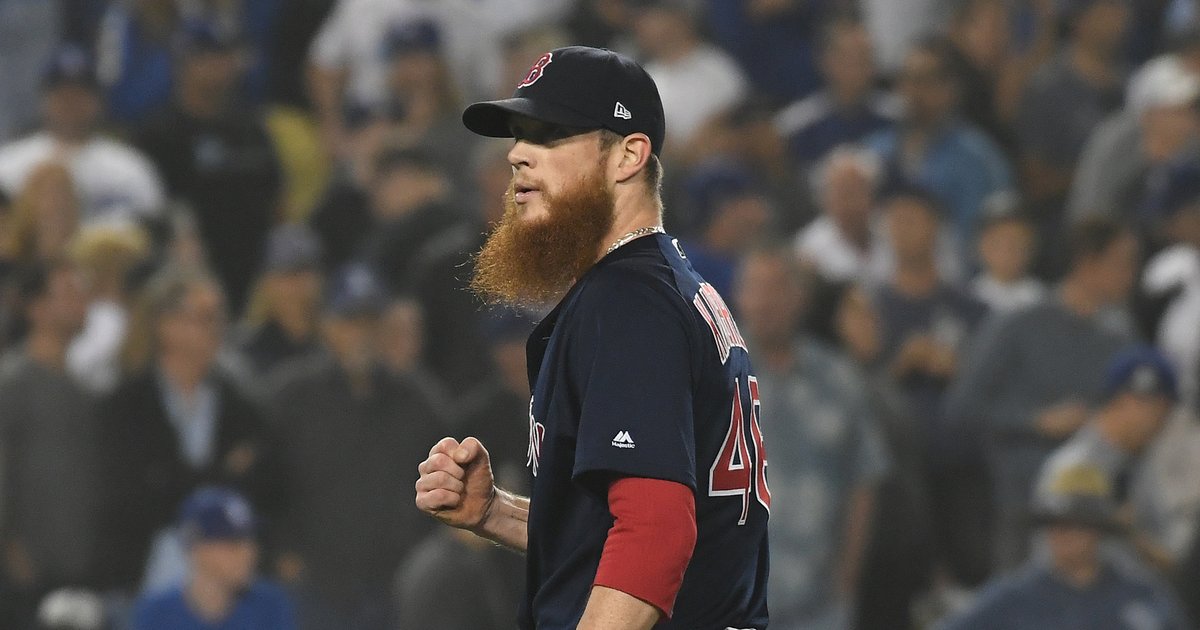 We're only a few days into MLB free agency, but it already seems like the Philadelphia Phillies have been linked to nearly every top available player. And that's not likely to stop any time soon — what, with the Phillies having all that money to spend and all those areas in which to improve.
It's previously been reported that the Phillies are looking to add some pitching help, preferably a "front-line, top-end starter," and have already been linked to Diamondacks lefty Patrick Corbin. But it appears as those general manger Matt Klentak and president Andy MacPhail will want to add some bullpen help as well.
According to Jon Morosi of MLB Network, the Phillies are interested in signing former Red Sox and Braves closer Craig Kimbrel. 
Last season, it was a young Seranthony Dominguez who led the Phillies in saves with 16 after taking over for a struggling and maddeningly inconsistent Hector Neris, who finished with 11. But the duo also combined for seven of the team's 19 blown saves. And with Dominguez's age, there could be some concern that he's not ready to take over as the full-time closer on a contending team, something the Phillies will be expected to be in 2019.
Kimbrel, on the other hand, not only brings veteran experience at the age of 30, but he also brings a World Series ring. After spending the first five years of his career in Atlanta (and a subsequent year in San Diego), the seven-time All Star was traded to the Red Sox in 2015, where he was a member of their 2018 championship team.
Despite being on the wrong side of 30, Kimbrel can still command a hefty price tag this summer as he's the top reliever on the market and last season recorded his most saves since he was pitching for the Braves. 
Here's a look at his career numbers:
| | | | | | | |
| --- | --- | --- | --- | --- | --- | --- |
| Year | TM | ERA | SV | WHIP | SO/9 | SO/W |
| 2010 | ATL | 0.44 | 1 | 1.210 | 17.4 | 2.50 |
| 2011 | ATL | 2.10 | 46 | 1.039 | 14.8 | 3.97 |
| 2012 | ATL | 1.01 | 42 | 0.654 | 16.7 | 8.29 |
| 2013 | ATL | 1.21 | 50 | 0.881 | 13.2 | 4.90 |
| 2014 | ATL | 1.61 | 47 | 0.908 | 13.9 | 3.65 |
| 2015 | SDP | 2.58 | 39 | 1.045 | 13.2 | 3.95 |
| 2016 | BOS | 3.40 | 31 | 1.094 | 14.1 | 2.77 |
| 2017 | BOS | 1.43 | 35 | 0.681 | 16.4 | 9.00 |
| 2018 | BOS | 2.74 | 42 | 0.995 | 13.9 | 3.10 |
| TOT | – – – | 1.91 | 333 | 0.920 | 14.7 | 4.23 |
Stats via baseball-reference.com
---
---
Follow Matt on Twitter: @matt_mullin
Like us on Facebook: PhillyVoice Sports
from PhillyVoice https://ift.tt/2Piv8NA
via IFTTT