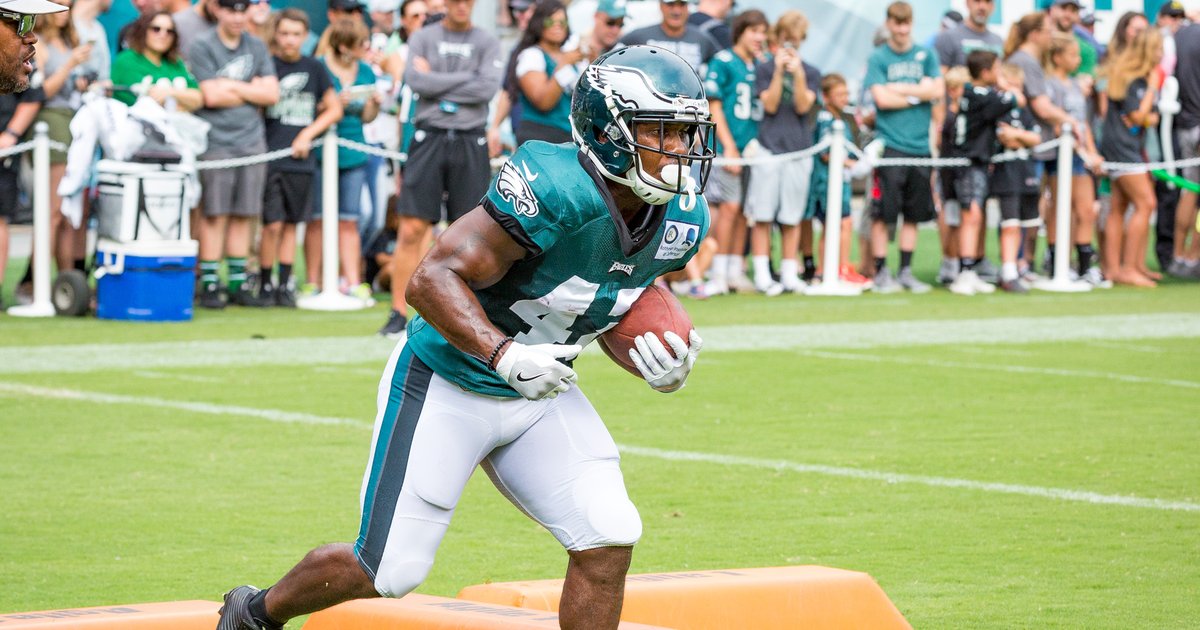 Boy, did the bye week treat the Eagles well.
Not only did the Birds get to relax and watch a pair of divisional foes, the Cowboys and Redskins, lose their respective games during their time off, but Doug Pederson's team also used the bye to get some key players healthy, including guys on both sides of the ball that many fans weren't expecting back quite so soon.
On Tuesday, during his first press conference of the week, Pederson provided some updates on the long listed of injured Eagles. And, for the most part, it was good news all around — at the very least, it wasn't bad news.
Here's a look at the latest on those injured Birds ahead of Sunday night's big matchup against Dallas.
DARREN SPROLES (HAMSTRING)
Sproles, who has been sidelined since Week 1 with a hamstring injury, returned to practice for the first time this week. But that wasn't the only good news Pederson had to share about his veteran running back — the Eagles actually hope to have Sproles back out on the field on Sunday night. 
"We hope to [have him back on Sunday]. We hope to," Pederson said. "It will be day-to-day, a little bit limited [in practice], but the expectation will be that he does play."
Some began to speculate Sproles was nearing a return when the Eagles opted to waive wide receiver and punt returner DeAndre Carter on Monday, but Pederson admitted that the two weren't entirely related, as the team has a backup plan at punt returner if Sproles can't go.
"I'm not going to divulge all our secret plans," Pederson said, "but yes, we do have a backup plan [if Sproles can't go]. "
Could that backup plan be newly acquired wideout Golden Tate? We'll have to wait and see. 
But either way, whether his return comes this week against Dallas or next week against his former team in New Orleans, it seems as though Sproles will pick up right where he left off in the Eagles offense, as much more than just a punt returner.
"We've got to make sure, too, as this week goes, that he's healthy, 100 percent, feels great. But, yeah, we're going to just mix him in [on offense]," Pederson said. "I think we're a different team from Week 1 to now. Obviously, we don't have Jay [Ajayi] but Corey [Clement]'s done a great job, Wendell [Smallwood] has shown us something and Josh [Adams], he's kind of stepped up his game and played well and contributed this last game. And now we get Darren back. 
"It's a great opportunity for him and, again, like with Golden [Tate], I've got to make sure we have plays in for those guys and then use them in the game. I can't tell you that we're going to feature Darren; I can't tell you that we're going to feature Josh or any of those guys, but Darren's going be a big part of this offense."
LANE JOHNSON (KNEE)
This one has to be the biggest shocker of all. Lane Johnson, who suffered a Grade 2 MCL sprain in the Eagles win over the Jaguars in London, will return to practice this week. 
"Lane Johnson will practice," Pederson told reporters. "He might be a little limited but he's going to go, and we'll see where he's at day by day."
But there's no way he plays against Dallas, right? After all, the injury was supposed to keep him sidelined for a month. 
"We're expecting him to play," the coach added.
Huh? 
Well, because it was just a sprain and not a tear, Johnson's return has more to do with his pain threshold than it does with the structural integrity of his knee. At least that's what NovaCare Rehabilitation's Joel Roth told us last week.
"Obviously a swollen knee is a weak knee, that's the general rule for football. The minute he becomes stable, if it heals enough to where he is stable, he can start rushing back in."

Roth, who is also the head physical therapist for the Temple football team, said once Johnson eclipses that point, he will be able to play through the pain (which, lets be honest, Johnson probably will try and do).

"It's pretty safe," Roth, PT, DPT, OCS, said. "That doesn't always correlate with no pain. He will come back having some pain but his knee will be stable enough to participate without risking greater injury. When that window of time is can vary." 
"Lane's a tough guy," Pederson said. "Listen, he's a tough guy. In his mind, I think he would want to play. And our expectation is that he does play. At the same time I say that, I don't want to put somebody out there who might be less than 100 percent too. 
"We'll get him ready — we'll get all our guys ready like we do each week — and the expectation is that he plays."
TIM JERNIGAN (BACK)
It doesn't sound like Jernigan, who has yet to play this year after offseason back surgery but was cleared to return to practice this week, will be suiting up on Sunday night. But because he is on Injured Reserve, the Eagles have a little bit of time before they need to activate him and make room on their 53-man roster.
"We're going to bring him along slowly, day by day," Pederson said. "We've got time with him — we don't have to do anything right now. We've got a couple weeks with him, so we're just going to, each day, give him a little more. He hasn't done anything football-wise for a long time, so we just want to see where he's at health-wise and ease him back in."
It's also a pretty serious injury from which he's recovering, so rushing him along would make no sense whatsoever, despite how badly the Eagles could use him back out on the field.
JALEN MILLS (FOOT), COREY GRAHAM (HAMSTRING) & 
SIDNEY JONES (HAMSTRING)
Mills left the Eagles' Week 8 win in London with a foot injury, and according to Pederson, it doesn't seem like he'll be out there when the Cowboys come to town on Sunday night. 
"We'll evaluate him — day by day," the coach said. "He might be a touch longer [than this week] but he's coming [along]. I just want to see where he is at the end of this week."
The good news is, the Eagles won't need him on Sunday nearly as much as they will against Drew Brees and the Saints the following week, especially now that they've signed Eagle killer Dez Bryant.
The other two injured members of the Eagles secondary, Sidney Jones and Corey Graham, are dealing with hamstring injuries that have kept them both sidelined the last few weeks. According to Pederson, it seems like there's a decent chance Graham plays on Sunday, as he is expected to get some practice in this week. 
"We expect Corey to possibly get some practice time this week and see where he's at by week's end," Pederson said."

As for Jones, who has had a week less to heal than Graham, it seems like his return might have to wait.
"Sidney is a little bit different [than Graham]," Pederson said. "We'll see where he's at day by day, but he's doing well with his rehab also."
---
Follow Matt on Twitter: @matt_mullin
Like us on Facebook: PhillyVoice Sports
from PhillyVoice – Eagles https://ift.tt/2QvwMZ7
via IFTTT