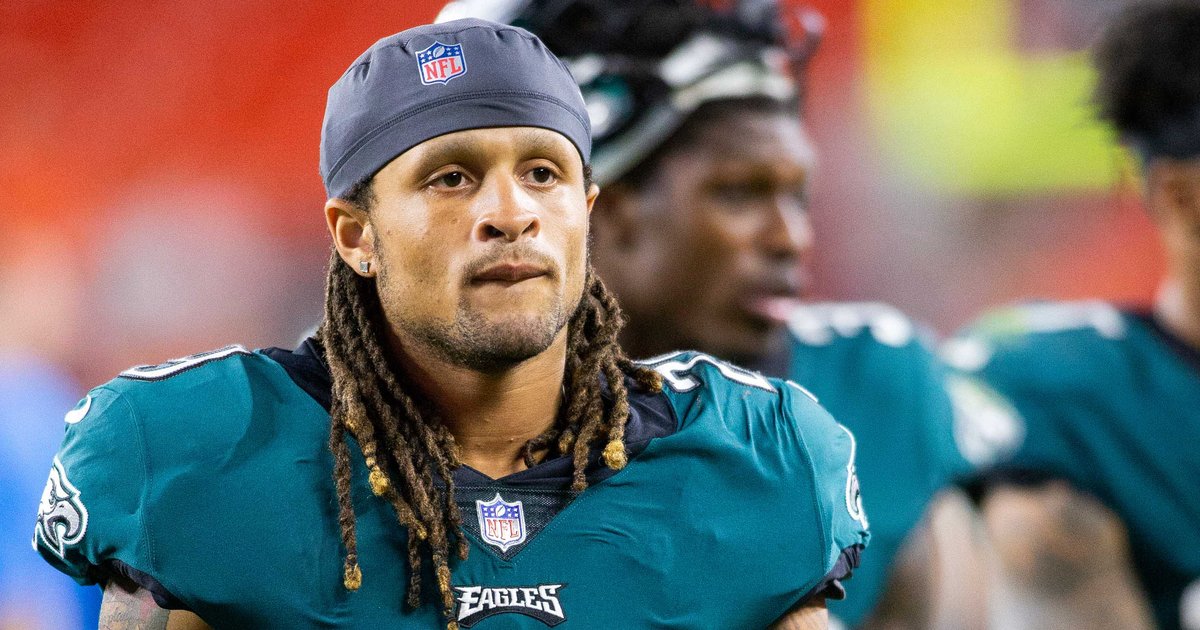 The Philadelphia Eagles came into the 2018 season with high expectations, because, you know, they won the Super Bowl last year. Through the first four games, the team got out to a disappointing-but-deserved 2-2 start, and did not look like the powerhouse that they were a year ago.
In the second quarter of the season, the Birds still haven't put it all together, but they are perhaps trending upward due to the stellar play of their outstanding young quarterback, as we noted in the offense edition.
Let's hand out individual grades at the halfway point of the season, which will be on something of a curve, based on each player's individual roles and expectations, this time focusing on the defense:
• DE Brandon Graham: Through the first eight games of the season, Graham is fourth on the team in pressures plus hits on the quarterback, per the team's media guide.
| | |
| --- | --- |
|  Player | Pressures and hits  |
|  Fletcher Cox | 45  |
|  Michael Bennett | 27  |
|  Chris Long | 22  |
|  Brandon Graham | 16  |
|  Derek Barnett | 15  |

As you can see, Fletcher Cox is way out ahead of everyone, and guys like Chris Long and Michael Bennett are getting more pressure than Graham despite fewer snaps. Graham has to still be bothered by his ankle injury, for which he had surgery this offseason.
In fairness, Graham has shown signs of improving, as he did at least have 1.5 sacks during the second quarter of the season, as opposed to none the first four games.
Grade: C
• DE Derek Barnett: Barnett had a nice start to the season, but he was clearly affected by a torn rotator cuff, which he tried to play through but eventually landed him on IR. I'll take mercy on him with his grade here.
Grade: B-
• DE Michael Bennett: Bennett has clearly been the most disruptive of the Eagles' pass rushers. He has been by far the best veteran acquisition the team made this past offseason.

Grade: B+
• DE Chris Long: Long has begun to turn it on. Playing more against the Jags with Barnett out, he had 2 sacks after a six-game drought. He has consistently gotten pressure, however, and in my view it's only a matter of time before he starts popping balls loose like he did in 2017.

Grade: B+
• DE Josh Sweat: With Derek Barnett down, Sweat has played a little, but not enough to grade him.
Grade: Inc.
• DT Fletcher Cox: Where would the defense be without Cox? The quarterback aside, he has been by far the most important player on the field, despite getting next to no help from whoever has been playing next to him at DT. Against the Jags, Cox had a huge final series, when he batted a pass on third down, and forced a bad throw with pressure on fourth down. He has stepped up this season when others haven't been as good as they were a season ago.

Grade: A
• DT Haloti Ngata: Ngata missed three of the four games in the second quarter of the season, and hasn't really stood out when he has played. He has been an underwhelming addition so far.

Grade: C
• DT Destiny Vaeao: Vaeao got a gift sack against the Giants and then rode off into the sunset.

Grade: D
• DTs Treyvon Hester and Bruce Hector: Both guys have gotten some playing time with the Eagles suffering injuries at DT, but I'd be lying if I said I've watched them closely, and even if I had, I'm not sure how you grade a pair of undrafted DTs who haven't stood out in either a good or bad way, so I'll just take the easy way out.
Grade: Inc.
• LB Jordan Hicks: Credit Hicks for not missing a single snap the entire season so far, however, while he has been solid, the lack of splash plays at a "production position" has been disappointing.

Grade: B-
• LB Nigel Bradham: Bradham's production is down across the board compared with his first two seasons in Philly.
Grade: C+
• LB Kamu Grugier-Hill: Grugier-Hill has a small role in the regular defense as the third linebacker, and he had a pick that jump-started the Eagles' win over the Giants. 
Grade: B+
• LB Nate Gerry: Gerry didn't play much in the first quarter of the season, and he's been injured for most of the second quarter.
Grade: Inc.
• CB Jalen Mills: Mills was downright bad in the first quarter of the season, giving up a slew of big plays. However, one area where he's been good is when opposing offenses have entered the red zone. There's little question that he's a flawed player, and his poor start has perhaps irreparably ruined the perception of him for the season, but he's been better in the second quarter. Still, for as much as he does seem to get beaten, there's an expectation that he should be making more plays, and he has not yet picked off any passes.
Grade: C+
• CB Ronald Darby: Darby is talented, but he's inconsistent. He did have 7 pass breakups against the Giants and Panthers.
Grade: B
• CB Sidney Jones: I like Jones' play demeanor. He's not afraid to stick his nose in and make tackles. Unfortunately, he's injured again, and should be out a while longer.
Grade: B
• CB Rasul Douglas: Douglas got some work at safety against the Giants, and the results weren't good, though I won't hold that against him, seeing as he had never played the position at WVU or in the pros. ;) 
As a corner, he got some work in against the Jags after Jalen Mills went down. To be determined if Mills will still be out against the Cowboys. If so, Douglas will likely have a huge role on Sunday night.
Grade: C+
• DB Avonte Maddox: Maddox has thoroughly exceeded any reasonable expectations for a fourth-round rookie playing safety at the highest level of football after never having played it in his life. Maddox is smart, athletic, and physical. He's been terrific. 
Grade: A-
• CB Dexter McDougle: In his first game with the Eagles against the Panthers, McDougle played most of the game, and mostly went unnoticed. That was good. Against the Jags, it was ugly. He got picked on all day, to the point where the Eagles felt the need to cut him.
Grade: D
• S Malcolm Jenkins: Jenkins is obviously a great player, but the Eagles could really use some big plays out of him down the stretch.
Grade: B
• S Rodney McLeod: McLeod was very good before he got hurt, but he is now done for the season with a knee injury.
Grade: Inc.
• S Corey Graham: Graham was out with a hamstring injury for the entirety of the second quarter of the season.
Grade: Inc.
---
---
GPA
| | | | | | |
| --- | --- | --- | --- | --- | --- |
| Eagles D  | 1Q  | 2Q  | 3Q  | 4Q  | GPA  |
|  DE Brandon Graham | C-  | C  |   |   | 1.7  |
|  DE Derek Barnett | B-  | B-  |   |   | 2.7  |
| DE Michael Bennett  | B  | B+  |   |   | 3.0  |
|  DE Chris Long | B  | B+  |   |   | 3.0  |
| DE Josh Sweat  | Inc.  | Inc.  |   |   | N/A  |
|  DT Fletcher Cox | A  | A  |   |   | 4.0  |
|  DT Haloti Ngata | C+  | C  |   |   | 2.3  |
|  DT Destiny Vaeao | D  | D  |   |   | 1.0  |
| DT Treyvon Hester  | N/A  | Inc.  |   |   | N/A  |
| DT Bruce Hector  | N/A  | Inc.  |   |   | N/A  |
|  LB Jordan Hicks | B-  | B-  |   |   | 2.7  |
|  LB Nigel Bradham | B-  | C+  |   |   | 2.5  |
|  LB Kamu Grugier-Hill | B+  | B+  |   |   | 3.3  |
|  LB Nate Gerry | Inc.  | Inc.  |   |   | N/A  |
|  CB Jalen Mills | D  | C+  |   |   | 1.7  |
|  CB Ronald Darby | C-  | B  |   |   | 2.4  |
|  CB Sidney Jones | B+  | B  |   |   | 3.2  |
|  CB Rasul Douglas | Inc.  | C+  |   |   | 2.3  |
| DB Avonte Maddox  | Inc.  | A-  |   |   | 3.7  |
|  CB Dexter McDougle | N/A  | D  |   |   | 1.0  |
|  S Malcolm Jenkins | B+  | B  |   |   | 3.3  |
|  S Rodney McLeod | B+  | Inc.  |   |   | 3.3  |
|  S Corey Graham | C-  | Inc.  |   |   | 1.7  |
---
Follow Jimmy & PhillyVoice on Twitter: @JimmyKempski | @thePhillyVoice
Like us on Facebook: PhillyVoice Sports
Add Jimmy's RSS feed to your feed reader
from PhillyVoice – Eagles https://ift.tt/2FjAJPt
via IFTTT