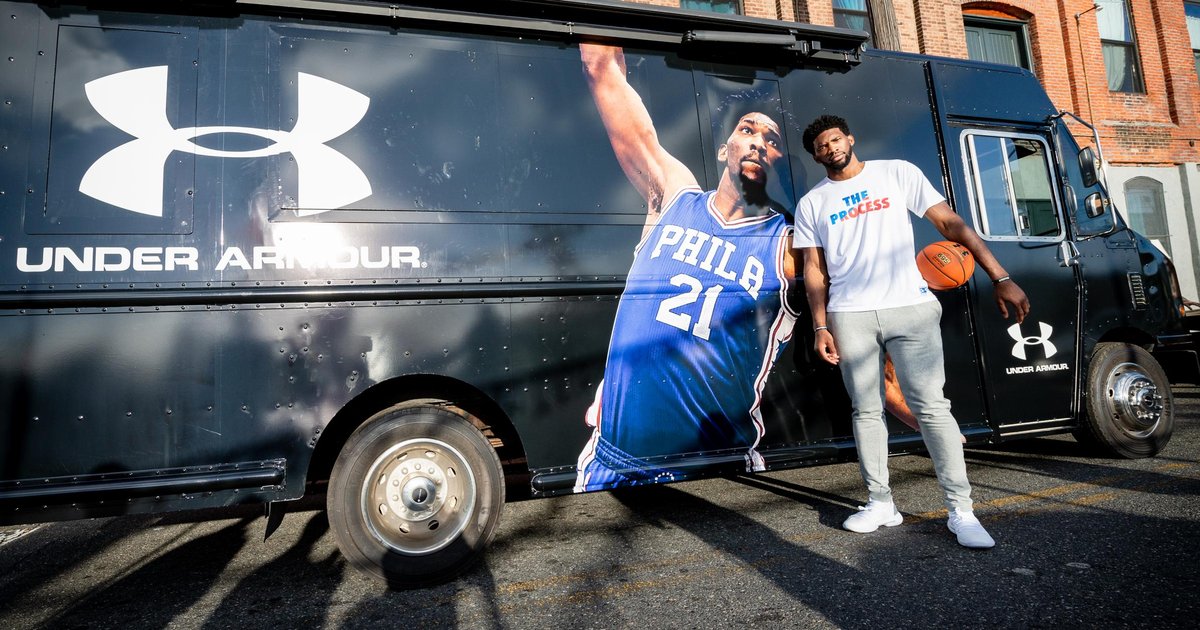 It's not exactly easy to hide Joel Embiid. 
Deep in the heart of Northeast Philly, by an abandoned factory off Torresdale Avenue, his new friends at Under Armour are learning this the hard way. As photographers and reporters assemble on a street corner waiting for a moment with the big man, pedestrians crane their necks and try desperately to get photos of the young star, only to be waved away by a member of the Sixers security team.
This group isn't exactly trying to hide their new signing, anyway — his face is plastered across the delivery truck we're all huddled behind.
But this is the sort of effect the big man has on a crowd. Before he revealed himself to a group of children at a local chapter of the Boys and Girls Club, some of the older teens in the group grew impatient with having to stand behind their younger peers while they waited for surprises they were promised. "I don't care who they have in there," one teenager said to his friend, "I just want to get some food."
The window of the truck burst open to reveal a smiling Embiid, and the teen's friend barely let him finish his sentence before snaking through the crowd to snag a t-shirt from the big man. So much for the bravado.
Embiid is well aware of the gravitas he has locally and nationally, but he is not above taking a moment to give back to the community that has adopted him. He seemingly has it all now — All-NBA honors, a max extension, and a major sneaker deal — but the message he has for the kids who look up to him is to understand they can live out their dreams, too.
"My main thing is also that you got to stay humble, no matter who you are and where you get in life, always got to stay humble," Embiid told a group of reporters outside the Boys and Girls Club. "I did not know how to speak English. I came to a country I didn't know anything about really, and I just want to show [these kids] that anything is possible. Everyone has goals in life, you put the work in and it's going to pay off. And you got to trust the process."
Not everyone is going to grow up to be one of the most athletic and graceful seven footers on the planet, but point taken.
Prior to his visit with the children, Embiid was kind enough to offer a few minutes of time to PhillyVoice, where we discussed how involved he'll be with sneaker development at Under Armour, the legacy of his brother he wants to continue, his social media habits, and his recent foray into eating vegetables.
Yes, that last part is apparently a pretty new thing.
---
---
PhillyVoice: Let's start with something easy — have they said anything to you about your social media use? Does the new deal mean a new Joel?
Embiid: Who?
You know, like the Under Armour people.
Nah, nah, nah. I don't think anybody, especially when it comes to Under Armour, I don't think that's a problem. I think going into this whole process, it was about my personality, and when you talk about my social media, that's my personality, that's how I show my personality.
I figured, but you know, gotta ask. You're big time now.
No, no one's ever going to say anything. And if they tried, I'm stubborn, I'm never going to stop.
So this is the first time you've really been a free agent of any kind — the Sixers obviously extended you so it's a ways off until you have another big basketball decision. What was that process like?
It was cool! Going out and just like, meeting with different brands and seeing what they had for me, kinda figured out who I best fit with. I came up with obviously Under Armour, and I felt like they were the best fit. Just their views — meeting everybody around it felt like it was going to be a close family. At the end of the day, we all have to feel good together, especially when we're working together so we can have a great relationship. That was one of the big things.
They're based fairly close where they can kind of be in constant contact with you. Are there plans to have you test out shoes all the time, go back and forth and work on prototypes, things like that?
Yeah, we've already started. Another thing that was big for me, I've had foot surgery before, so I had to make sure they could provide the best especially when it came to figuring out… like last season I had a lot of changes throughout the year when it came to shoes. Literally almost every week. 

And they're right in Baltimore, so that was great and I like that idea [of having them so close], so it was an easy decision.
I read what you wrote about your brother Arthur and he was a big part of the story you wanted to tell. How much for your inspiration for what you want to achieve and what you do on and off the court comes from wanting to carry on his spirit and his memory?
It's all about giving back, especially when it comes to Philly and Cameroon. The last two years of my brother's life, I wasn't around, I was in the States and he was back home.

From what I kind of heard [from my family], he was giving back. Especially in the community, the people around us who didn't have a lot. And with my mom, we started a foundation back in Cameroon that helps people that don't have a lot, or anything at all. So that's something I wanted to keep going, and that sort of plays a huge role in me wanting to be the face of all of it, just keep pushing it.
Is there anything in particular in Philly you want to achieve as far as giving back? Any causes, in particular, you're looking to get behind?
We're working on that. Right now it's just the beginning, trying to figure out what's important and what's not. I've been in Philly for four years now, and I've been around Meek [Mill] too, kind of seeing the daily struggles and driving around and seeing that struggle.

So we're going to figure that out, and see what are the best options to make an impact.
You've talked generally about your offseason, but I don't know how deep you dove into what a day in the life of Joel Embiid looked like. What was a workout day for you, when are you waking up? What are you doing?
My approach this summer was basically, work out for a few weeks and then take a week off. Then do it again. I had an opportunity to be in L.A., to work out with my trainer, Drew [Hanlen]. So I'd wake up around 8 or 9 in the morning, and then go work out with him.

I'd get there and stretch and everything, work out, when I'm done lift, and then get some lunch at my favorite place in L.A.
Speaking of, what has the diet change been like?
[Laughs] The diet has been… there's a couple differences. I've never eaten vegetables before, so now I've started.
You never ate vegetables before?
Nah. [Laughs] So now I kind of eat less, controlled and everything. Nothing unusual, and that leads me into the season being in shape and more healthy. That was my first healthy summer, so I'm excited, a lot of expectations and I can't wait to go out and show everybody what I can do.
---
Follow Kyle on Twitter: @KyleNeubeck
Like us on Facebook: PhillyVoice Sports
Add Kyle's RSS feed to your feed reader
from PhillyVoice https://ift.tt/2C6lyG1
via IFTTT