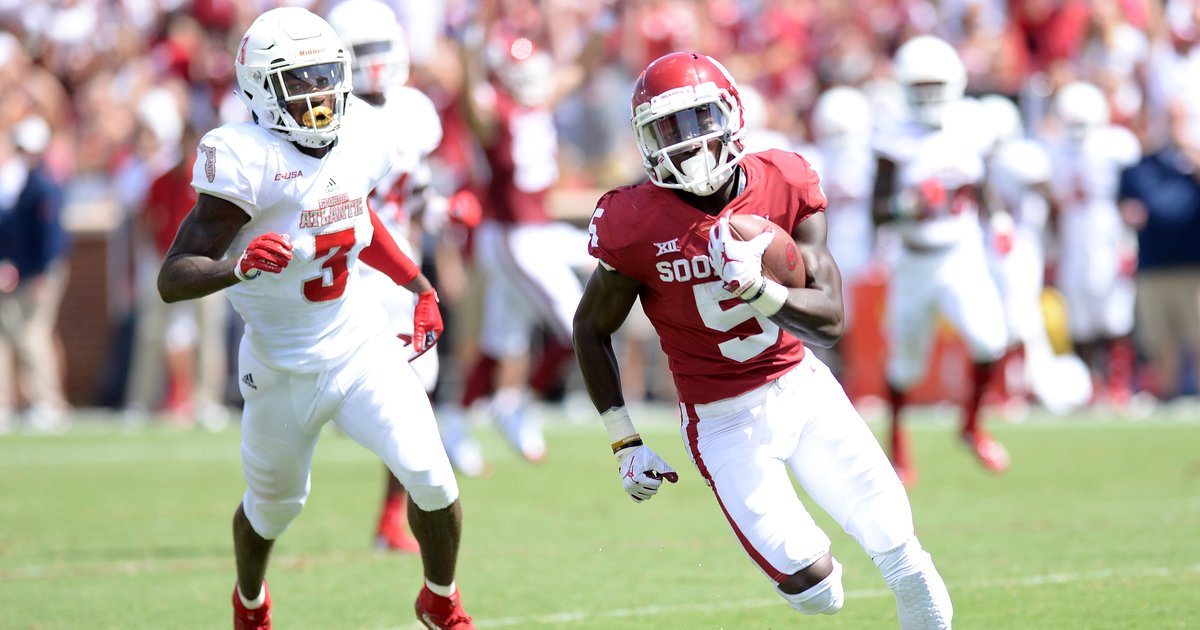 The college football season is in full swing, as we are now into the second week of a full slate of games. 
As long as you're taking in some of the action, here are some players who could make sense for the Philadelphia Eagles in the 2019 NFL Draft, in which the Birds are projected to have 12 picks.
Marquise Brown, WR, Oklahoma (5'11, 168): (5) Oklahoma at Iowa State, 12:00 p.m.
Brown is one of the fastest players in college football, who possesses a high yards per catch average, which is something the Eagles have prioritized in their receiver acquisitions. 
Where Brown is different, however, is that he's not the traditional "high yards per catch guy" who just has a bunch of long receptions on deep balls. Brown's primary spot is in the slot, where he can create separation and get yards after the catch. A highlight reel:

After transferring to Oklahoma from a JUCO school, Brown has put up good numbers:
| | | | | |
| --- | --- | --- | --- | --- |
|  Marquise Brown | Rec  | Yards  | YPC  | TD  |
|  2017 | 57  | 1095  | 19.2  | 7  |
|  2018 | 10  | 222  | 22.2  | 2  |

Brown is going to have to put on some muscle in the NFL to survive, but he is a big play threat who would give the Eagles a weapon unlike any that they already have on offense.
Dexter Lawrence, DT, Clemson (6'4, 340): Georgia Southern at (2) Clemson, 12:00 p.m.
Lawrence is an enormous human being who will likely be viewed by teams at the next level as a run-stuffing specialist, with upside as a pass rusher. 
At a minimum, Lawrence will draw double teams against many opponents because he'll be able to push the pocket against most interior linemen. That will free up one-on-one opportunities for his defensive line teammates. Against the run, he's an immovable body who clogs up the middle of the line.
A highlight reel:

That run-stuffing role was filled in Jim Schwartz's defense by Beau Allen in 2016 and 2017, and Haloti Ngata in 2018. With Ngata turning 35 in January, the Eagles will likely need to fill that role in 2019, so Lawrence would make sense.
In two games this season, Georgia Southern has attempted 16 passes, and they've run it 112 times. This will be a good game for Lawrence to showcase his run-stuffing chops.
---
MORE EAGLES COVERAGE:
• 
Safety Blitz with Malcolm Jenkins: Seeing Bucs score 48 points was 'eye opening'
---
Derrick Brown, DT, Auburn (6'5, 325): (12) LSU at (7) Auburn, 3:30 p.m.
Brown is a huge, obviously strong, ill-tempered man. Just watch.
Brown has more ability than Lawrence as a pass rusher, and will be thought of at the next level as more than just a run-stuffer. Barring any unforeseen character or medical concerns, he's going to go in the first round.
Dakota Allen, LB, Texas Tech (6'1, 235): Houston at Texas Tech, 4:15 p.m.
In the summer of 2016, Allen was kicked off the Texas Tech football team in the aftermath of felony home burglary charges, notably the theft of a safe full of guns. He landed at East Mississippi Community College, which you may have seen on 'Last Chance U,' a Netflix documentary series that shows the stories of football players at a junior college trying to get back to Division I schools.

Allen played for a year there, before returning back to Texas Tech for the 2017 season. He was arguably the Red Raiders' best player, and is now thought of as a leader on their team. On the season, Allen had 101 tackles, 6 tackles for loss, 2 INTs, a forced fumble, 2 sacks, and 4 pass breakups.
The Eagles have taken chances on character concern players in the past, and Allen could provide good linebacker depth.
Zack Moss, RB, Utah (5'10, 215): (10) Washington at Utah, 10:00 p.m.
If the Eagles' acquisitions of LeGarrette Blount and Jay Ajayi are any indication, the Eagles like running backs who finish runs. While not quite as big as Blount or Ajayi, Moss finishes his runs with more violence than any back in college football.
In 2017, Moss had 214 carries for 1173 yards (5.5 YPC), and 10 TDs, to go along with 29 receptions for 243 yards. While he is a punishing runner, he's not the home run threat that many of the other runners in this draft class are.
The Eagles are going to need running back help next offseason, as Ajayi is a free agent, and it's almost certainly going to be Darren Sproles' final season in the NFL. Moss would be a good fit.
---
---
Previously profiled players
Carl Granderson, DE, Wyoming
Justice Hill, RB, Oklahoma State
Nate Herbig, OG, Stanford
T.J. Edwards, LB, Wisconsin
David Edwards, OT, Wisconsin
Nick Bosa, DE, Ohio State
Devin Singletary, RB, Florida Atlantic
David Sills V, WR, West Virginia
Damien Harris, RB, Alabama
Raekwon Davis, DT, Alabama
Ed Oliver, DT, Houston
Nick Fitzgerald, QB, Mississippi State
Deebo Samuel, WR, South Carolina
Deandre Baker, CB, Georgia
Cameron Smith, LB, USC
---
Follow Jimmy & PhillyVoice on Twitter: @JimmyKempski | @thePhillyVoice
Like us on Facebook: PhillyVoice Sports
Add Jimmy's RSS feed to your feed reader
from PhillyVoice https://ift.tt/2Ojrajb
via IFTTT