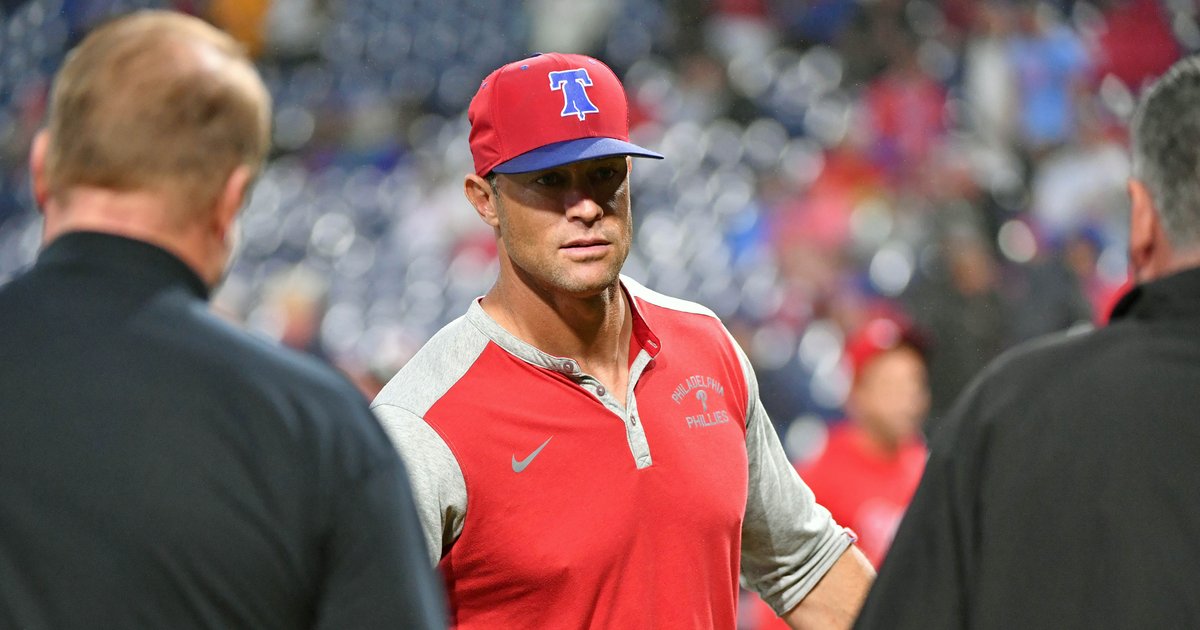 After dropping both games of Tuesday's doubleheader against the Washington Nationals — one that was only necessary because the grounds crew at Citizens Bank Park forgot to cover the infield on Friday while the team was in New York — the Phillies fell to 6.5 games out of the playoff picture, both in the National League East and in the race for the NL's second wild card spot.
And, suddenly, it sure feels like the Phillies 2018 campaign, at least as it pertained to postseason hopes, is officially over.
Sure, the Phillies still have two series against the division leading Braves, but it's hard to buy in on a team that is just 9-19 over the last month and just 2-8 in September. Making matters worse, it doesn't seem like there's one area in which the Phillies are particularly strong.
Offensively, they're one of the worse teams in the league. The same can be said of their defense. And while they have a Cy Young and MVP candidate in Aaron Nola, the rest of their pitching staff has been inconsistent at best. 
It seems like ages ago that people were talking about the Phillies as a surprise contender come the playoffs. Now, after an awful stretch that's seen their division lead turn into a 6.5-game deficit with just 18 games to play, it's looking like they'll need a miracle if they want to extend their season into October.
Here's a look at the latest rankings… 
OUTLET
WRITER
PREVIOUS 
(CHANGE)
WHAT THEY'RE SAYING…

13

MLB.com
Alyson Footer
11 (-2) 
——

14

ESPN
Staff
13 (-1)
The Phillies are hitting .237 this season. Only three teams have made the postseason with a team batting average that low: the 1972 Tigers (.237), 1968 Tigers (.235) and 1906 White Sox (.230). But there are still offensive bright spots worth pointing out. One is Rhys Hoskins and his 28 home runs. He didn't maintain his 9.4 at-bats per home run rate from 2017, but that was to be expected. But he's still on the verge of becoming the first Phillies player with a 30-homer season at age 25 or younger since Pat Burrell hit 37 in 2002.  —Sarah Langs

15

Yahoo! Sports
Mike Oz
14 (-1)
Is this the end for the Phillies' postseason hopes? They've lost four in a row and sit 6.5 out in the NL East and in the wild-card chase. They looked great at times this season and horrible at others. Maybe that's just growing pains of a young team with a new manager. All hope is not gone, but the Phillies have reached the point where they're hanging out with the Nats and Angels – two teams whose high hopes have also been dashed.

15

USA TODAY
Gabe Lacques
14 (-1)
That 6-10 record against the Mets really stings.

15

CBS Sports
Matt Snyder
14 (-1)
It's become evident that this isn't a playoff team, but that doesn't mean 2018 was a failure. They have the pieces and resources to make a run in 2019. 

15

Bleacher Report
Joel Reuter
15 (—)
The Phillies (16.8 percent), D-backs (12.9 percent) and Mariners (0.8 percent) have all seen their postseason hopes fade to long-shot status, according to the latest odds from FanGraphs, and they'll have to get red-hot the rest of the way to shift that narrative.
---
Follow Matt on Twitter: @matt_mullin
Like us on Facebook: PhillyVoice Sports
from PhillyVoice https://ift.tt/2N7eSOt
via IFTTT