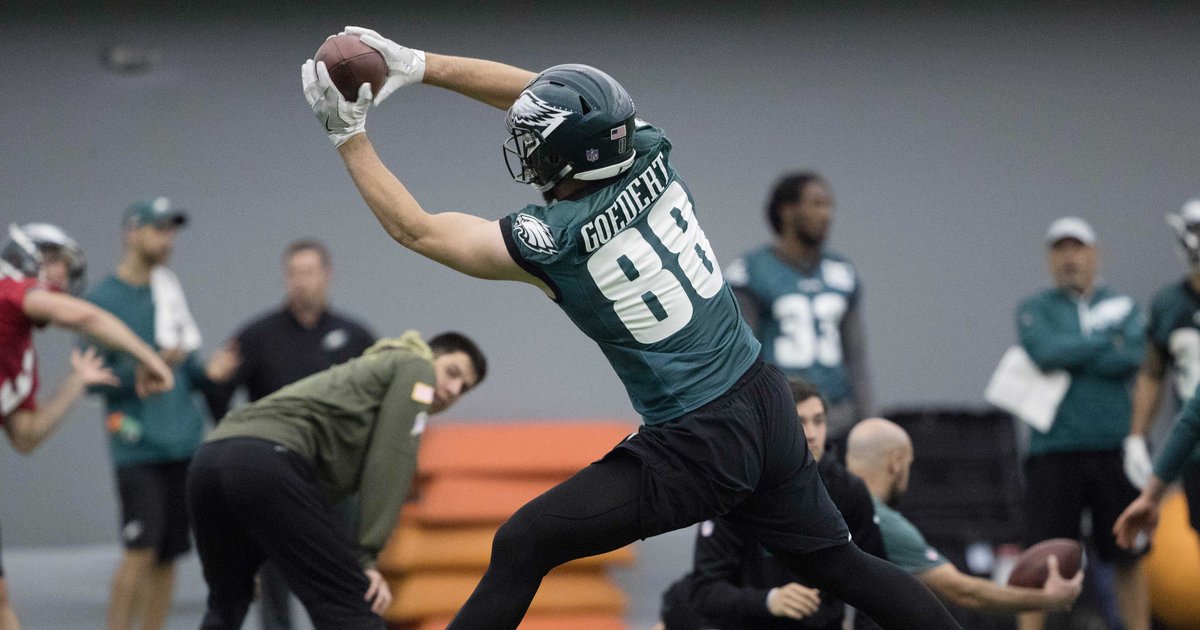 Dallas Goedert's demise has been greatly exaggerated.
After the Eagles' top rookie left Saturday afternoon's public practice with an apparent injury, Twitter did it's thing.
If Goedert has sustained a broken arm the very maximum would be 10 weeks to have him fully recover (Avg. is 6-10 weeks). Latest return would be Week 7 vs. Panthers. It helps that Week 6 is TNF so there would be a long week before #Eagles played again. https://t.co/ZNL7zO5Pvw

— Brendan Walker (@BWalkerNFL) August 12, 2018
Dallas Goedert's arm just fell off. That's unfortunate. It's laying on the ground. His career is probably over.

— Jimmy Kempski (@JimmyKempski) August 12, 2018
No information was released for an entire day, but when the tight end emerged Sunday morning at the NovaCare center, with his arm intact, Eagles nation breathed a sign of relief.
"It's not that serious," Goedert said Sunday, confirming he sustained a minor injury to his elbow. "It's just a bump and a bruise type of thing."
Goedert said he will probably be back on the field in "the next day or so" and might even be able to suit up Thursday in the Eagles' second preseason game against the Patriots.
Even still, the short but off-the-wall social media freak out was humorous to the young player.
"It's pretty crazy," he said. "Its kind of what the media does, the social media world, people overreact. Nobody was sure. they were like 'he might have a broken arm but we don't really know.' It's nice to know whats' actually going on.
"It's kind of weird but it's cool though, we have some great fans here they care."
One might think the South Dakota native feels a bit like a fish out of water in the media spotlight in Philadelphia, but just the opposite.
"It hasn't been too bad. I feel like I adjusted pretty quick," he said. "Being at South Dakota State I was a pretty big player and got a lot of media attention there. It's good I don't mind it."
So, now with that out of the way, Goedert can focus on getting back on the field soon to put together a follow up to his head-turning performance against the Steelers — where he had four catches for 66 yards and a score.
"It was good," Goedert said. "It was a lot of fun I couldn't ask for a better debut in the NFL. I just have to keep it going."
---
Follow Evan on Twitter: @evan_macy
Like us on Facebook: PhillyVoice Sports
from PhillyVoice – Eagles https://ift.tt/2MFGRAC
via IFTTT