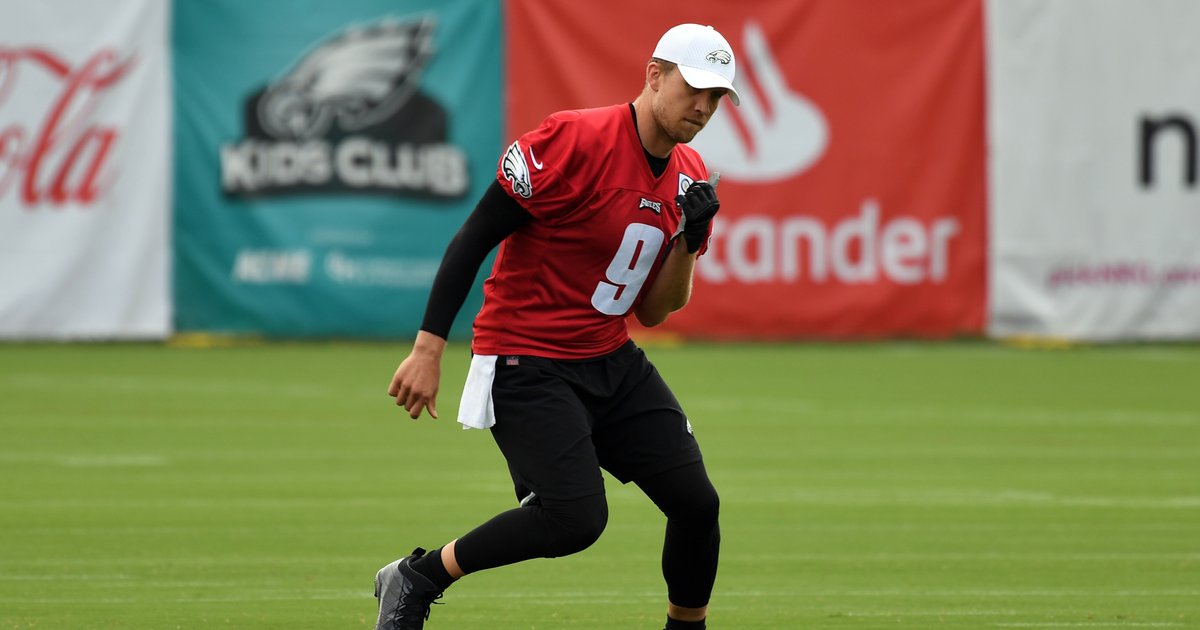 On Saturday, the Philadelphia Eagles wrapped up their second of two practices at Lincoln Financial Field, that are open to the fans. As always, we have notes.
• Nick Foles missed the Eagles' first preseason game with muscle spasms in his deltoids, but he was back out there on Saturday, and actually, I thought it was his best of camp to date. He opened up the practice with a deep ball on the money down the middle of the field to Mike Wallace, who beat Jalen Mills. Wallace got up and asked the crowd for some love, which he received.
Foles had some other nice plays. He had a little sidearm flip around the line to Kamar Aiken for a short gain. He's always been able to deliver the ball at different arm angles, like a point guard.
And finally, he threw a really nice touch pass to Zach Ertz, who made a diving catch in the back corner of the end zone over Malcolm Jenkins.
• Carson Wentz got some work in 7-on-7's. Same old same old there. The velocity on his throws is so impressive. We'll have more on that soon.
• We had a new nickel corner today working with the 1's. That was Avonte Maddox, the Eagles' fourth round pick in the 2018 NFL Draft. He was in there in place of Sidney Jones, who sprained an ankle in the preseason game, and De'Vante Bausby, who's stock may be slipping a bit.
• Another practice, another pair of bad snaps by Isaac Seumalo. The first was high, and was handled by Nate Sudfeld. The other was one of his trademark "Joel Embiid couldn't have caught it" snaps. I can't see how the Eagles can trust him at center in a game. He can't snap.
During 7-on-7's, someone has to be the center who snaps the ball. That job is usually reserved for the lowest center on the totem pole. Another member of the media and I call that guy "snap boy," whoever it may be from day to day. Well, Seumalo was snap boy today, not because he's the lowest center on the totem pole, but probably more likely either because he needs the added work, or he's being punished. Maybe both.
• One player who impresses me pretty regularly is Kamu Grugier-Hill, just for his athleticism. I think he has the most upside of the depth linebackers after Jordan Hicks and Nigel Bradham, but it certainly looks like Nate Gerry in the lead for a starting job Week 1 against the Falcons with Bradham facing a one-game suspension.
"I tell you, he's a player that's extremely smart," Pederson said of Gerry after the Eagles' preseason game on Thursday night. "He can play all three positions. He's versatile that way, and he's earned it. He's earned to get in there with the starting rotation. He's added some valuable depth for us, and we'll continue to work him in there. Kamu also was another one in there at that position. He's done a really good job. He's off to a good camp, and we've just got to see more of him."
No mention of Corey Nelson by Doug, which is interesting.
• Rasul Douglas had something of a bounce-back day after giving up two touchdowns in the preseason game. His highlight was a nice pass breakup of a Nate Sudfeld pass intended for Shelton Gibson in the back corner of the end zone.

DB coach Corey Undlin seemed unconcerned about Douglas' night, by the way, noting that the play in which he was beaten for a touchdown was the same play he had an interception on against the Giants last year.

• Gibson had a nice catch on a ball that was thrown behind him over the middle. He and Doug Pederson credit his improvements over a year ago to having more confidence.
• Jake Elliott remains perfect throughout camp, after going 6/6 on Saturday. He is now 29/29 throughout camp so far.
| | | | | | |
| --- | --- | --- | --- | --- | --- |
| July 27  | Aug 1  | Aug 3  | Aug 6  | Aug 11  |   |
|  22 - Good |  33 - Good |  33 - Good |  33 - Good |  33 – Good |   |
|  33 - Good |  38 - Good |  33 - Good |  38 - Good |  24 – Good |   |
|  36 - Good |  30 - Good |  37 - Good |  41 - Good |  33 – Good |   |
|  38 - Good |  45 - Good |  35 - Good |  38 - Good |  40 – Good |   |
|  40 - Good |  34 - Good |  33 - Good |  33 - Good |  46 – Good |   |
|  44 - Good |   |  45 - Good |   |  43 – Good |   |
|  44 - Good |   |   |   |   |   |
|  7/7 | 5/5  | 6/6  |  5/5 | 6/6  |   |
Hot take alert: Jake Elliott is better than Murderleg.
• Dallas Goedert left with an injury. No word on what it was, or the severity.
---
Follow Jimmy & PhillyVoice on Twitter: @JimmyKempski | @thePhillyVoice
Like us on Facebook: PhillyVoice Sports
Add Jimmy's RSS feed to your feed reader
from PhillyVoice – Eagles https://ift.tt/2KMGcM9
via IFTTT