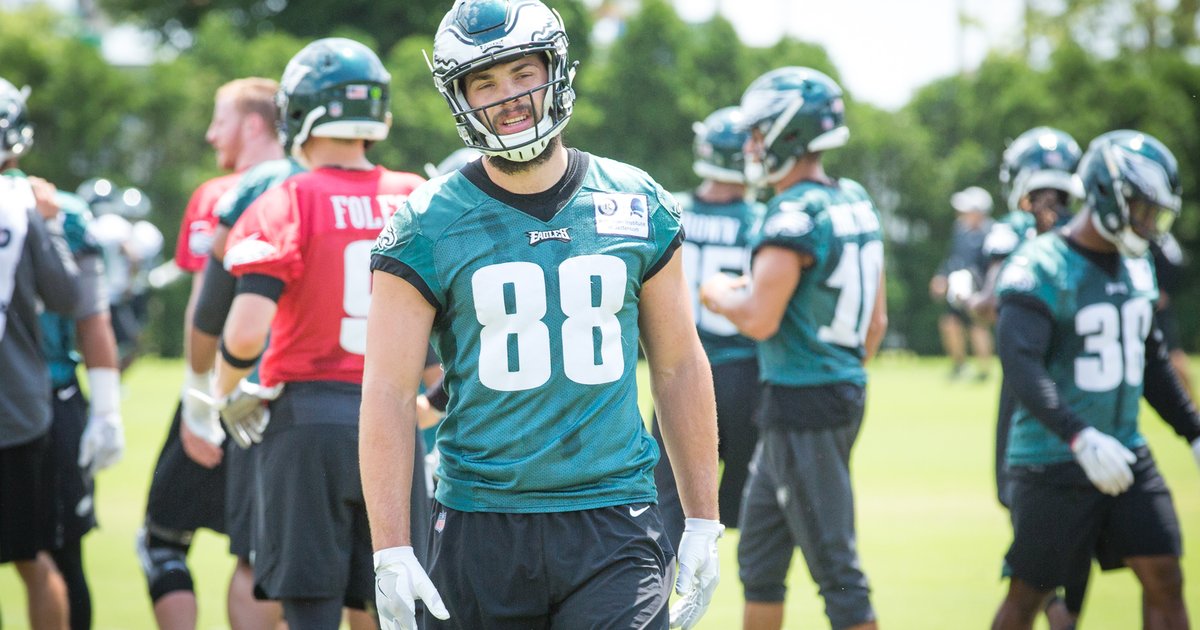 The Eagles' injury list is long, but it's slowly getting shorter — at least for the most part.
Rookie tight end Dallas Goedert, after breaking through impressively in Philly's preseason opener Thursday left Saturday's practice with a yet undisclosed injury (potentially to his arm).
Rookie TE Dallas Goedert heads inside with trainers. He's had a very good summer and is in line for playing time. Will update.

— Tim McManus (@Tim_McManus) August 11, 2018
As Eagles fans hope for the best from the second part of what could be one of the best 1-2 tight end punches in the NFL, they can take solace in many other injured Philadelphia players taking big steps forward as the season approaches.
Jordan Hicks, LB
Before Thursday against the Steelers, Hicks had not taken a snap since last October due to his surgically repaired Achilles tendon. He had two tackles in limited action with an impressive first team defense but his appearance is notable as no other recovering Eagles' player hit the field in preseason Game 1.
"When you go through something like that," Hicks said Saturday, "a season ending injury with a six, eight, nine, month recovery those days are long, watching and wishing you were out there. You just have to focus on what you can control. 
"It was a huge milestone, just being back out here is super rewarding." 
No one was happier for Hicks' return than Eagles' head coach Doug Pederson.
"He was a little taken aback being able to be back on the field the other night," the coach said. "He was excited to be out there and be back with his teammates.
Played really well. He's smart, intelligent; he runs well. There were really no signs of injury. Just keep knocking on wood things go well. Happy to see him back out on the team."
Carson Wentz, QB
Wentz has not taken 11-on-11 drills in over a week and also did not appear in Thursday night's game. That comes as no surprise and should come as no alarming signal — as he's been very impressive in practice in individual drills and 7-on-7 drills.
"Velocity has been up, accuracy has been up," Pederson said of Wentz' improvement this summer. "Those are the things he's been able to work on over the course of the year."
Alshon Jeffery, WR
Jeffery hasn't taken any meaningful reps, aside from snatching some passes on the sideline while watching practices this season. Saturday morning Pederson gave an update on the Birds' top receivers recovery from shoulder surgery.
"He's doing a great job with his rehab," Pederson said. "He is in I would say more the strength phase with the weights and that part. He's still doing his lower body conditioning with running and doing some things that way with his legs, making sure his cardiovascular is good.  
"He can't do a ton of stuff yet necessarily on the field because of the motion of the arm swing, but we can get him in the tanks, the pools, the Alter Gs, things like that, and get his cardio up.
But kind of in the strength phase right now and really doing a nice job."
Donnell Pumphrey, RB
The second year running back needed to show something to the Eagles front office in order to earn the fourth running back spot, but an injury kept him sidelined and could have been a big blow to his chances.
"Any time it's a lower body [injury] it takes time and we just got to make sure he's one hundred percent," Pederson said. "I don't expect him today again. It's hard. It's hard for young players, quite honestly in this league, to make rosters.
But he's flashed. He's done some nice things. Just got to make sure we; as a medical staff, myself, we don't push it. We make sure he's healthy again before we put him back out on the field and see where he's at.
It' just unfortunate at this time.
Nick Foles, QB
Foles had some discomfort in his neck that kept him out of the Steelers game but he was back Saturday, posting one of his better practices of the summer. He participated in everything and looks fine.
Darren Sproles, RB, Jason Peters, LT
Sproles and Peters, both working back from season-ending injuries last season, are active participants in daily activities in training camp but neither has played a snap in the preseason yet. It stands to reason each will sometime soon in the footsteps of Hicks.
Corey Clement, RB, Matt Jones, RB, Nelson Agholor, WR
This trio of offensive players sat out practice Saturday, all for undisclosed reasons.
Sidney Jones, CB
Jones had an injury scare Thursday night but was back at it Saturday taking reps.
---
Follow Evan on Twitter: @evan_macy
Like us on Facebook: PhillyVoice Sports
from PhillyVoice – Eagles https://ift.tt/2AYg29r
via IFTTT