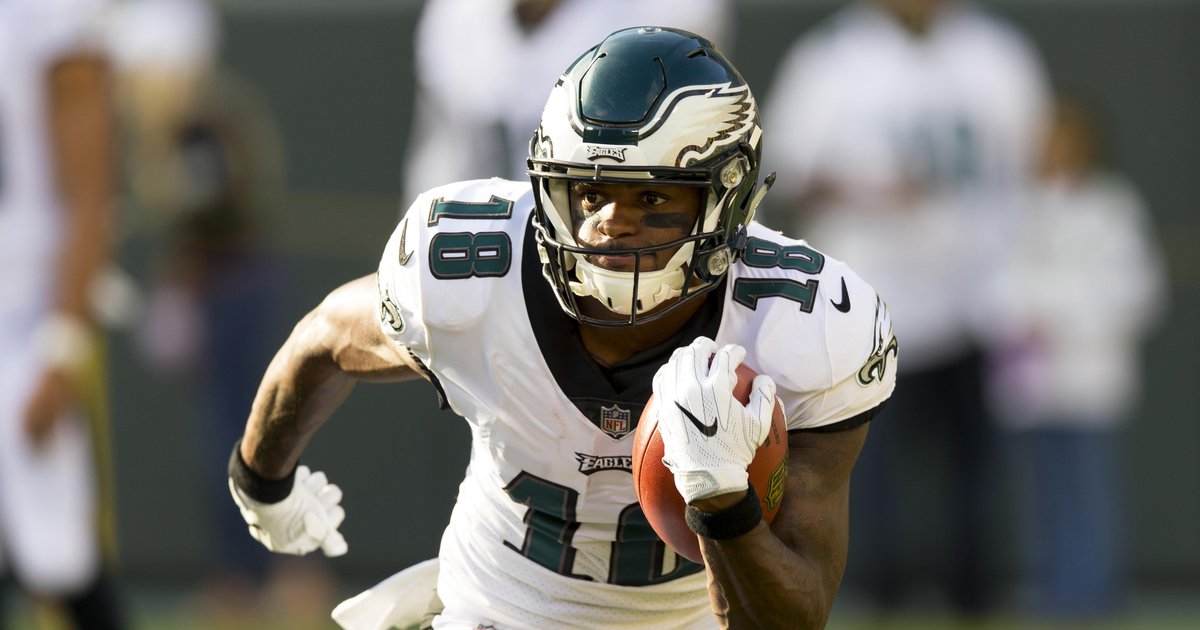 During the Philadelphia Eagles' 2017 training camp, then-rookie fifth-round wide receiver Shelton Gibson couldn't catch the football. Barring some camp bodies over the years, he had, in my view, one of the worst training camp performances I have ever seen since I've been covering the team. 
Still, the Eagles saw potential in Gibson as a big-play receiver, and they kept him on the 53-man roster, despite other released receivers having outperformed him. In the first preseason game of 2018, Gibson showed why the Eagles stuck with him, toasting the Steelers defense with 63-yard TD reception in which he blew by the cornerback and continued to gain separation as he glided down the field. 
Gibson asked when he knew he had his man beaten.
"When he was easing off," Gibson said. "He side-stepped, and I'm running. I'm fast, and I'm like, 'I'm gonna blow right past him.' And then Suddy put the ball in the air, and when I seen the ball I was like, 'Go get it.' He led it out there and I had to go get it."
Gibson still has a ways to go, but his 2018 training camp performance has been far better than it was a year ago.
Why?
"The biggest thing is just confidence," Doug Pederson said. "He obviously had a chance to play in games last year, special teams. But I think that gives him a confident feel going into the season. He did some good things tonight. He's one of the guys that's competing, and competing for a roster spot."
Gibson (partly) agreed.
"I would just say confidence," Gibson explained, "and having the team behind my back. They showed me respect. When I was at the Combine last year, I was like, 'The first thing I want to do is earn the coaches' respect, and earn the team's respect.'"
On Pederson's "competing for a the roster spot point," however, Gibson is setting his sights higher than just making the team.
"Last year I was looking at cuts," he said. "This year I'm not looking at cuts. I'm going way past that. If I'm looking at cuts, I'm selling myself short."
During Nelson Agholor's first two seasons in the league, he lacked confidence, and it showed on the field. In Year 3, after having adapted to the NFL, Agholor had a surprise breakout season. Receiver is a position in the NFL that can take some developmental time. Gibson may or may not make meaningful contributions in the regular offense in 2018, but at least his arrow is pointing up.
---
Follow Jimmy & PhillyVoice on Twitter: @JimmyKempski | @thePhillyVoice
Like us on Facebook: PhillyVoice Sports
Add Jimmy's RSS feed to your feed reader
from PhillyVoice – Eagles https://ift.tt/2M6MueM
via IFTTT