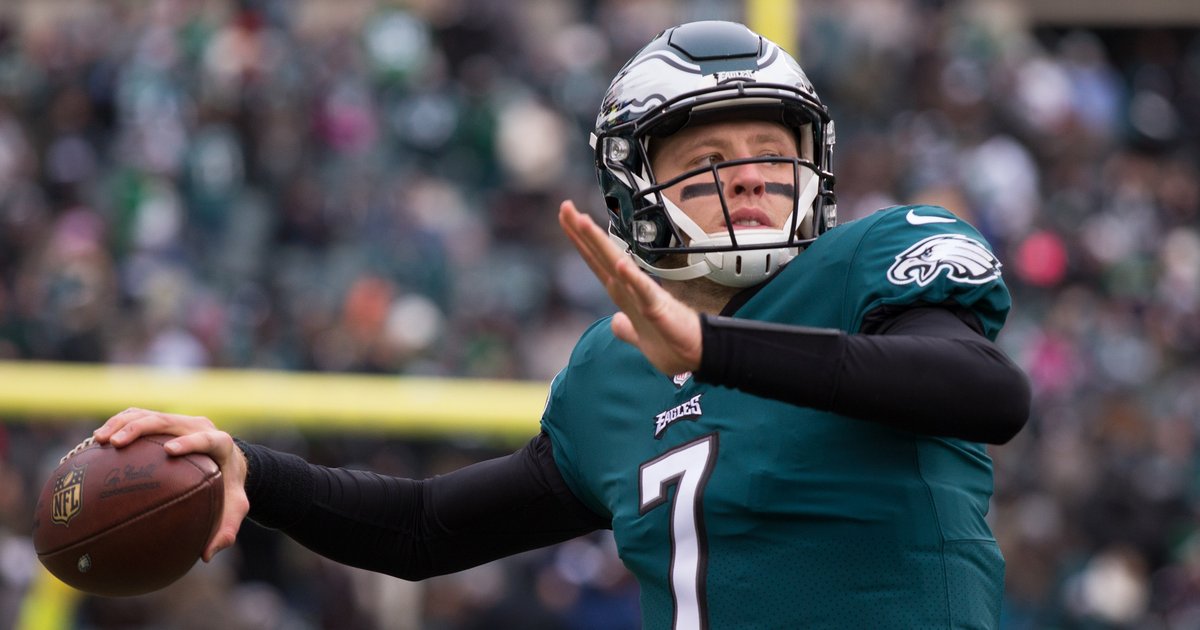 In just a few short hours, the Philadelphia Eagles will take the field for the first time since beating the Patriots in Super Bowl LII back in February. And while this team — between the number of returning players who will be sitting out and several newly-added pieces — will look quite different than the one that paraded the Lombardi Trophy down Broad Street, that's actually a good thing on a night when you can throw typical expectations out the door.
It's preseason football, baby! Anything can happen… 
With that being said, let's get right back into our annual weekly tradition of posting five over/unders that are worth tracking in Thursday night's preseason opener vs. the Steelers. And, remember, all of these were made up by yours truly (unless otherwise noted) so you probably won't be able to bet on them … at least not yet.
Total points: 33.5
The current total being offered over at Bovada is 34 points, but since we don't like whole numbers here, we rounded it down to 33.5 points. Still, that's only about 17 points per team, which seems low until you consider the quality of play we're likely to witness on Thursday night. 
We're going to see a lot of Nate Sudfeld and Joe Callahan in this one for Philly — perhaps exclusively — and that doesn't bode well considering in their two combined career games, they've completed a total of 24 passes (on 30 attempts) for just 145 yards (4.83 yards per attempt) and no touchdowns. Sudfeld didn't look bad in his lone start last season in Week 17 against the Cowboys, another game many of the starters sat out, when he completed 19 of 23 passes and broke off a nice 22-yard run. 
However, he also didn't look like much of a threat in the vertical passing game and the Eagles wound up being shut out for the first time in a while. And that's the better of the two options for the Eagles tonight.
UNDER.
Nick Foles snaps: 0.5
Even though both Foles and Pederson left the door open for a possible return to action for the Eagles' interim starting QB, there's no chance in hell Foles plays tonight — if he does, it will purely be for the fans who made the trip down to see the Super Bowl MVP. He hasn't practiced since Saturday due to muscle spasms in his neck. 
As we just mentioned, it'll be the Nate Sudfeld and Joe Callahan show tonight.
UNDER.
Takeaways by Eagles defense: 1.5
While there might be a lack of offensive fireworks for the Birds, that doesn't mean that Jim Schwartz's crew will follow suit. The Eagles defense was very good last year, especially at creating turnovers. There's no reason to think that an even deeper secondary will cause some problems for the Steelers in this one. Furthermore, the simple rust from an entire offseason of not playing games will undoubtedly lead to more than a few balls winding up on the turf tonight. If the Birds can scoop one of them up and make a play in the secondary, they'll hit this over no problem, even if Jalen Mills, Ronald Darby, Malcolm Jenkins, and Rodney McLeod (and Sidney Jones) see very little action in this one. 
Some secondary names to keep an eye on? Newcomers De'Vante Bausby and Avonte Maddox, as well as returning players Rasul Douglas, Corey Graham and Tre Sullivan.
OVER.
Dallas Goedert receptions: 2.5
This is one of the few players all Eagles fans should be looking forward to watching on Thursday night. He's looked very good at camp and, depending on how much he plays in this one, could have a big impact on the game. 
Remember earlier when we talked about Sudfeld (5.8 YPA) and Callahan (1.8 YPA*) and their propensity for throwing short passes? Well, that should mean plenty of opportunities for Goedert and fellow new addition Richard Rodgers, who was with Callahan last season in Green Bay. 
Originally, I wanted to take he under here, but after thinking it over, I'm going to take the over. Trey Burton and Billy Brown each had three receptions in last year's preseason opener, so why not Goedert, who looks better than both those players combined?
OVER.
*Dear lord, how is that even possible?
 
Philly Special replays: 1.5
Honestly, I just put this in here so I could have an excuse to watch this replay again. 
It's a local broadcast. Take the over. All day.
OVER. 
---
Follow Matt on Twitter: @matt_mullin
Like us on Facebook: PhillyVoice Sports
from PhillyVoice – Eagles https://ift.tt/2vXhGlO
via IFTTT