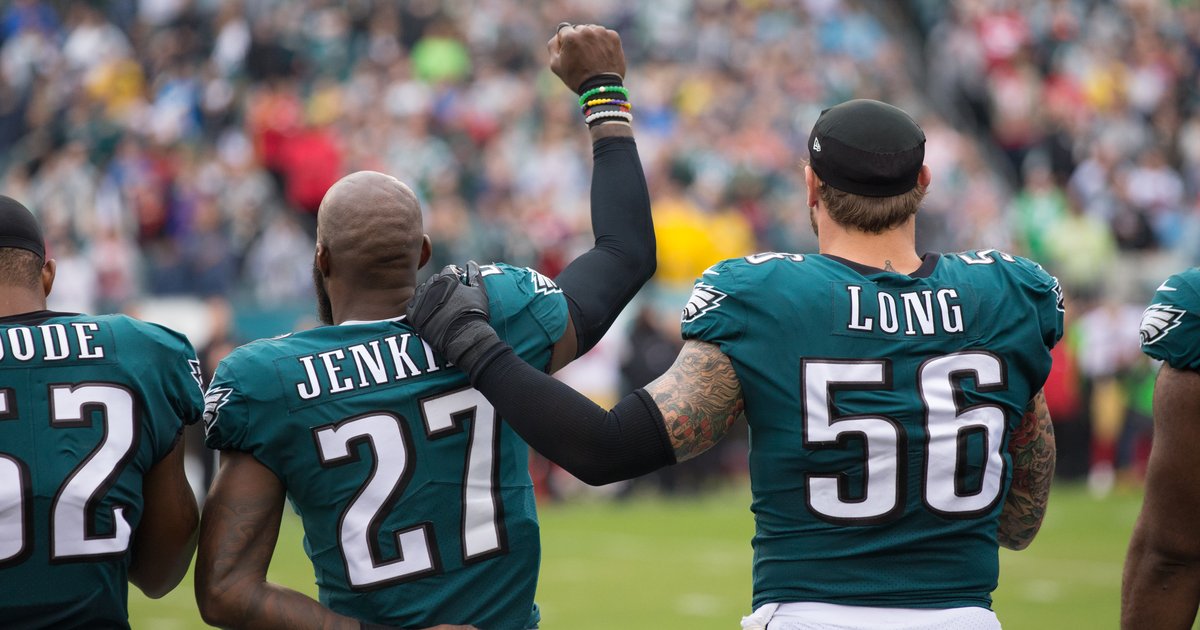 For the first time since midseason in 2017, Eagles players demonstrated during the national anthem Thursday Night at Lincoln Financial Field.
Prior to kickoff between the Eagles and Steelers, safety Malcolm Jenkins and cornerback De'Vante Bausby each raised a fist as the Star Spangled Banner was performed pregame. As he did last year, defensive end Chris Long had his hand on Jenkins' shoulder in solidarity.
Shortly after the anthem concluded, another defensive end — Michael Bennett — jogged onto the field. He apparently remained in the locker room during its playing.
Had the NFL not reversed course, the two demonstrating Eagles may have gotten fined for their actions but after much deliberation and media attention a policy that banned such activism was temporarily rescinded.
Jenkins had raised a fist through last November, when the NFL pledged $89 million for programs that sought change for social and criminal justice issues. He also was very outspoken in the locker room through minicamp and training camp. at one point refusing to speak and instead simply holding up signs.
The issue, which seemed more or less resolved last fall was brought back into the forefront thanks to, what else, words from President Donald Trump, Cowboys owner Jerry Jones and others criticizing players and their right to free speech.
It is unknown for how much longer Jenkins, Bausby and Bennett will continue the protest.
---
Follow Evan on Twitter: @evan_macy
Like us on Facebook: PhillyVoice Sports
from PhillyVoice – Eagles https://ift.tt/2vXhGCk
via IFTTT