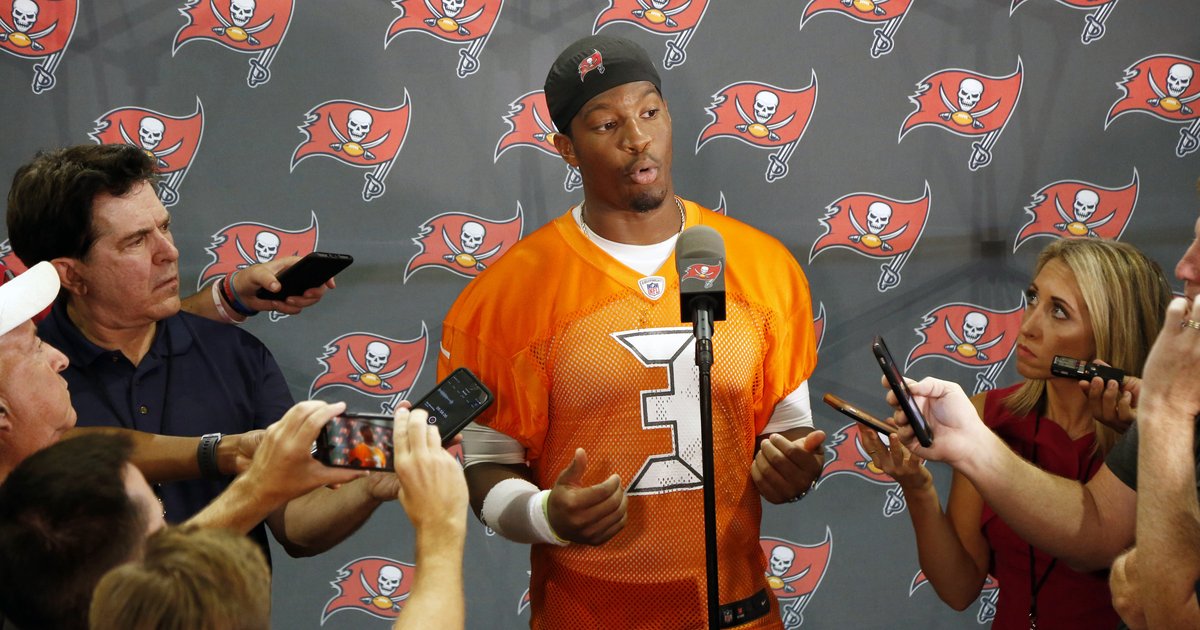 It's almost time to draft and just as it always seems to, suspensions will have a big impact on the overall draft positions of several key players in fantasy drafts later this month.
Yes, we've had previous years with guys at the top like LeVeon Bell and Tom Brady suspended to start the season but it seems like there are some deeper cuts with this year's offensive players set to miss some games.
First, an overview of the likely draftable players who will begin the year ineligible to play:
| | | |
| --- | --- | --- |
| Player  | Team  | Length  |
|  Julian Edelman, WR | Patriots  | 4 games |
| Aaron Jones, RB  | Packers  | 2 games |
| Robert Turbin, RB  | Colts | 4 games |
| Mark Ingram, RB  | Saints  | 4 games |
|  Jameis Winston, QB | Buccaneers  | 4 games |
Julian Edelman, PEDs, 4 weeks
The revolving door of wide receivers in Patriots camp — Jordan Matthews was cut and Malcolm Mitchell is rumored to be trade bait — makes it difficult to pinpoint who will pick up the reps with Edelman out for a quarter of the season, but he is still listed by CBS as a fourth round pick for PPR leagues.
In our own rankings, we had Edelman listed 23rd as he has consistently been a favored and dynamic target for Tom Brady. If you aren't comfortable taking him in the fourth or fifth rounds, Chris Hogan will likely play the slot role for the Pats, a position notoriously productive for Brady wideouts. Kenny Britt seems like the next best bet, as Eric Decker may be a longshot to make the team.
Aaron Jones, Substance abuse, 2 weeks
Ty Mongtomery remains the No. 1 guy on the ground in Aaron Rodgers' offense and the dual threat (he caught 67 passes over the last two years) makes him a desirable pick in a middle or late round, and he'll have even more responsibility with Jones out for two games. But what value does Jones carry? We'll he was only owned in 31 percent of leagues last year but he came on strong at the end of the year and could be a late round flyer in upcoming drafts. The Washington Post lists him as one of their fantasy sleepers.
---
---
Mark Ingram, PEDs, 4 weeks
We'll skip over Turbin, who, while sometimes fantasy relevant, likely won't be drafted in Indy's running back by committee approach. Instead, we'll spend a minute on Ingram, whose absence will make Alvin Kamara's already valuable services a likely first round pick.
With the suspension and a Week 6 bye for the Saints, Ingram barely cracks the top 30 in running back rankings for most lists. His workload will be dependent on what happens when he is out — CBS projects him as a 7th round pick. He has upside as he was a goalline force last year and could get those close carries again upon his return.
Jameis Winston, Personal conduct, 3 games
Winston's suspension decimates his fantasy value. While he may play like a top 10 QB when he returns, fantasypros.com says he is undraftable unless you're in a two quarterback league. In our rankings, we have him 21st, which likely puts him in a final-round grab-and-stash.
In his absence, Ryan Fitzpatrick could be a trendy pick in daily fantasy leagues — he will face the Saints, Eagles and Steelers — but isn't worth more than a waiver pickup if necessary early in the year.
---
from PhillyVoice – Eagles https://ift.tt/2nlQIR9
via IFTTT