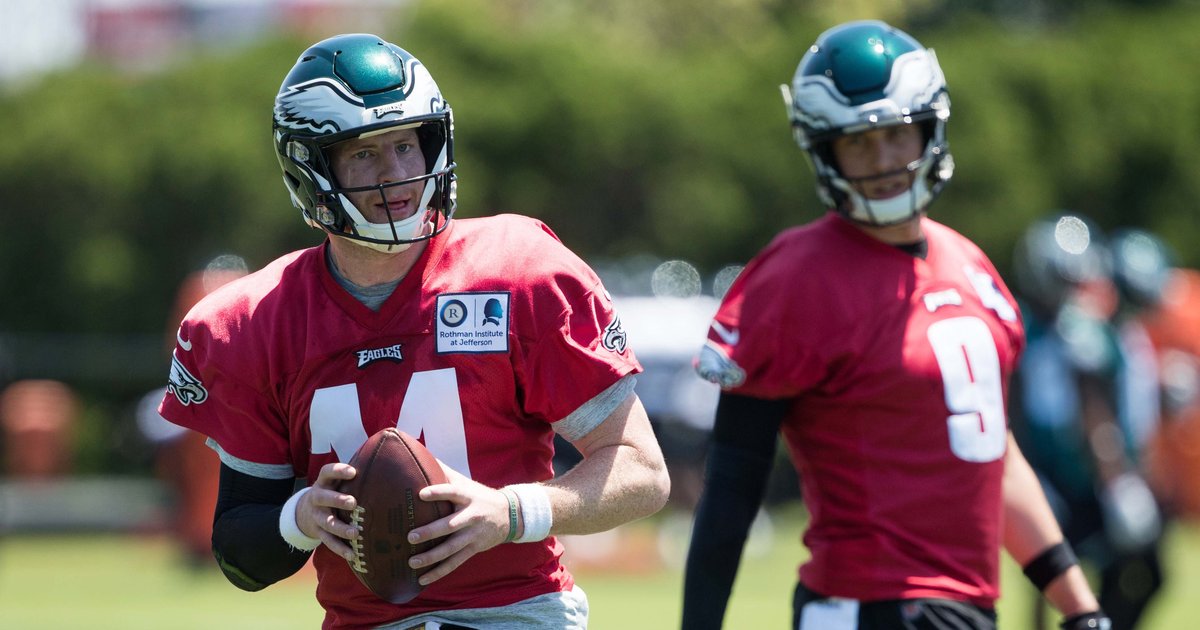 Over the next 12 or so days, we'll take a look at every player on the Philadelphia Eagles' roster, and how they fit with the team heading into training camp. As always, we'll start with the quarterbacks.
| | | | |
| --- | --- | --- | --- |
|  1 | 2  | 3  | 4  |
|  Carson Wentz | Nick Foles  | Nate Sudfeld  | Joe Callahan  |
Carson Wentz
Breaking: Wentz is really freaking good, in case you missed it. In his rookie season, Wentz displayed arm strength, mobility, and had his moments where you could see how well grasped the mental side of the game, but it never really all came together for him, especially with arguably the worst wide receiving corps in the league. In Year 2, his accuracy improved, as did his mental understanding NFL defenses, and he made the jump from promising rookie to one of the best football players on the planet.
Wentz is, of course, the unquestioned franchise starting quarterback that the team will build around for the next decade-plus, assuming he is able to stay healthy. Wentz's health is a valid concern, as he tore his ACL and LCL, and will often sacrifice his body while trying to make plays.
Wentz was the story of spring practices, when he appeared to be ahead of schedule in his recovery from his injuries. We took video of Wentz throwing to his receivers every day during OTAs and minicamp to show his sustained progression.
On the first day of training camp on July 26, we'll get a look at how much further Wentz has come along over the summer.
Nick Foles
After Wentz went down in 2017, Nick Foles stepped in, and it looked like the Eagles' season was over. Foles was good in the game he had to finish in L.A. against the Rams, and then again the following week in his first start against the Giants. 
And then it got really ugly. He was downright bad against the Raiders and Cowboys in the Eagles' final two games, and he got off to a bad start in the divisional round playoff game against the Falcons, getting aided by a very lucky point-swinging play in which Falcons safety Keanu Neal blew a chance at an easy interception near the end of the first half.
After that play, Foles was absolutely on fire through the rest of the Eagles' playoff run, eventually taking home Super Bowl MVP honors after out-dueling Tom Brady.
This offseason, the Eagles seemed willing to deal Foles, but only at their price. A trade of Foles at this point in the offseason will only likely happen if a team out there loses their starting quarterback and becomes desperate enough to fork over heavy draft resources for Foles in an attempt to save their season, better known as a "Teddy Bridgewater situation." As we noted last week, there are only a small handful of teams where we see that possibility existing.
Nate Sudfeld
Should the Eagles trade Foles, they believe they have a No. 2 quarterback waiting in the wings in Sudfeld. 
Sudfeld's first ever professional appearance in a regular season game happened Week 17, in a meaningless game against the Dallas Cowboys, in which the Eagles' JV team lost to the Cowboys' varsity, 6-0. While Sudfeld and the Eagles' offense didn't put any points on the board, Sudfeld showed some encouraging signs.
Here's a cutup of all of his dropbacks in that game:

Sudfeld's accuracy was good, his arm strength looked NFL-worthy, there were no obvious issues with mechanics, and he was much more mobile than anticipated.

Because he was added to the roster after 53-man cutdowns in 2017, we didn't get to see Sudfeld compete in practice last year, as media access to the competitive portions of practices are limited to training camp. In spring practices this year, Sudfeld made some really impressive plays, but was a little inconsistent. Still, it's easy to see why the coaching staff likes him as much as they do.

Joe Callahan
While Callahan has almost no chance of making the team unless Foles gets traded, he looked better in spring practices than ghosts of past Eagles camps, such as Chase Daniel, Matt McGloin, and Matt Barkley. Callahan is easily the best No. 4 quarterback I've ever seen since covering the Eagles, and probably worthy of a roster spot with some team.
Really, it's kind of surprising to me that he would choose to sign with the Eagles knowing that they are more stacked at quarterback than any other team in the league. At a minimum, he'll give the Eagles quality reps in practice and in preseason games.
2018 Outlook
The Eagles have a quarterback situation that should be the envy of every team in the NFL:
Young, star quarterback who looks like a potential "Best player in the league" candidate down the road.
Experienced backup quarterback with extreme success in the biggest possible moment the sport has to offer.
Talented developmental player with size and tools.
Another young player with a couple camps under his belt and a full two years of experience on NFL rosters.
Good luck finding a better quarterback situation than that.
---
Follow Jimmy & PhillyVoice on Twitter: @JimmyKempski | @thePhillyVoice
Like us on Facebook: PhillyVoice Sports
Add Jimmy's RSS feed to your feed reader
from PhillyVoice – Eagles https://ift.tt/2Jk1bFl
via IFTTT