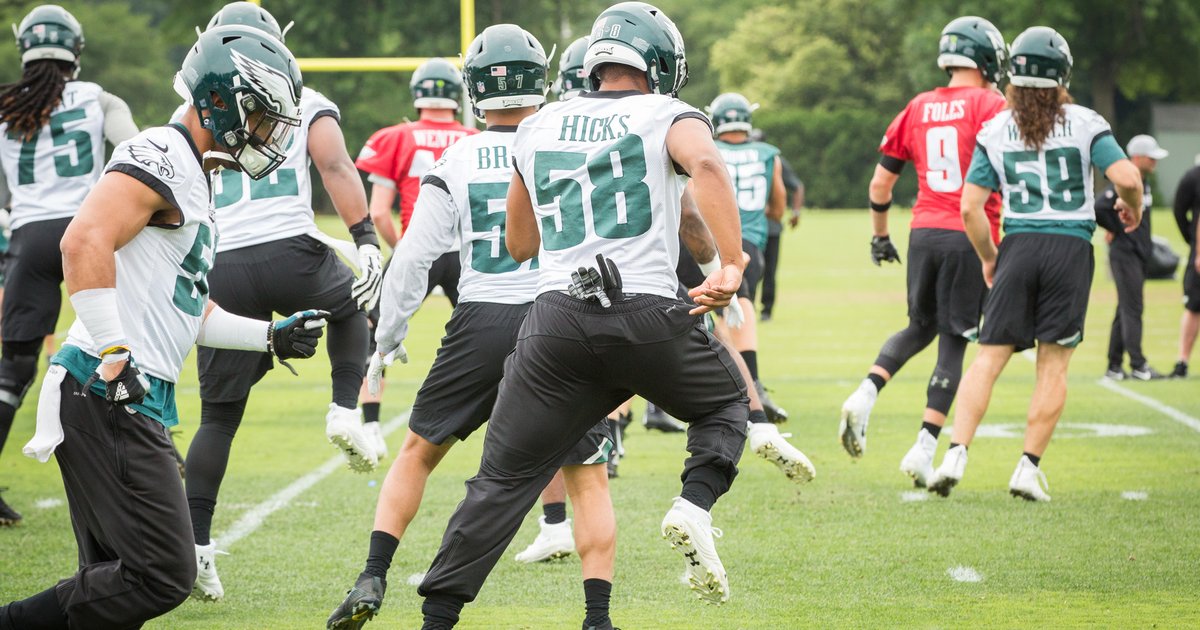 Way back during the 2017 offseason, Doug Pederson made a bold statement about the Philadelphia Eagles' 2017 roster. He said that the 2017 Birds had more talent than the Green Bay Packers teams that he was a part of in the 1990's, one of which won a Super Bowl in 1997.
As it turns out, Pederson was probably right. On paper (or your iPhone screen or whatever), are the 2018 Eagles better than the 2017 Eagles that won it all? On Tuesday, we began taking a position-by-position look, starting with the offense. Today we'll look at the defense.
Defensive end
At defensive end, Vinny Curry is out, and Michael Bennett is in. Here's a look at Curry's and Bennett's numbers since Curry entered the league in 2012:
| | | | | |
| --- | --- | --- | --- | --- |
| Player  | Tackles  | Sacks  | FF-FR  | TFL  |
|  Vinny Curry | 130  | 22  | 5-1  | 16  |
|  Michael Bennett | 236  | 48  | 7-1  | 54  |
Curry had good season for the Eagles in 2017, particularly in the run game, but his production simply wasn't enough to warrant the $11 million he was set count against the salary cap this season. His release was a no-brainer. 
Bennett will turn 33 this season, but he is still producing, as he had 8.5 sacks for the Seahawks in 2017. He is multi-dimensional defensive lineman who can slide inside on passing downs, and is an above average defender against the run. He should be an upgrade over Curry.
And then there's Derek Barnett, who had a very good rookie season, and should only get better. There is historical evidence that says pass rushers typically make a significant jump from Year 1 to Year 2 in the NFL.
Better or worse: Better.
Defensive tackle
Defensive tackle depth is a potential problem spot for the Eagles, at least early in the 2018 season while Timmy Jernigan recovers from back surgery. He isn't expected to be back until roughly November.
Otherwise, Beau Allen is out, and Haloti Ngata is in. Ngata, even at 34 years old, still appears to have something left in the tank. A season ago in Detroit, the Lions allowed 74.6 rushing yards per game in games Ngata played. They allowed 129.7 rushing yards per game with Ngata out. Allen was a good rotational DT for the Eagles in his four years with the team, but on an "Allen out, Ngata in" basis, the Eagles got better in 2018, in my view, though not beyond that.
If Jernigan is legitimately recovered from his back surgery when he returns to the team, this defensive tackle rotation could be nasty, especially considering that Brandon Graham and Bennett often slide inside from their defensive end spots on obvious passing downs. If Jernigan suffers from lingering effects of back issues, as many 300-pound guys do, then early-down depth could be an area of concern.
Overall, the 2017 Eagles got elite defensive tackle play from Fletcher Cox at one spot. At the other spot, they got a mix of good Jernigan / bad Jernigan, steady rotational play from Allen, the occasion appearance by Graham or Curry, and not much else from the others. On the premise that Cox remains the elite defender that he is (there's no reason to think he won't), exceeding the play from the other DT spot with a combination of Ngata, Jernigan (upon his return), Bennett, and Graham really shouldn't be a high bar to clear. 
Better or worse: Better.
Linebacker
When the Eagles made the easy decision to release Mychal Kendricks this offseason once they couldn't get anything in return for him, many Eagles observers became concerned that the Eagles were leaving themselves thin at linebacker. As it turns out, the rest of the league doesn't think much of Kendricks, who ended up reluctantly signing with the Cleveland Browns for a one year deal worth $2.25 million, with an additional max of $350,000 possible in per game roster bonuses. Oof. 
While Kendricks had a solid season (in the sense that he didn't get picked on like he had in previous seasons), he also didn't make any splash plays and wasn't trusted to wear the signal caller headset. The Eagles will attempt to replace Kendricks at the third (non-starting) spot with Corey Nelson, Nate Gerry, or Kamu Grugier-Hill.
After a slow start, Jordan Hicks ruptured his Achilles during a Week 7 game against the Redskins and was done for the season. He'll be back, and will be a major upgrade over Kendricks if he's anywhere near the level of playmaker that he was over his first two seasons in the league. If Hicks can stay healthy (obviously a huge "if" by now), then the Eagles will have a very good 1-2 at linebacker in Hicks and Nigel Bradham.
Determining whether or not the Eagles are better or not all depends on Hicks' health, which is essentially impossible to predict. If he's healthy, they'll be better at linebacker. If he goes down again, I don't think that replacing Kendricks is some kind of impossible hurdle, but it has the potential to be some sort of small downgrade.
Better or worse? ¯\_(ツ)_/¯
Cornerback
This is the hardest position to predict. First, let's take a look at cornerback hierarchy last year:
2017: Jalen Mills (CB1), Ronald Darby (CB2), Patrick Robinson (Slot), Rasul Douglas (CB4), Dexter McDougle / Jaylen Watkins (CB5), Sidney Jones (PUP)
In 2018, Jones will be a wildcard. Prior to his ruptured Achilles, many thought he was the best corner in the 2017 NFL Draft. Because of his injury, Jones slid to the second round where the Eagles snapped him up. Now recovered, Jones will have a chance to win a starting job with the team this season.
Heading into training camp, the corner hierarchy is a bit murkier:
2018: Jalen Mills, Ronald Darby, and Sidney Jones (CBs 1-3, with the slot being in question), Rasul Douglas (CB4), Avonte Maddox (Some slot work, if he proves he can play), De'Vante Bausby (CB6).
There are certainly good reasons to think the corners will be better in 2018. Bausby aside, none of the above corners have celebrated their 25th birthday yet (Bausby himself is 25), so the idea that each player will grow with another year in the league is valid. It's also valid to note that continuity (and therefore communication with a steady back end of safeties in Malcolm Jenkins and Rodney McLeod) will help. And then certainly, there's a chance that Jones will be a great player.
There are also reasons to believe the corner position overall won't be better. The loss of Robinson in the slot will sting, as he was among the best slot corners in the NFL last season. And then, of course, while there's a chance that Jones will be a great player, there's also a chance that he, you know, won't.
I'll go out on a limb…
Better or worse: Better.
Safety
Malcolm Jenkins and Rodney McLeod will be back. At the third safety spot, Corey Graham has not yet re-signed with the team. Maybe he will, maybe he won't, or maybe the Eagles will sign someone else. We'll see. To be determined if a younger guy like Tre Sullivan or one of the 2018 undrafted free agents will step up, but the Eagles would probably be wise to add a veteran backup.
Better or worse: Worse (for now)
---
Follow Jimmy & PhillyVoice on Twitter: @JimmyKempski | @thePhillyVoice
Like us on Facebook: PhillyVoice Sports
Add Jimmy's RSS feed to your feed reader
from PhillyVoice – Eagles https://ift.tt/2zu4UAw
via IFTTT