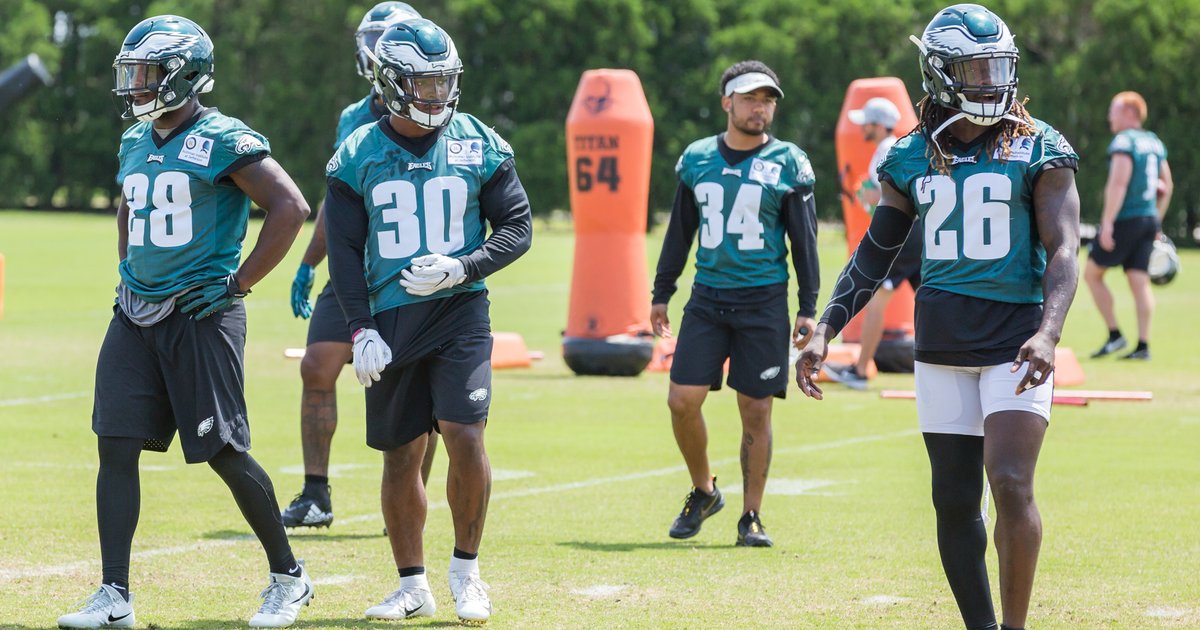 Way back during the 2017 offseason, Doug Pederson made a bold statement about the Philadelphia Eagles' 2017 roster. He said that the 2017 Birds had more talent than the Green Bay Packers teams that he was a part of in the 1990's, one of which won a Super Bowl in 1997.
As it turns out, Pederson was probably right. On paper (or your iPhone screen or whatever), are the 2018 Eagles better than the 2017 Eagles that won it all? Let's take a position-by-position look, starting with the offense.
Quarterback
The Eagles will be returning (for now) all three of their quarterbacks from a season ago, in Carson Wentz, Nick Foles, and Nate Sudfeld. I would be shocked if Wentz isn't ready to start Week 1 of the regular season, barring an unforeseen setback. However, it's highly unlikely that Wentz will heal to the extent that he'll have full mobility early in the season, which is going to limit his ability to extend plays, a huge part of his game in his MVP-caliber season a year ago.
The bar Wentz set in 2017 was extraordinarily high, and it's highly likely there will be some level of dropoff in his play in 2018, at least early in the season.

Better or worse: Worse. 
Running back
The Eagles will be returning the same backfield, except LeGarrette Blount is out, and Matt Jones is in. Blount was an effective runner for the Eagles in his lone season in Philly, carrying 173 times for 766 yards (4.4 YPC) and 2 TDs. He also scored in each of the Eagles' three playoff games.
The loss of Blount could test the Eagles depth at RB if the Eagles suffer some injuries.

Better or worse: Worse. 
Wide receiver
Like at running back, the Eagles' wide receivers are largely the same as they were a year ago, with Torrey Smith being switched out for Mike Wallace. In my view, Wallace is a clear upgrade from Smith, and some of the younger guys like Mack Hollins and Shelton Gibson should grow with more experience.
Better or worse: Better.
Tight end
The Eagles had one of the deepest tight end groups in the NFL a year ago, but they parted ways with Trey Burton (free agency) and Brent Celek (cap casualty) this offseason.
To replace them, they selected Dallas Goedert with the 49th overall pick in the 2018 NFL Draft, and signed Richard Rodgers in free agency. Goedert was one of the standouts in spring practices, and possesses the kind of receiving ability that can eventually make him and Zach Ertz the most potent pairing at tight end in the NFL. I believe Goedert can be better than Burton from Day 1. As for Celek, while he was a longtime great Eagle, his effectiveness fell off sharply at the end of his career in Philly. Rodgers should be able to pick up his slack.
Better or worse: Better. (Somewhat going out on a limb there.)
Offensive line
The Eagles are one of just five teams that will be returning all five OL starters in 2018. In June, we showed how the Eagles' continuity led to tangible results in the Super Bowl. In addition to an added year of continuity, the Eagles will presumably have Jason Peters for more than the seven games he played in last season. This is arguably the best offensive line in the NFL, and there's ample reason to believe they'll be just as good in 2018.
Better or worse: Samesies.
---
Follow Jimmy & PhillyVoice on Twitter: @JimmyKempski | @thePhillyVoice
Like us on Facebook: PhillyVoice Sports
Add Jimmy's RSS feed to your feed reader
from PhillyVoice – Eagles https://ift.tt/2JaKETS
via IFTTT