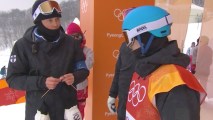 The Olympic Games are the highest echelon of sports. And the Finnish team in Pyeongchang has found a crafty way to deal with the stress of the competition.Finland's snowboarding coach Antti Koskinen made waves…
Photo Credit: Screengrab via NBC Olympics
This story uses functionality that may not work in our app. Click here to open the story in your web browser.
from NBC 10 Philadelphia – Sports http://ift.tt/2EtbTHV
via IFTTT